Overview
The articles reviewed as part of this piece have shown that renewable energy, including solar photovoltaic development, in Australia is poised to boom in the coming years. We have seen a rise in Australia-based enquires over the last 6 months with many developers looking at using single-axis tracking to take advantage of the large solar resources and economies of scale when developing large solar farms[1]. The following article provides an overview of Australia's significant projects to date and the future for renewable development in Australia.
Australia's renewable energy make up
The Guardian report that as of July 2017, renewable energy accounts for 18.8% of Australia's energy capacity. The biggest single source of renewable energy is hydro-electricity (40%), followed by wind (31%) and rooftop solar (18%). Less than 2% came from large solar farms, suggesting there is still a lot of work to be done in this industry[2].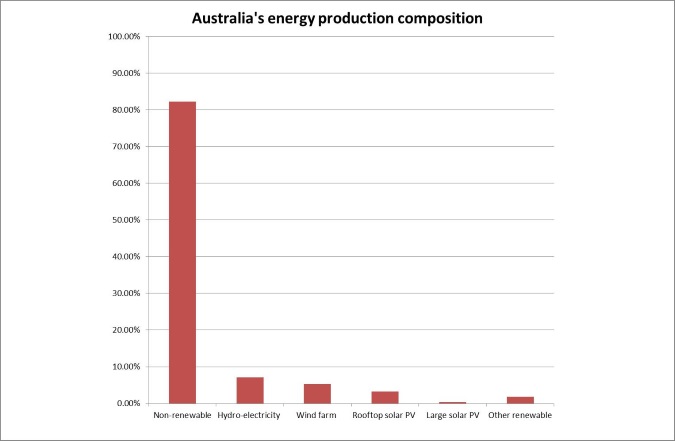 Figure 1: Australia's energy production composition.
Why the boom?
The rise of battery storage is playing a key part. The recently completed Tesla 100MW battery storage facility, which took less than 100 days to build, is currently the world's largest lithium-ion battery. The battery is designed to provide a backup energy supply to the grid when demand is stressed. The battery facility is located in South Australia (SA), adjacent to the Hornsdale Wind Farm, for which is it designed to work in co-operation with. The batteries are capable of storing enough electricity to power 30,000 homes for one hour, ideal for countering the power outages which the area was encountering[3]. The battery storage facility is guaranteed to change the way we think about the reliability of renewable energy technology.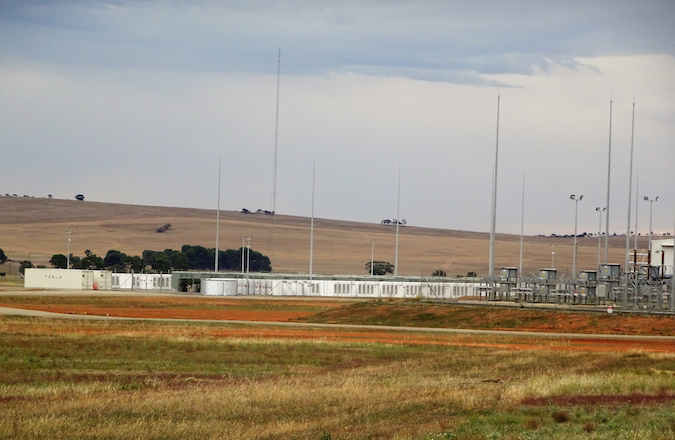 Figure 2: Tesla 100MW battery facility.
The state of South Australia is also now planning to supply 1,000 homes in public housing with Tesla batteries connected to rooftop solar panels. The government will still own the equipment and the residents will pay for their energy usage as they did previously. Excess energy is then sold to the grid in instances where the solar panel produces too much energy for the residents' needs, and bought from the grid when the residents' energy usage is not satisfied by the solar panels.  After completion of the first 1,000 public residences, the scheme will open up to an additional 50,000 homes in the state. In this phase, homeowners can either buy the equipment or lease it from an investor. Again the solar panels and batteries will be connected to the grid. If the scheme is fully deployed, the development would have a total combined capacity of 250 MW and storage for 650 MWh of energy in Tesla batteries. The project is due for completion in 2021[4].
The Berejiklian government in New South Wales (NSW) has also approved eleven large-scale solar developments in the past 12 months. This includes the 170MW Finley Solar Project in the Riverina, which was the first to gain planning approval in 2018. Previously in 2017, ten solar developments received planning permission, which doubled the number from the previous year. The ten solar developments will produce renewable electricity equivalent to approximately 2.5 million tonnes of carbon emissions[5]. Figure 3 below shows the location of operational and approved solar developments in NSW[6].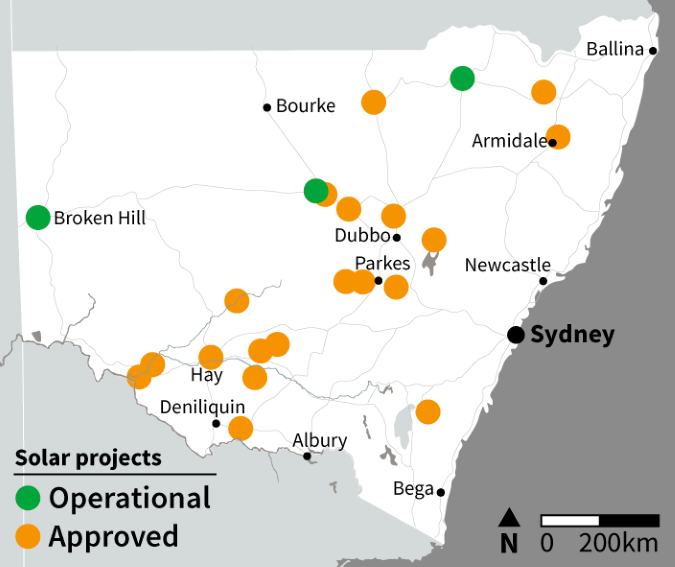 Figure 3: Operational and approved solar development in New South Wales
Other renewable energy projects that are benefitting from the boom and success of the 100MW Tesla battery scheme include South Australia's world's largest solar thermal plant, and a Queensland wind farm which may be the site of a new record-breaking battery.
The Aurora solar plant in Port Augusta, SA, will begin construction in 2018 and is expected to provide 100% of the state's energy requirements by 2020. The 150MW power concentrates solar energy via mirrors towards a central column where molten salt is produced which in turn, generates electricity.
In Queensland, French utility Neoen – the partner of Tesla for the 100MW battery scheme, may surpasses its own record by building an even larger storage system at the Kaban Green Power Hub. However in order for the proposed Queensland battery facility to be the world's largest, it would have to beat a soon-to-be-completed battery system in South Korea, from Hyundai Electric & Energy Systems Co, which at 150MW would take the crown from South Australia[7].
Conclusions
Investment experts say Australia is fast becoming an attractive destination for large-scale batteries and renewable investment, which should ultimately bring down the costs of gas and electricity for households. Australia is currently leading the way with the battery storage facilities and plans are already in place to keep this crown.
Renewable development will likely grow significantly over the coming year. Australia has a significant solar resource to draw upon, so focusing on solar based renewables makes sense environmentally and financially.
References
[1] Australia Poised For Renewable Energy Breakout, January 16th 2018 by Steve Hanley, Clean Technica. Last accessed 16.01.2018.
[2] Renewable energy generates enough power to run 70% of Australian homes, 27 August 2017, Joshua Robertson, the Guardian. Last accessed 16.01.2018.
[3]  South Australia turns on Tesla's 100MW battery: 'History in the making', 1 December 2017, Australian Associated Press, The Guardian. Last accessed 16.01.2018.
[4] Solar power and Tesla batteries will create the world's largest "virtual power plant" in Australia, February 05 2018 by Akshat Rathi, Quartz.
[5] Solar 'tsunami' coming in Australia as NSW accelerates approvals, February 7 2018 by Peter Hannam and Cole Latimer, The Sydney Morning Herald. Last accessed 08.02.2018.
[6] New South Wales Government via Renewable energy investment 'bonanza' is coming to Australia, experts say. Last accessed 08.02.2018.
[7] Big new renewable projects planned across Australia as Tesla effect hits, January 11 2018 by Naaman Zhou, The Guardian. Last accessed 08.02.2018.
Image accreditation: Hornsdale and the South Australian governments largest Lithium Battery in the world by denisbin Realty via flickr / CC BY-ND 2.0 / Image cropped and resized from original.