The most significant climate change conference since the Paris climate conference of 2015 is being held in Glasgow, Scotland (31st of October to the 12th of November). The 2021 United Nations Climate Change Conference is the 26th Conference of the Parties (COP) to the United Nations Framework Convention on Climate Change (UNFCCC). The conference also represents the 16th meeting of the parties for the Kyoto Protocol (CMP16), and the third meeting of the parties for the Paris Climate Agreement (CMA3).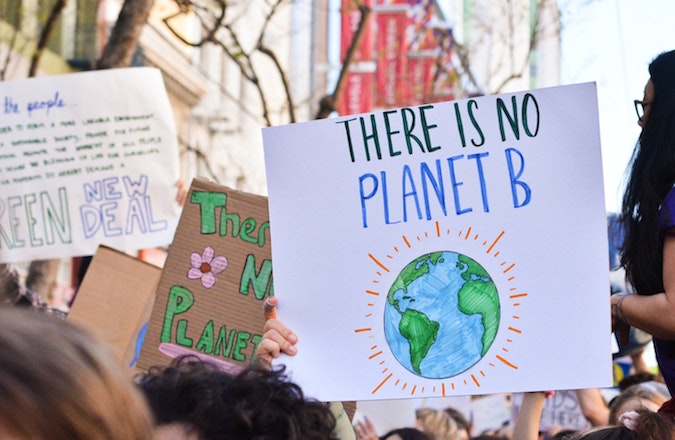 Figure 1: Climate Protests [31]
Now, having read all of that, you will be excused for thinking, that's a lot of acronyms, what's actually being done? Well, you won't be alone. Greta Thunberg, Arnold Schwarzenegger, Queen Elizabeth II, and Boris Johnson have all shared their pessimism. 
Greta Thunberg has shared her lack of optimism towards world leaders: "Of course we need constructive dialogue…But they've now had 30 years of blah, blah, blah and where has that led us? We can still turn this around – it is entirely possible. It will take immediate, drastic annual emission reductions. But not if things go on like today. Our leaders' intentional lack of action is a betrayal toward all present and future generations. [1]", likewise, "Nothing has changed from previous years really. The leaders will say we'll do this and we'll do this, and we will put our forces together and achieve this, and then they will do nothing…We can have as many Cops as we want, but nothing real will come out of it." [2]
Arnold Schwarzenegger (former governor of California) has said that world leaders who claim that combating climate change will have a negative impact on the economy are 'stupid or liars' and does not believe that solutions will come from leaders, rather from 'popular pressure and technological change'. [3]
Queen Elizabeth will not be attending COP26 following medical advice; however, she will deliver an address to the delegates through a recorded message. The 95-year-old monarch has recently been overheard expressing her own frustration at world leaders: "Extraordinary isn't it. I've been hearing all about Cop … still don't know who is coming. No idea…We only know about people who are not coming … It's really irritating when they talk, but they don't do." [4]
Xi Jinping (China), Vladimir Putin (Russia), Jair Bolsonaro (Brazil), and Fumio Kishida (Japan), among other world leaders, have confirmed that they will not be attending COP26 (or at least in-person). [5]
Boris Jonson has said that he is "very worried" COP26 will not be successful: "I am very worried because it might go wrong and we might not get the agreements that we need and it is touch and go, it is very, very difficult, but I think it can be done." [6]
COP26 Objectives
COP26 broadly aims to draw world leaders to agreements on commitments to tackling climate change by keeping to the common commitment of a maximum temperature rise of 1.5c and a phasing out of coal. [7]
Article 6 of the Paris Agreement, which relates to carbon markets, is the last article to be agreed as part of the Paris Climate Agreement. The rulebook remains to be concluded and will be a prominent negotiating point of the conference. The discussions will involve the issue of avoiding double-counting of emissions and carbon credits. [8]
Financial support ('mobilise finance' [9]) for developing nations will also be an essential topic for discussion. Developed countries committed a decade ago to $100 billion per year by 2020 to help developing nations tackle climate change and agreed at the Paris climate conference to continue this level of finance until 2025. Unfortunately, developed nations are failing to meet their own target; the level was $79.6 billion in 2019. The US has committed to doubling its commitment to $11.4 billion by 2024 (though to be approved by Congress); however, this remains far short of estimates for the share ($43 billion [10]) that the US should be committing to when considering the US population size, wealth, and level of emissions. Although substantial financial support is being committed here, it is not always welcome or might be insufficient in some circumstances. It is apparent that private enterprise in Brazil and the broader economy of the nation is benefitting substantially from deforestation [11], and their leader (who will not attend COP26) is not opposing the current destruction of the Amazon rainforest [12]. 
Other goals include targets that countries will need to commit to, including reducing deforestation and a switch to electric vehicles. [13]
Why Glasgow?
Glasgow has set a target of being net-zero carbon by 2030, which will make it one of the greenest cities in Europe. Furthermore, a Glasgow City Council spokesperson explained that significant progress has already been made: "we've reduced our CO2 emissions by 41% since 2006, surpassing our 30% target." [14] The Sustainable Glasgow campaign and partnership supporting the goal is a council-led initiative created in 2010 with the aim of making Glasgow a "world-leading centre for sustainability" [15]. The partnership includes 'members from housing, communities, business, universities, enterprise and education'.  The aim of the partnership is to work together to create a sustainable and low carbon city. 
Glasgow is also currently well positioned globally; the city is 4th in the world in the Global Destination Sustainability Index [16]. The city is launching a carbon-neutral district starting with 'Smart Street', and a city spokesperson explained that this will include "the installation of a roof-mounted solar PV canopy, ducted wind turbines, energy arbitrage, power storage, EV charging, and smart grid controls".
What is Britain Doing?
The UK government have already laid their cards on the table; their latest strategy for tackling climate change was recently announced under the title 'Net Zero Strategy: Build Back Greener'; however, the document has arrived a year later than expected. [17]
The highlights of the Net Zero Strategy is an investment of: 
£620m in grants for electric vehicles and charging points;

£350m to support car manufacturers transitioning towards electric vehicles;

£120m to develop modular nuclear reactors, and

£625m towards tree planting. 
The response thus far is that these commitments are good in nature; however, they lack the scale of funding needed, with much of the funding stated in millions rather than the billions. Finally, there is a deafening silence regarding a commitment to subsidies or taxes to transition the UK to sustainable food sources. The UK government has recently denied there will be a meat tax following a proposal that was published then quickly removed within a couple of hours [18].
There is some good news the UK is now halfway to meeting its net-zero emissions target [19]; however, UK renewables share of energy generation is 7.2% down in Q2 2021 when compared to the same quarter of last year in part due to "unfavourable weather conditions and maintenance at several wind farms" [20]. 
What are Other Countries Doing?
The most significant countries concerning climate change are those with the biggest potential for change, and that lies with those nations that are the biggest polluters, which includes the US and China. 
The US has made significant gains in the 1st half of 2021, with renewable energy production hitting an all-time high [21]. Joe Biden has announced a policy framework 'Build Back Better' [22] that includes an investment of $555billion in sustainable energy investment including "buildings, transportation, industry, electricity, agriculture, and climate-smart practices across lands and waters" and will include up to $12,500 to individuals who purchase an electric car. This follows a re-commitment to the US to the Paris Climate Agreement and a target of 100% clean energy economy and net-zero emissions by 2050 [23]. The bill will require support from the Republican opposition; however, the framework posed would represent the most significant policy investment to fight climate change in US history. 
Zheng Zeguang, a Chinese ambassador to the UK, has recently written an op-ed [24] that details China's commitment to fighting climate change "(China) will strive to peak carbon emissions before 2030 and achieve carbon neutrality before 2060…In terms of climate action, China met its target for 2020 ahead of schedule. By the end of last year, carbon emissions intensity had come down by 48% compared with 2005, and non-fossil fuels accounted for 16% of primary energy consumption." Finally, Zheng expresses criticism of developed nations "Something that the international community should recognise is that, for a developing country with a population of over 1.4bn that has not completed industrialisation or urbanisation, the nationally determined contributions (NDCs) and the supporting policy measures that China has adopted voluntarily have not been easy. Developed countries with a couple of hundred years of industrialisation behind them and historical environmental debts should make bigger contributions to tackling pollution and protecting the environment, instead of pinning the responsibility on China and other developing countries."
Whilst persuasive arguments are made by the Chinese loyalist, China is the leading contributor to global emissions, producing more greenhouse gas than the entire developed world combined [25]. It could be argued that China is economically in a position where the 'developing nation' argument falls flat, with the Chinese economy predicted to overtake the current global economic leader (the US) in 2028 [26]. Moreover, Xi Jinping (Chinese leader) is due to not be in attendance for COP26.
Conclusions
Climate Change conferences are of vital importance when it comes to climate change; however, COP26 has been burdened by pessimism about whether agreements can be made that will actually have a significant impact on tackling climate change. This pessimism is not without foundation; a report has been carried out that has found that of the 184 pledges (for 2030), as part of the Paris climate agreement, almost 75% do not go far enough [27]. 
The US and China are the most significant players involved in tackling climate change. Unfortunately, China will not be attending COP26, and under current plans, emissions in China are due to continue rising until 2030. The US is failing to adequately support developing nations in tackling climate change through financial support, and US president Joe Biden's commitments continue to be watered down by Republican opposition. 
Furthermore, many developed nations are focusing on electric vehicles as a solution to climate change goals. Whilst this is an important part of the climate puzzle, electric vehicles typically remain too expensive for most to afford despite proposed subsidies which will therefore favour those who can already afford the cost. 
There is also a fear that remains for Nuclear energy which is reflected by climate plans, with a small commission from the UK at £120m to develop modular nuclear reactors. This is despite the positive clean up that is being undertaken for Fukushima, the amount of energy potential, and a document by the Journal of cleaner production showing that Nuclear is comparable to that of solar and wind [28, 29]. 
Finally, the goals of COP26 and the UK governments own 'Net Zero Strategy' omit support towards a switch to sustainable foods sources. 
Many will feel a dissociation from the bold claims that will be made by world leaders. Among them is Greta Thunberg, who will be protesting in Glasgow, and has invited Glasgow workers who plan to strike during COP26 [30]. It remains, as ever, to be seen if world leaders will take significant action required or leave the Queen, amongst us all irritated that they "don't do".
About Pager Power
Pager Power undertakes technical assessments for developers of renewable energy projects and tall buildings worldwide. For more information about what we do, please get in touch.
References
[1] https://www.businessinsider.com/greta-thunberg-mocks-world-leaders-blah-blah-blah-climate-crisis-2021-9?r=US&IR=T
[2] https://www.theguardian.com/environment/ng-interactive/2021/sep/25/greta-thunberg-i-really-see-the-value-of-friendship-apart-from-the-climate-almost-nothing-else-matters
[3] https://www.bbc.co.uk/news/science-environment-59036814
[4] https://www.theguardian.com/uk-news/2021/oct/14/queen-irritated-by-world-leaders-talking-not-doing-on-climate-change
[5] https://www.reuters.com/business/environment/cop26-glasgow-who-is-going-who-is-not-2021-10-15/
[6] https://news.sky.com/story/cop26-boris-johnson-very-worried-climate-conference-will-not-be-a-success-12444269
[7] https://www.theguardian.com/environment/2021/sep/14/most-plans-for-new-coal-plants-scrapped-since-paris-agreement
[8] http://blogs.edf.org/climate411/2021/10/28/cop26-4-reasons-carbon-markets-rules-under-article-6-finally-may-be-agreed-in-glasgow/
[9] https://ukcop26.org/cop26-goals/
[10] https://www.bloombergquint.com/politics/what-is-cop26-a-guide-to-glasgow-climate-talks
[11] https://earth.org/fire-is-not-the-only-threat-amazon-rainforest-faces/
[12] https://www.theguardian.com/environment/2020/dec/01/amazon-deforestation-surges-to-12-year-high-under-bolsonaro
[13] https://ukcop26.org/cop26-goals/
[14] https://www.businessinsider.com/glasgow-scotland-is-host-to-cop26-in-november-and-setting-targets-for-net-zero-by-2030-2021-10?r=US&IR=T
[15] https://glasgow.gov.uk/sustainableglasgow
[16] https://www.gds.earth/top-20-2021/
[17] https://assets.publishing.service.gov.uk/government/uploads/system/uploads/attachment_data/file/1028157/net-zero-strategy.pdf
[18] https://www.theguardian.com/environment/2021/oct/20/meat-tax-and-frequent-flyer-levy-advice-dropped-from-uk-net-zero-strategy
[19] https://www.carbonbrief.org/analysis-uk-is-now-halfway-to-meeting-its-net-zero-emissions-target
[20] https://assets.publishing.service.gov.uk/government/uploads/system/uploads/attachment_data/file/1022019/Energy_Trends_September_2021.pdf
[21] https://renewablesnow.com/news/us-renewable-energy-production-hits-all-time-high-in-h1-2021-755794/
[22] https://www.whitehouse.gov/briefing-room/statements-releases/2021/10/28/president-biden-announces-the-build-back-better-framework/
[23] https://joebiden.com/climate-plan/
[24] https://www.theguardian.com/commentisfree/2021/oct/27/china-climate-pledges-cop26-emissions
[25] https://www.bbc.co.uk/news/world-asia-57018837
[26] https://www.cnbc.com/2021/02/01/new-chart-shows-china-gdp-could-overtake-us-sooner-as-covid-took-its-toll.html
[27] https://www.nationalgeographic.com/science/article/nations-miss-paris-targets-climate-driven-weather-events-cost-billions
[28] https://www.spectator.co.uk/article/why-are-we-so-afraid-of-nuclear-power
[29] https://ourworldindata.org/safest-sources-of-energy
[30] https://uk.news.yahoo.com/greta-thunberg-invites-striking-workers-195338714.html?guccounter=1&guce_referrer=aHR0cHM6Ly93d3cuZ29vZ2xlLmNvbS8&guce_referrer_sig=AQAAAEBNeTqmyQ9vyVFbgSNL30HR8d9K5sb1Jf5axdSEsV_P5_sC8pZAN1gms7C_SCl0Rou1zcEgFIFr5EiqLoLI5s0YvDxUVkvId908coB8d1yhHTJbm7M9wDUBm1MPlWiMpbI8SHEu6INf-ASrAAEEsp-0bCBH8tmZyRK1kOuzjCiu
[31] Li-An Lim (March 2019) from Unsplash.com. Last accessed on: 1st November 2021. Available at: https://unsplash.com/photos/ycW4YxhrWHM