Background
Unmanned Aerial Vehicles (UAVs) can potentially make delivery of goods quicker and easier as UAVs can fly quickly from local distribution centres to consumers. There are many challenges that prevent a cost effective and safe service being launched now.
Notwithstanding these challenges progress is being made in the United States, the United Kingdom and elsewhere. Amazon's drone delivery arm is known as Prime Air.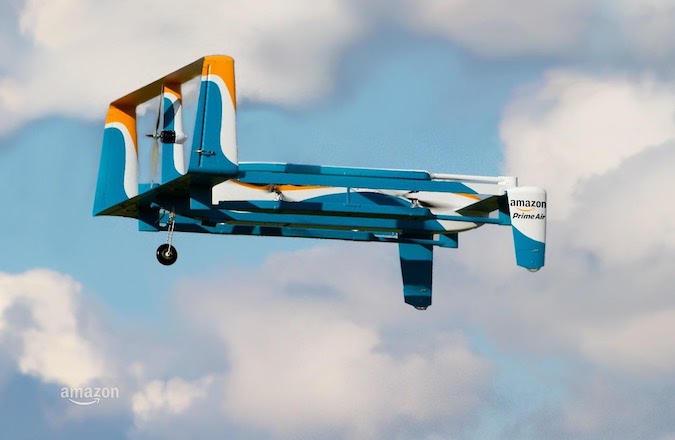 Figure 1 Amazon Prime Air Delivery UAV
FAA Approval
The US Federal Aviation Administration has issued an authorisation to Amazon to allow it to operate UAVs for delivering packages to customers. Its UAV has a range of fifteen miles and a payload of around 2 kilograms. This approval will allow Amazon to develop its services further with a view to operating commercially in future.
The first company to gain FAA approval for commercial operations was Wing – the subsidiary of Alphabet (who owns Google).
UK Trials
Small scale delivery trials have taken place in the United Kingdom near Cambridge where autonomous UAVs deliver small packages to a small selection of customers. These UAVs operate below 400 feet whilst services continue to be expanded slowly from the Cambridge base.
Further afield at Cranfield an air corridor has been established for testing drone operations between Cranfield Airport and Blue Bear System Research premises in Bedfordshire. The corridor is referred to as NBEC (National Beyond Line of Sight Experimentation Corridor).
Progress
It is unclear when widescale UAV deliveries will become available. There are still significant technical and safety challenges as well as the need to gain public acceptance. There are clearly massive benefits – however.
About Pager Power
Pager Power helps developers of renewable energy projects and tall buildings resolve technical issues that may prevent planning permission being granted. To find out more please contact us.