Background
Wind energy is on the rise as costs per MWh are reducing. In 2018, 51GW of capacity were added worldwide reaching 591GW of wind capacity[1]. This is also thanks to the fall in prices. Currently the price per MWh for wind energy is around 65$[2]. 
Size of turbines has played an important role in cost reduction and it is likely it will continue to do so in the future[3].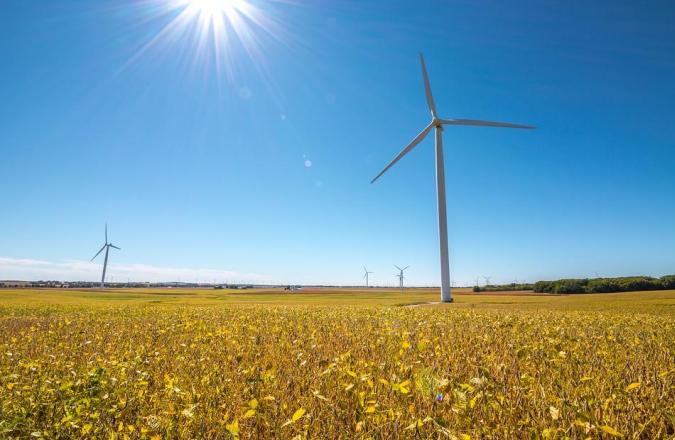 Wind turbines[4]
Turbine dimensions
The main two parts of a turbine that are changing are the hub height and the length of the blades. 
The hub height
Higher hub heights can help to harness a better resource and balance wind loads on blades due to similar wind speeds acting upon the entire rotor. 
Wind turbines' hub heights are increasing, but the rate of the increment depends on the market. The pace of increment is higher in Europe where in the last 5 years it has increased by circa 18m reaching a 107.7m average[5]. However, in the USA the height has increased only by circa 8m in the last 5 years reaching 88m. It has also shown a decrease between 2012 to 2013[6]. This might be due to the Federal Aviation Administration (FAA) which requires a specific process for structures taller than 500 feet (152.4m)[7].
Forecasts are however showing that in future hub heights are set for an increase all over the world. Such increment will enable a reduction in levelized cost of electricity (LCOE)[8] and a significant increase the capacity factor (CP), up to 18% in certain areas of the USA[9]. 
The rotor diameter
With larger diameters more energy can be harnessed. This is the main reason why the industry is moving towards larger rotors. Experts also rank the increment of rotor size as the main driver to reducing LCOE costs in the future[10]. 
In the past 5 years, rotors have increased in size everywhere in the world[6] [11]. Dimensions are expected to grow especially for the offshore markets[10]. In the USA the size of rotor went from 97m in 2013 to 115m in 2018. In the same time span in Europe the size has increased from 85m to 117m[11]. 
It is expected that by 2030 the rotor diameter in North America will reach 135-140m and 130m in Europe[10]. 
Conclusion
The wind industry is moving towards bigger and taller wind turbines, this will enable lower LCOE as well as unlocking new sites. As mentioned above regulations and restrictions can play a significant part in limiting wind farm potential. 
Pager Power has expertise in helping wind developers assessing impacts upon aviation and telecommunications and also engaging with stakeholders. 
References
[1] RENEWABLES 2019 GLOBAL STATUS REPORT, REN21, date: 2019, p.118, accessed: 14/10/2019.
[2] Falling Costs Make Wind, Solar More Affordable, Christian Bogmans, date: 26/04/2019, accessed: 14/10/2019.
[3] Reducing Wind Energy Costs through Increased Turbine Size: Is the Sky the Limit?, Ryan Wiser, date: 11/2016, accessed: 14/10/2019.
[4] wind-turbine-windmill-harvest-beans, ID 4240513, date: 01/02/2017, accessed: 15/10/2019.
[5] Turbine Size, Fraunhofer IEE, date: n.d., accessed: 14/10/2019.
[6] Top Trends in Wind Technology, energy.gov, 12/08/2019, accessed: 14/10/2019.
[7] Wind Turbine FAQs (latest revision 04/02/2018), FAA, date: 04/02/2018, accessed: 14/10/2019.
[8] Forecasting Wind Energy Costs and Cost Drivers – The Views of the World's Leading Experts, Volker Berkhout et al., date: n.d., accessed: 14/10/2019.
[9] Trends, Opportunities, and Challenges for Tall Wind Turbine and Tower Technologies, Eric Lantz et al., 22/05/2017, accessed: 14/10/2019. 
[10] Results of IEA Wind TCP Workshop on a Grand Vision for Wind Energy Technology, iea wind, 04/2019, accessed: 15/10/2019.
[11] Wind Tech Trends: Offshore Turbine Capacity Could Double in Europe by 2024, greentechmedia, 29/01/2018, accessed: 15/10/2019.