Solar energy production continues to form part of the renewable energy mix in countries all around the world. All renewable energy installations face their share of opposition, and solar power is of course no exception.
One of the more ironic hurdles faced by solar farms in particular is the reflection of sunlight in bright conditions, which can cause a disturbance to observers in the surrounding area.
This article presents an overview of the most common mitigation solutions for glint and glare impacts.
Glint and Glare Impacts
Reflection of the Sun's rays can distract or annoy an observer. Specifically, these impacts are categorised as: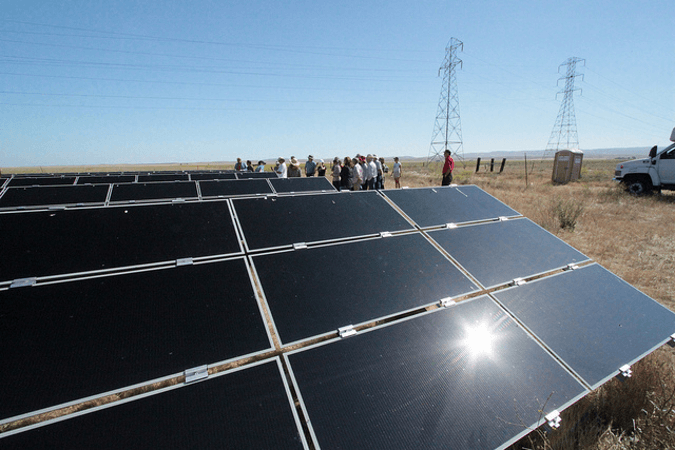 Figure 1: Reflection from a solar panel.
When not managed properly, these issues can cause havoc for developers. In the past, solar panels in the USA have had to be covered up due to effects at a neighbouring air traffic control tower [1], whilst in the UK panels have been removed from rooftops following complaints. Neither of these 'solutions' are desirable for a solar developer. Furthermore, permission for a proposed development can be denied due to glint and glare objections from aviation stakeholders, railway operators, road network agencies (e.g. Highways England) and local residents.
Anti-Reflective Coating
Most modern panels are produced with an anti-reflective coating which reduces the proportion of light that is reflected. This inherently reduces the resulting impact from glint and glare.
Screening
In order to experience glint and glare, an observer must have a visual line of sight to the panels. Therefore, provision of screening between potentially affected receptors and the reflecting panels can mitigate the effects.
It is important to remember that glint and glare at any given receptor may only be possible from a restricted number of solar panels within the development. Therefore, comprehensive analysis can identify precisely the level of screening that is necessary. This will be affected by the relative height of the observer and the reflecting panel, as well as the terrain elevation at the screening location. In the figure below, the screen would be sufficient if effects were predicted from the lower panel but not the upper panel.

Figure 2: Screening as mitigation
Tilt Angle
For a specular reflection from a flat surface, the angle of incidence is equal to the angle of reflection. In other words, changing the vertical angle of the reflector (panel) can affect the path of the reflected rays.
In practice, changing the vertical tilt angle of a solar panel within the economically viable range is unlikely to remove a potential impact altogether. However, in marginal cases, this could contribute to a mitigation strategy.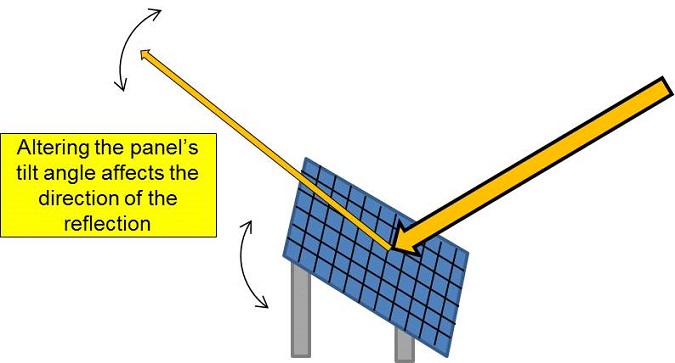 Figure 3: Vertical tilt angle
Azimuth Angle
The azimuth angle describes the direction the panels are 'facing'. In the northern hemisphere, the most efficient layout tends to be panels that face approximately south.
However, altering the azimuth angle of the panels affects the path of the reflected light. Therefore, effects at particular receptor locations can be reduced or removed by adjusting the panel alignment. Once again, it is worth remembering that reflections may well be possible from a particular portion of a development, therefore the required adjustments can be relatively small.
Conclusion
Glint and glare impacts can, and do, derail solar projects. There are strategies for avoiding or mitigating these impacts.
It is advisable for a developer to assess potential effects and identify/implement any required mitigation as part of the design phase. The other option is to roll the dice and hope for the best, however this can be costly, particularly as a precedents have been set for removing or covering panels after construction.
If you have any questions or comments regarding glint and glare issues, feel free to contact the author of this article, get in touch with Pager Power or leave a comment below.
To find how we can work together call us now on +44 (0) 1787 319001

Reference
[1]  Airport Controllers complain of solar panels' glare, Mark Hayward, New Hampshire Union Leader. (Last accessed 17/02/2016)
Image accreditation: "First Array" by Russ Ferriday / CCBY 2.0 / Resized from original.