Assessing glint and glare for ground level receptors including roads users and residents is almost always required for new solar developments within the UK that require planning permission. With respect to local residents specifically, we are often asked whether glint and glare can produce a significant detrimental impact upon residential amenity.
Whilst often predicted, solar reflections may not occur in reality due to the existing or proposed screening mitigation. Pager Power has identified a number of examples, both in the UK and internationally, where glint glare effects have been reported for both ground mounted and rooftop solar photovoltaic (PV) installations.


Case Study One – Roof Mounted Solar Panels Producing Solar Glare – Ailsworth, UK
A news article from the Peterborough Telegraph reported an incident of solar glare being experienced from an upstairs bedroom in a dwelling on Main Street in Ailsworth, Peterborough [1].
The solar reflections are said to be originating from a PV installation located on the roof of an adjacent bungalow.The PV installation did not need planning permission due to its size and location. Figure 1 below shows the dwelling where the roof-mounted solar panels are located along with the likely upstairs window that can view the solar reflections.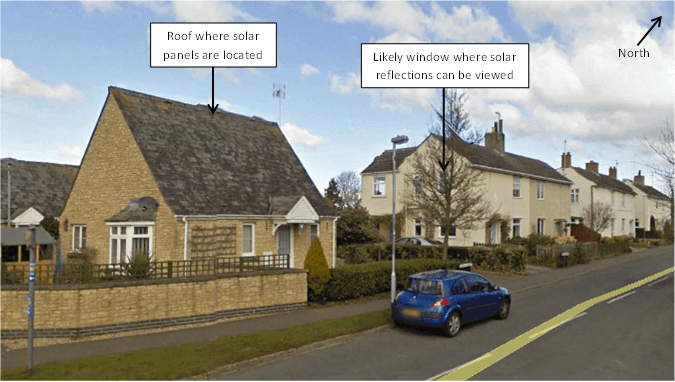 Figure 1: Location of roof mounted PV installation and receptor of glare
(Since writing this article the dwelling has had it's solar panels removed – click here to read more)
Case Study Two – Roof Mounted Solar Panels Producing Solar Glare- Devon, UK
A roof mounted PV installation located on a bungalow in Devon is producing solar reflections towards an adjacent dwelling [2]. The adjacent resident has reported glare in both downstairs and upstairs rooms, whilst also claiming that the garden is out of bounds when the sun is shining.
The PV installation was put up under permitted development rights and therefore no planning permission was required.
Case Study Three – Ground Mounted PV Installation Producing Solar Glare – Ipswich, USA
A small ground mounted PV installation consisting of two 12-panel arrays located in Ipswich, Massachusetts in the USA was reported to produce solar glare into the garden and rooms of an adjacent dwelling [3].
An independent study was commissioned to investigate the level of intensity observed by the neighbouring resident. The current Ipswich bylaw states that PV installations have no glare prevention and allows installation of 18 by 25 feet in front gardens with no screening. There are no bylaws pertaining to roof mounted installations.
Conclusions
There are real world examples of solar glare originating from solar panels affecting residential amenity.
In the examples presented in these cases, the solar installations are small-scale ground and roof mounted developments. For these types of installation no planning permission is required and no glint and glare study would therefore be requested. These case studies show why a glint and glare assessment should be undertaken for both small and large-scale solar developments whether planning permission is required or not.
References
[1] Unwanted solar panels stop boy from using his room, Peterborough Telegraph. (Last accessed 03/06/15).
[2] It's like living in a tanning salon! Family's agony over neighbour's solar panels that reflects sunlight directly into their home, Luke Salkeld, Daily Mail. (Last accessed 03/06/15).
[3] Control over solar panels up at Ipswich Town Meeting, Sally Kuhn, Ipswich Chronicle. (Last accessed 03/06/15).
Image accreditation: Google Earth Street View imagery. © 2015 Google.