What are the issues?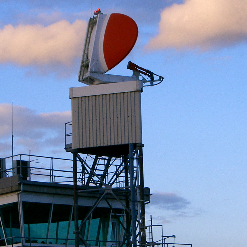 Wind energy facilities can interfere with radar systems. As physical structures they interact with radar signals that reach them. Furthermore, they have large moving components, meaning that each individual windmill can be detected as a moving target and displayed on a radar screen as an aircraft.
Wind energy facilities can also affect transmissions between an aircraft's transponder and a radar station on the ground. These impacts are of concern to radar operators in South Africa.
How do I know if my windmill will cause an issue?
It is necessary to identify the nearest radar to a proposed wind energy facility and assess whether an impact is likely. It is possible to determine whether a signal emitted by a particular radar will illuminate any of the windmills, or whether obstructions such as terrain will 'hide' the wind energy facility from the radar.
In cases where windmills within a wind farm will be illuminated by a radar beam, further analysis can quantify the likelihood of a technical or operational impact occurring. The details around the required analysis and the resulting concerns is dependent on the type of radar (e.g. long range or short range, military or civil).

How can the issues be resolved?
Careful site design can, in some circumstances, prevent an impact occurring by ensuring the individual windmills are not detectable to the radar. Other technical mitigation options exist for specific impacts, the suitability of which depends on the radar's function and the importance of the airspace over the wind energy facility.
Where can I find more information?
Pager Power has built good relationships with developers and stakeholders alike in South Africa, including the South African Civil Aviation Authority (SACAA), Air Traffic and Navigation Services (ATNS) and the South African Air Force (SAAF). More information regarding the issues can be found elsewhere on this website, or we can be reached by email (info@pagerpower.co.uk) or by phone (+44 1787 319 001).
Click here to read more about how we can help with wind farm radio communications impacts in South Africa >>