Background 
The Department of Energy published the Integrated Resource Plan (IRP) 2019, on Friday, 18 October. The IRP outlines the 2030 roadmap for the South African energy sector highlighting that South Africa energy sector will pursue the following targets: 
Reliable and efficient energy service;

Generate electricity at competitive rates;

Is socially equitable through expanded access to energy at affordable tariffs;

Is environmentally sustainable through reduced pollution

(minimizing negative emissions and water usage).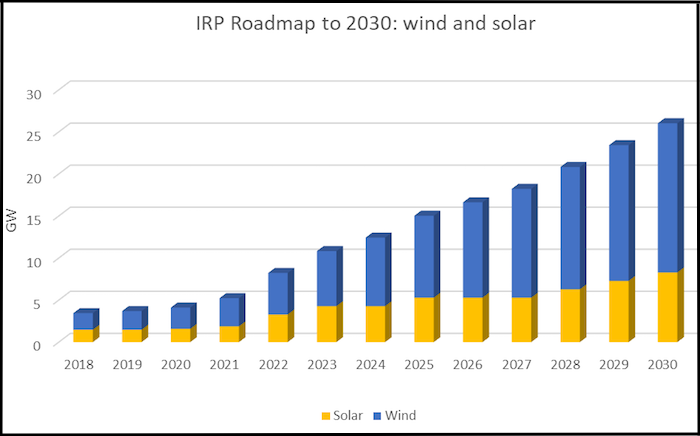 Renewables targets 
Under the IRP 2010-30 the 6.4GW has been procured under the Renewable Energy Independent Power Producers Programme (REIPPP), with 3.9TW operational and made available to the grid. 
Solar and Wind
Currently great part, but not all, of new renewable capacity is delivered by solar and wind energy projects. A combined 3.5GW of capacity is currently installed (as per 2019 data). This capacity is divided in 1.5GW of solar PV and 2.0GW of wind. 
The plan to 2030 is to add additional 6.8GW of solar and 17.8GW of wind, which combined, will add 24.6GW of renewable energy capacity. In 2030 the share of wind and solar capacity of the overall energy mix will be 33.05% five times today's amount.
To address investors' confidence the new capacity will be deployed gradually in order to provide a constant pipeline of projects. To enable this "smooth" process limits on new capacity will be applied. Such limits however will be reviewed annually to be in line with demand and supply.  
Conclusion
The IRP will be frequently revised by the Department of Energy (DoE) in order to adapt to future changes.
Pager Power supports wind and solar developers in South Africa having undertaken its first project in 2010. We can help providing glint and glare assessments for large and medium scale solar as well as assess the impact of wind farm upon aviation and telecommunications [1].  
References
[1] Integrated Resource Plan (IRP2019), Government Gazzette – Department of Energy, date: 18/10/2019, last access: 29/10/19