SGHAT (Solar Glare Hazard Analysis Tool) is no longer freely available – as of November 2017. SGHAT is used for predicting solar panel glare, also referred to as PV glare, for inclusion within aeronautical studies. SGHAT, developed by US company SANDIA Laboratories, is still available to US government, state and military agencies. Glint and glare assessments can be required for airports, highways, railways, light rail systems, equine interests and dwellings. The photograph below shows direct solar PV glare from a small rooftop solar installation.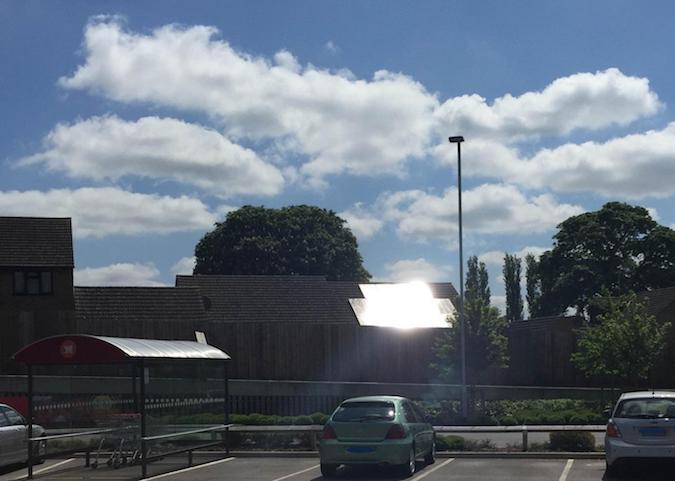 Pager Power has its own in-house software for predicting solar panel glare. The software predicts the time, date and duration of glare and shows which areas of a development will cause nuisance reflections. As well as predicting times and dates, the software also predicts glare intensity according to the SANDIA methodology which classifies glare levels as "red", "yellow" or "green". Glare intensity calculations are typically required for aeronautical studies of PV glare. The red/yellow/green classification is dependent on both the size and intensity of the predicted reflection. The green line on the chart below shows the boundary between "green" and "yellow" glare.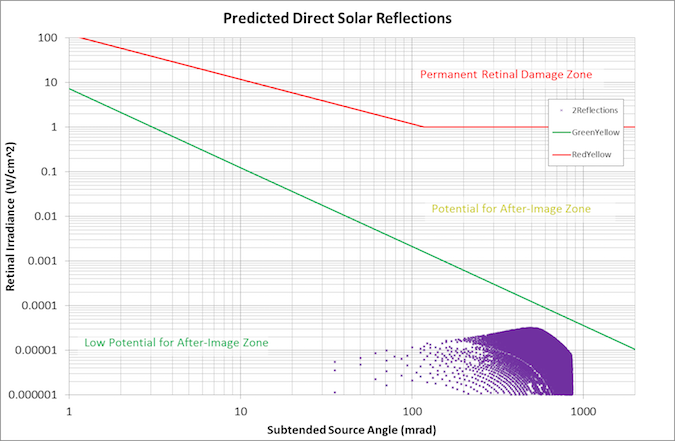 The unavailability of SGHAT means that some organisations will now be unable to assess solar panel glare. Pager Power can still assess solar panel glare even though SGHAT is unavailable. Pager Power has undertaken over 250 glint and glare assessments throughout the world. Assessed developments include static solar panels, tracking solar panels, glass buildings and complex reflecting structures. The company has undertaken research, and is undertaking further research, to find ways of reducing "yellow" glare from solar PV developments near airports. The company has also written Glint and Glare Guidance for developers, planners and stakeholders following consultation with various industry and statutory bodies in the UK and Ireland.
Please feel free to contact us regarding any glint and glare issues you may have on 01787 319001.