Background
The offshore wind sector has made significant improvements in the last three decades. 
The first offshore pilot project was located south of the Danish coast and had a total capacity of 4.95MW. Vindeby offshore project was installed in 1991 implementing 11 Bonus 450kW turbines[1]. 
Nowadays the projects are of greater size. In January 2020, the construction of Dogger Bank Wind Farms started. The offshore wind development will have a total capacity of 3600MW and will use GE's Haliade-X, a 12 MW wind turbine[2].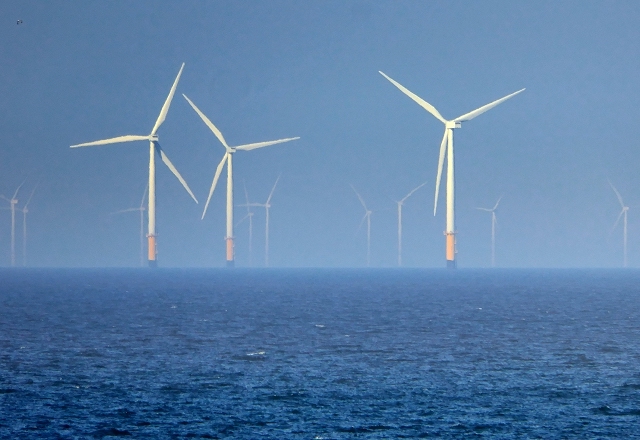 Figure 1: Offshore wind turbines[3]
Future Size of Offshore Wind Turbines
The Bonus 450kW turbines were relatively small turbines with a rotor diameter of 37.0 m[4], meanwhile the Haliade-X 12 MW has a 220 m rotor and a 260 m tip height[5]. 
However, on 19 May 2020, SIEMENS unveiled its 14 MW offshore Direct Drive turbine (SG 14-222 DD) with similar dimensions to the Haliade-X. The prototype will be ready in 2021 and will be commercially available in 2024. SIEMENS claimed that the turbine can reach up to 15 MW using the company's Power Boost function. 
One SG 14-222 DD machine will be able to provide enough energy to power approximately 18,000 average European households every year. Approximately 30 SG 14-222 DD offshore wind turbines could cover the annual electricity consumption of Bilbao, Spain. 
Compared to the previous model (SG 11.0-200 DD), the SG 14-222 DD will provide an additional 25% in Annual Energy Production[6].
Conclusions
The wind industry is moving towards bigger and more powerful wind turbines. This is necessary to reduce the levelized cost of electricity (LCOE) of new developments and make offshore wind energy a more acceptable choice compared to fossil fuel power plants (see Wind Turbines Are Getting Bigger And Taller). 
Furthermore, visibility impact of larger offshore wind turbines is not a significant issue when compared to onshore projects. However, line of sight with radar can be a problem. Pager Power has expertise in helping wind developers assessing impacts upon aviation and telecommunications and also engaging with stakeholders. 
About Pager Power
Pager Power helps developers resolve technical issues that may block their development during the planning process. For more information please call us on 01787 319001.
References
[1] Dong begins Vindeby decommissioning, David Weston, date:15/03/2017, last access: 20/05/2020.
[2] Dogger Bank Wind Farm, Doggerbank, n.d., last access: 20/05/2020.
[3] Offshore Wind Farm at Rhyl Flats, David Dixon, n.d., last access: 20/05/2020.
[4] AN Bonus 450/37, Wind Turbine Models, n.d., last access: 20/05/2020.
[5] Haliade-X 12 MW offshore wind turbine platform, GE, n.d., last access: 20/05/2020.
[6] Powered by change: Siemens Gamesa launches 14 MW offshore Direct Drive turbine with 222-meter rotor, SIEMENS, 19/05/2020, last access: 20/05/2020.