Background
The first large-capacity floating wind turbine (Hywind) located in the North Sea near Norway was installed in 2009[1] and had a capacity of 2.3MW. After more than 10 years, the world capacity deployed has increased almost 30 fold. As of the end of 2019, there is 65.7MW of floating offshore wind capacity installed globally and it is expected that, depending on speed of cost reduction, an additional 19GW will be installed by 2030.[2]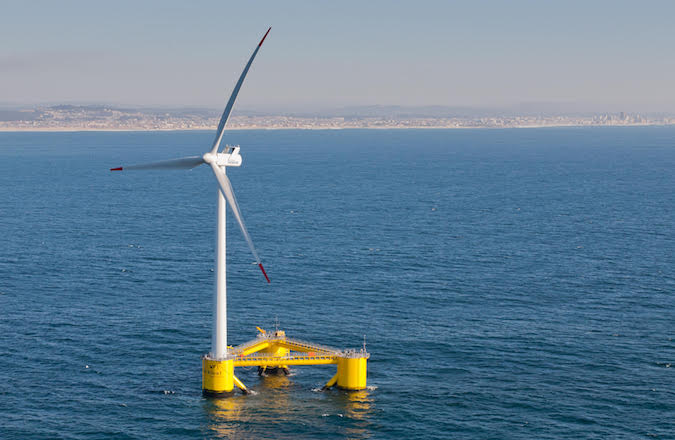 Floating offshore wind turbine.[3]
Latest Developments
On the 28th of July 2020, Vestas deployed the last of 3 floating V164-8.4MW turbines in the Atlantic Ocean. The site is located 20 km off the coast of Viana do Castelo in Portugal at a sea depth of 100 meters. The total installed capacity is of 25MW and will power 60000 homes per year[4]. Other world regions are also seeing an increase in deployment of floating offshore wind energy:
Asia: Japan launched 3MW of floating capacity to end the year (2020),

America: Maine utility announced that it was the anchor buyer in a PPA for the first US floating wind power project, a 12MW facility off the state's coast[5].
Other pilot projects (innovative turbine designs or foundations) are being tested where Hywind project was deployed in Karmøy[6]:
TetraSpar concept is a low-cost floating offshore wind turbine platform which has the aim of reducing LCOE of floating wind to match those for bottom-fixed offshore wind[7].

Flagship project: the aim is to demonstrate the viability and profitability of installing 10MW+ wind turbines on floating platforms[8].

SeaTwirl: a vertical axis offshore floating wind turbine that, thanks to its simplicity of the construction, can be less expensive to manufacture and maintain than traditional wind turbines[9].
Conclusions
Floating foundations could contribute to significant growth in offshore wind capacities since they allow access to sites with water deeper than 60 metres. Furthermore, floating offshore technology is becoming more economically attractive and, one day, it can become a preferable solution to fixed foundation.
About Pager Power
Pager Power has expertise in helping wind developers assess impacts of both offshore and onshore wind farms upon aviation, telecommunications, and supporting developers through the planning process by assisting with the engagement of stakeholders.
References
[1] Hywind – From idea to world's first wind farm based upon floaters, Finn Gunnar Nielsen, date: n.d., last access: 29/07/2020.[2] GWEC launches Task Force to drive global growth of floating offshore wind, Alyssa Pek, date: 07/07/2020, last access: 29/07/2020.
[3] The world's second full-scale floating wind turbine (and first to be installed without the use of heavy-lift vessels), WindFloat, operating at rated capacity (2 MW) approximately 5 km offshore of Aguçadoura, Portugal, Author: Untrakdrover, date: 09/03/2012, last access: 29/07/2020.
[4] Full power at first floating wind project in continental Europe, John Wawer, date: 28/07/2020, last access: 29/07/2020.
[5] RENEWABLES 2020 GLOBAL STATUS REPORT, Ren21, date: n.d., last access: 29/07/2020.
[6] This world-leading, North Sea test centre holds the future for floating wind power, The Explorer, date: 19/06/2020, last access: 29/07/2020.
[7] The potential of offshore wind power is enormous, Stiesdal, date: n.d., last access: 29/07/2020.
[8] We are leading the Flagship project to advance floating offshore wind power, date: n.d., last access: 29/07/2020.
[9] The future of offshore wind, date: n.d., last access: 29/07/2020.