Background
The Ministry of Defence has recommissioned a radar site at the far northern tip of Shetland called Saxa Vord. The radar is used to detect unknown aircraft and also to direct intercepting military aircraft. The requirement for this increased level of radar coverage stems from increased Russian military activity. Whilst the Shetland radar site is new, the actual radar is a TPS 77 radar which has been moved from Staxton Wold on the east coast of England in North Yorkshire.
We reported in August this year that the MOD has temporarily stopped agreeing to mitigate wind farms' impacts on its TPS-77 radar.
A wind developer recently asked us what effect the radar relocation would have on wind turbine developments in the vicinity of the Staxton Wold radar.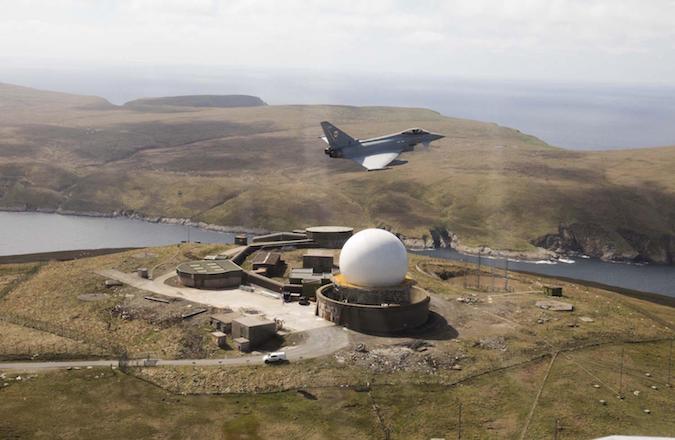 MOD photograph of Typhoon jet flying over new Saxa Vord radar station.
Shetland – Saxa Vord
Whilst the Saxa Vord site has always been formally safeguarded, its actual impact on wind farm development has been limited due to the fact there was no radar on site. Now that the TPS 77 radar has been moved there – and due to the fact the move has been publicised – the MOD's safeguarding process is likely to be robust with multi-turbine developments predicted to impact the radar being subject to objections.
Yorkshire – Staxton Wold
We have consulted the MOD and others – and considered this ourselves. The Staxton Wold radar is likely to be replaced or re-instated with a TPS 77 or other type of radar. Any wind development that is predicted to impact a TPS 77 radar is likely to be subject to an MOD objection.
In the planning context an MOD objection will carry less weight if the radar is absent – although this argument is likely to be countered on the basis the radar is due to be replaced. The increased threat from Russia is also likely to weigh against wind developers.
Overall the fact the radar is temporarily removed will have little impact.
Further Information
To find out more about Pager Power's services for wind farm developers please click here.  
To keep up to date on this and other issues please sign up to our newsletter. 
To discuss specific projects and issues on a free no obligation basis please call us on 01787 319001.
Useful Links
https://www.monch.com/mpg/news/36-radar/2110-uk-raf-radar-coverage-to-be-enhanced.html
https://www.parliament.uk/business/publications/written-questions-answers-statements/written-question/Commons/2018-02-22/129067