Overview
Heathrow is planning a third runway to the north west of the existing two parallel runways. In an earlier article we explained that this could affect future developments in the vicinity of the new runway – particularly beneath the departure and approach paths.
Heathrow is safeguarding the New Northwest Runway now which means that it could object to developments now on the basis that they could adversely affects its future operations. This means that developments that may not have been subject to objections in the past could be subject to objections now.
Proposed new Runway
The new runway will be parallel to the existing runways but is staggered so that it lies further west. It will also be slightly shorter than the existing runways having a length of 3,500 metres. The map below shows the location of the new runway.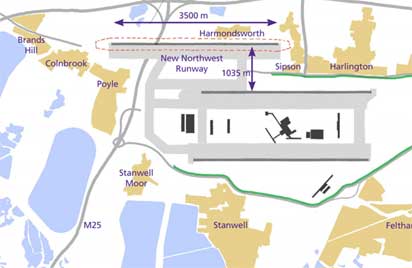 Figure 1 Map showing new and existing runways
Obstacle Limitation Surfaces
Obstacle Limitation Surfaces (OLS) are used to control the development of building and structures around airports. The addition of the third runway is likely to result in the following changes:
Two new Approach surfaces

Two new Take Off Climb surfaces

Two new Transitional surfaces

Increase in size of Inner Horizontal Surface (HIS)

Increase in size of Conical Surface
Public Safety Zones
Public Safety Zones are established at runway ends to limit the risk of air accidents for people on the ground. These zones are long thin triangular areas which extend outwards from the runway ends. New residential development is prohibited in these zones.
The new runway is likely to result in the establishment of two new Public Safety Zones which will restrict development east and west of the new runway.
How can Pager Power help?
Determining whether proposed new developments are likely to impact Heathrow

Undertaking OLS clearance calculations

Advising on mitigation options where developments infringe OLSs

Providing advice on resolving airport objections

Determining whether developments lie within a PSZ

Advising on whether developments breach PSZ policy
To find out more please contact Mike Watson on 01787 319001.
References
https://aec.heathrowconsultation.com/wp-content/uploads/sites/5/2019/06/Preferred-Masterplan-Hi-Res.pdf