East Hampshire District Council (EHDC) has a plan to form an 'urban' solar farm. The project will use roof space of buildings in the district to generate clean energy and revenue from the installation of solar photovoltaic (PV) panels.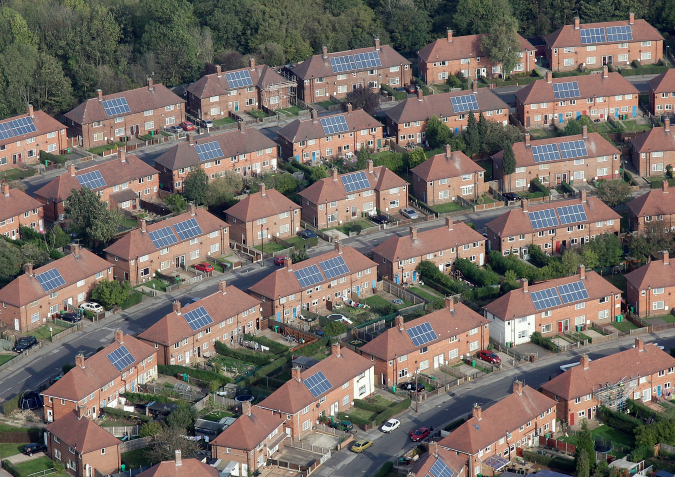 The Urban Solar Farm Plan
EDHC intends to utilise roof space on three types of building [1]:
Rooftops on 10% of the new homes projected to be built in the district
Council buildings
Suitable commercial properties
The plan would benefit the owner of the building through the use of the green energy produced, while EHDC would generate revenue via the export of the electricity back to the National Grid and Feed-in-Tariff (FiT) scheme.
Regarding the council buildings, it will not just be solar PV that being considered, solar thermal panels will also be explored.
Other Rooftop Urban Solar Schemes
"Green" rooftops are not a new concept, but the idea of enforcing them is.
We wrote recently about a similar idea in France, where the French parliament mandated that new buildings in commercial zones must be partially covered by either solar panels or plants.
Coming back to the UK, in its energy strategy document, EHDC mentioned that Cornwall Council had "installed over a megawatt of solar panels on roofs on 30 sites across the county". It is also understood that a number of other councils are offering solar schemes such as Warrington, Norwich City and Peterborough City.
It isn't just councils that are involved in harnessing the power of the sun on UK rooftops, housing associations are too. For example Cross Keys, Peterborough's largest housing association, set up a scheme to install free solar panels for over 2,600 homes [2]. However, one of the houses that took part in this scheme subsequently had to have the panels removed due to glare concerns. This is something that EDHC may want to consider.
Rooftop Solar Glint and Glare
We have previously written about real life examples of glint and glare issues for dwellings, and the requirement to determine the impact of glare on neighbouring land when applying for permitted developments.
The potential effect of Glint and Glare is something that should be taken into account when developing any solar project.  This is especially true where panels are being installed in a built up area, near to a road or airport.
If you require a Glint & Glare assessment, please get in touch with Pager Power. We have completed nearly 150 of them, and have developed tools for accurate modelling.
Call +44 (0) 1787 319001 or email info@pagerpower.com and we'll be happy to help.
Image source: Nottingham City (as referenced from Addressing Environmental Sustainability Locally, Gesche Schmid, Earthzine 2011.)
References
[1] Energy Strategy, East Hampshire District Council, November 2014. (Last accessed 04/09/2015)
[2] Free solar energy scheme announced for over 2,600 homes by Cross Keys Homes, Cross Keys Homes. (Last accessed 04/09/2015)