Pager Power offers a wide and comprehensive range of assessments, almost all of which require accurate terrain data to ensure the results are precise and reliable. From Radar Line of Sight to Radar Detectability and Obstruction Assessments, accurate terrain data means you can trust the results. Pager Power uses a terrain data algorithm which has been developed especially to maximise accuracy at any location. This means that the analysis tools you use – custom built by our software developers – follow an approach that has been refined over 10 years to deliver a result which you can rely on.
Our Digital Terrain Database
All of our automated online assessments are based on bare earth terrain. This is because the obstructions which exist along a Radar Line of Sight path can change on a day to day basis meaning it is best to assess an initial worst case scenario and then look at obstructions separately. We can then advise on whether any additional shielding should be incorporated and a survey can then be undertaken if required.  This is an approach adopted by many of the relevant aviation and communication stakeholders.
Real World Calibration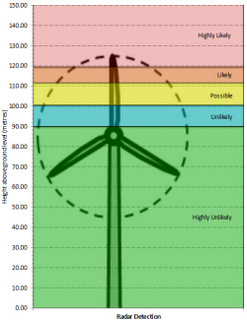 In addition to Pager Power's digital terrain database, what makes us really special is the integration of real world results into our modelling tools, in particular our Radar Detectability Assessment.
This means our Detectability Analysis has been calibrated against operational wind developments throughout the UK. This, in turn, has led to a fine tuned wind turbine radar detectability model, with our terrain data right at the heart of it. The results are therefore as true to life as possible.
In summary, our accurate terrain data and modelling means you get results which you can trust.
All of Pager Power's online assessments are cost effective and delivered quickly to your email inbox within a few working days of your initial order. Please contact us to find out more.