There's no doubt that the number of fully electric cars has increased over the last few years, most likely due to cost benefits (cheaper running costs, fewer taxes) and the overall improvement in viability for electric vehicles (EVs) due to greater range and faster and more frequent charging stations. But how many more EVs are there, which EU country has grown the most, and why does it matter?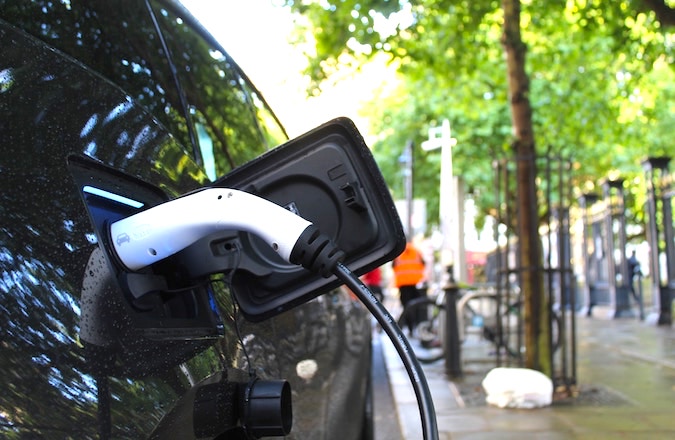 Figure 1: Electric vehicle being charged. [1]
Growth of EVs in Europe
In 2013, 2 in every 10,000 passenger vehicles in the EU were fully electric. By 2021, this had increased to 76 per 10,000, this increased by a further 58% in 2022 [2]. In terms of the total number of EVs, most EVs will find themselves in Germany, the UK, France or Norway each having over half a million fully electric vehicles. The next highest total goes to the Netherlands, with 318,000 EVs. Germany leads in total number of EVs at 1,090,000, but does this mean that Germany has done the best in moving towards greener roads? Not necessarily. A far better metric to assess a country's move towards greener roads is the share of fully electric passenger vehicles. By this metric, Germany is not sitting at the top, it's not even second, but a mere 9th place, at a share of 1.3%, just above the UK's 1.2%. By share of total passenger vehicles that are EVs, Norway comes first, by some margin too. Norway has an EV share of 15.5%, 12.7% ahead of runner up, the Netherlands [2].
Norway Leading the Way
So why has Norway's fleet of EVs grown so much faster relative to other fuel type vehicles, and other countries? It's a combination of constraints, and incentives that have caused a significant shift in the passenger vehicle market in Norway. Firstly, the Norwegian government is firm in its standing that all cars sold in and after 2025 must be 100% emission-free, as such, vehicle manufacturers and sellers have been slowly winding down their supply to reduce the impact of a sudden halt in all alternatively powered motor vehicles at the beginning of 2025. The Norwegian government is also providing significant cash incentives. These include zero emissions taxes for EVs, road tax reduction by at least 50%, and a country wide reduction in parking and ferry fares (very useful in the island and fjord-full Norwegian landscape). This combination of stick and carrot has caused an explosion in EVs that is quite impressive.
Why Does it Matter?
Within the EU, passenger cars contribute 12% of all carbon dioxide emissions so the move to EVs is important, and many countries could (and should) learn something from Norway. But of course, any increase in the number of EVs on the road must be accompanied by a suitable increase in power generated from renewable sources, otherwise the benefits of EVs on the climate are severely dampened. As such, governments and developers in the EU must continue to push for greener power generation such as solar and wind.
About Pager Power
Pager Power undertakes technical assessments for developers of renewable energy projects and tall buildings worldwide. For more information about what we do, please get in touch.
References
[1] Andrew Roberts, Electric Car Charging (Sept 2019) from Unsplash.com. Last accessed on 19th June 2023. Available at: https://unsplash.com/photos/2JvEjF0tf50
[2]: https://www.euronews.com/green/2023/05/08/norway-germany-uk-which-european-countries-have-the-biggest-share-of-electric-cars – accessed 14/06/2023