If you believe that to celebrate an eco-friendly Easter, you have to give up all of your favourite traditions then think again! Making Easter baskets and participating in other Easter activities while maintaining a sustainable celebration is simple. In this article, we will explore a few methods for making the Easter Celebration more eco-friendly while maintaining the magic.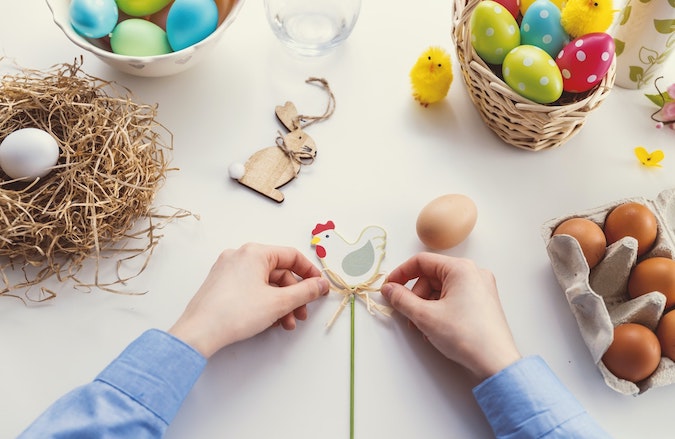 Figure 1: Person Tying Knot on Easter Decor. [1]
Choose low-waste, ethically-made eggs.
The sweets and chocolate-filled supermarket aisles are one of the best parts of the holiday season. However, many of the chocolates and sweets in the stores' seasonal aisles are wrapped in plastic. Be sure to search for low-waste, ethically produced treats if you plan to put something sweet in your Easter baskets. It used to be very challenging to purchase an egg without a plastic window or insert to prevent the hollow egg from shattering. Companies today understand that customers care about the environment, so it's fairly easy to locate options in all the well-known supermarkets.
How responsible the chocolate is should also be considered when purchasing it. This involves selecting chocolate that was made with the climate and workers' rights in mind, such as Fair-Trade chocolate. Check the label to buy sustainable treats. We advise searching for labels that say things are organic, non-GMO, and Fair Trade Certified. [2]
Look for packaging that can be recycled or composted
Contrary to what many people think, most sweets wrappers cannot be recycled. They might include a combination of elements, like plastic and aluminium. Even though the container may have a tiny recycling symbol, the wrappers are frequently disposed of in landfills. Look for recyclable or compostable alternatives to have a low-waste holiday.
Swap plastic eggs for paper eggs
Although you can fill plastic eggs with exciting surprises that are inexpensive, they are not a necessity for a good Easter basket. [3] Try fillable paper easter eggs as an alternative. Paper eggs are biodegradable, so unlike plastic eggs, they won't end up in a landfill. Like the plastic alternatives, you can still fill them with goodies. Also, paper eggs are easily customisable, so you and your family may enjoy an Easter-themed project without the plastic waste.
Easter basket on a budget
Consider ways to improvise rather than purchasing a plastic basket from a shop. There is a large range of wooden and wicker baskets available at your local charity shop or gift store if you're looking for something elegant and environmentally friendly. Consider using an old flower basket as a replacement if you're trying to find something in your home. 
Try passing a few pieces of craft paper or fabric through a paper shredder instead of buying packs of shredded plastic from a store to line your basket. You may also be able to use genuine grass to fill your basket if you prepare a week or two in advance. Simply place some soil in the basket and scatter some wheatgrass seeds on top. When they begin to sprout, place them in the light and continue to keep them moist. You should have a lovely organic basket with fresh greenery by Easter morning!
It can become a tradition to use it year after year with no additional cost if you make a good, reusable basket for each member of the family. [4]
The main event – The Easter Egg Hunt!
A fun activity for young kids to enjoy is an Easter Egg Hunt. This doesn't have to require a lot of effort or money to plan. Each child hunts for eggs in the garden, using a basket to keep all of their "treasure" secure.
It doesn't have to be a basket, but if you have any small ones you can use, wonderful. For instance, you might have a few buckets and spades for trips to the beach. You can choose to embellish it if you'd like (using items from your home for maximum eco-friendliness!), or you can leave it plain. Any kind of container you already own will do if you don't have any baskets or buckets. The eggs are the only thing that matters to the kids—not the container! [5]
About Pager Power
Pager Power undertakes technical assessments for developers of renewable energy projects and tall buildings worldwide. For more information about what we do, please get in touch.
References
[1] Person Tying Knot on Easter Décor (April 2018) from Pexels.com. Last accessed on 5th April. Available at: https://www.pexels.com/photo/person-tying-knot-on-chicken-decor-1040161/
[2] How to celebrate Easter the eco-friendly way, from DIY decor to Vegan Candy (2023) Brightly. Available at: https://brightly.eco/blog/how-to-have-an-eco-friendly-easter.
[3] Erica (2023) 10 ways to have an eco-friendly Easter, What Do We Do All Day. Available at: https://www.whatdowedoallday.com/eco-friendly-easter/.
[4] Staff, G.I. (2022) Going green at easter: How to celebrate sustainably, Greener Ideal. Available at: https://greenerideal.com/guides/going-green-easter/.
[5] Kate (2022) How to have an eco-friendly easter weekend: Chocolate eggs and more, Green Eco Friend. Available at: https://greenecofriend.co.uk/eco-friendly-easter/.