The Lightyear One is a car, which is currently under development and due to start being delivered to customers this summer. It has a steering wheel, 5 seats, windows, headlights and much of the other features you will see in an ordinary car. There are some differences, however, the biggest being that it is powered by solar energy harvested using solar cells on the roof and rear hood. 
Although this is not the first solar-powered vehicle to make it to the consumer market, this would be the first four-wheeled solar-powered car capable of carrying more than one passenger. Aptera, a California-based start-up, sold out the first batch of its innovative three-wheeled design solar-powered cars within 24 hours of launching in 2020, indicating that there may well be a strong demand for solar-powered vehicles.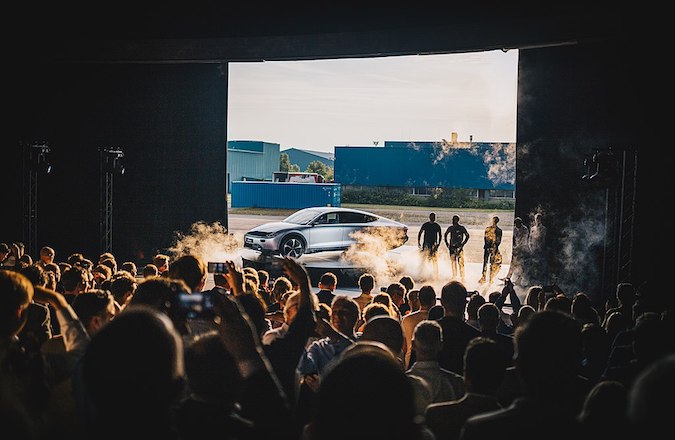 Figure 1: Lightyear One Unveiling [1]
Features
Lightyear says they are aiming to bring the "world's most efficient and sustainable" vehicle to the market. 
During tests last month in Italy, the Lightyear One drove 248 miles at around 80mph on one charge of its 60 kWh battery pack. In a statement on its website, Lightyear explains: "Lightyear One is a long range solar electric vehicle designed to be grid independent and to drive anywhere.
"Its unique vehicle architecture and technology have been developed with high efficiency in mind, allowing Lightyear One to consume only 83 Wh/km — two to three times less energy than any other electric vehicle on the market today. This results in an exceptional range of 725km (450 miles) (WLTP) with the lowest emissions, the lowest charging frequency, and 7,000km (4349 miles) to 20,000km (12427 miles) of free, effortless, and clean solar range every year."
It is not just the solar-powered nature of this car that will pique interest, the design appears to have a big emphasis on lightness and aerodynamics. Lightyear claims on their website "Our road tests confirm that we're on track to producing the most aerodynamic five-seater to date". The Lightyear One uses four independent in-wheel motors, designed to allocate power in the most efficient way, and provide improved traction control.
Conclusions
Concerns will remain over the applicability of solar-powered cars as a widespread solution to the harmful emissions from traditional vehicles. They may only really be useful in areas with a lot of clear, sunny days, where enough energy can be harvested from the sun to power a typical driver's everyday driving. For example, the Aptera car mentioned previously can only charge enough in one sunny day to power 6 kilometres of driving. 
It does look like this is something that will be explored further, and we could expect other solar-powered car concepts to come forward in the coming years. It remains to be seen whether the Lightyear One is indeed a car that can be driven for months without charging, as the company behind it hopes it will be. As units start shipping out in the summer this year, it should shed some more light on the real-world applications and efficiency of this vehicle, and its longer-term viability. 
About Pager Power
Pager Power undertakes technical assessments for developers of renewable energy projects and tall buildings worldwide. For more information about what we do, please get in touch.
References
[1] M. Vletter, "Wikimedia Commons," Unsplash, 25 June 2019. [Online]. Available: https://commons.wikimedia.org/wiki/File:Lightyear_One_unveil.jpg [Accessed 15 February 2022].
[2] A. Cuthbertson, "Solar-powered car that can 'drive for months without charging' to hit roads this summer," Independent, 10 February 2022. [Online]. Available: https://www.independent.co.uk/tech/solar-power-car-lightyear-one-electric-b2011445.html [Accessed 15 February 2022].
[3] C. Reid, "Solar-Powered Car That Can 'Drive For Months Without Charging' Set For Release This Year," LADBIBLE, 10 February 2022. [Online]. Available: https://www.ladbible.com/news/car-can-drive-for-months-without-charging-20220210 [Accessed 15 February 2022].