Australia Develops Panels at Darwin Airport
Darwin International Airport is enjoying the electricity from its 4 MW PV development. The renewable solution is predicted[1] to provide all of the airport's peak electricity demand during the day and a quarter of its total energy requirement.
Other Cases
Darwin International Airport is not the first to exploit the benefits of solar energy. Recently, Belfast International Airport also implemented a PV development as an energy source, which is projected to provide up to a third of the airport's power requirements[2]. Around the world, PV developments of various sizes coexist with airports. Examples include Athens (Greece), Gatwick (UK), Denver (USA) and many more.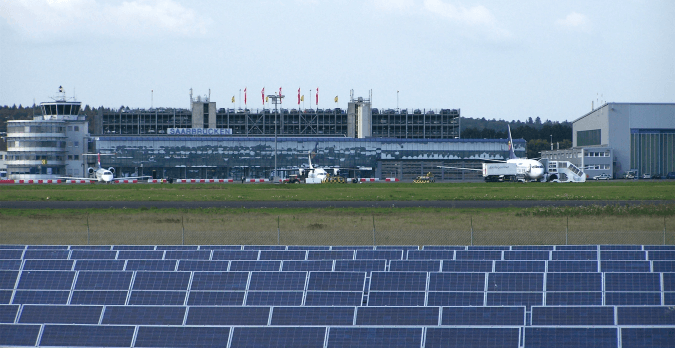 Figure 1: Airport terminal with solar panels located outside
Challenges
As many solar developers know, developing PV projects around airports can be tricky. One of the familiar safeguarding concerns is the issue of glint and glare – reflected sunlight towards approaching pilots or air traffic controllers. This issue can be complex but is resolvable – particularly if potential effects are accurately modelled and minimised at the design stage. Both the Darwin International Airport development and the Belfast International Airport development required detailed assessment in this regard.
Pager Power
Pager Power has been working with solar developers to resolve glint and glare issues for a number of years. The company has developed its own software that reliably predicts where effects could occur based on the exact parameters of the development. Pager Power prides itself on staying at the forefront of developments in modelling technology and guidance from various bodies including the UK Civil Aviation Authority and the Federal Aviation Administration in the USA. The company has met with aviation stakeholders in the UK and Ireland. Pager Power has modelled glint and glare effects for PV schemes located on airports in three countries with proven results.
References
[1] Solar puts Darwin Airport on world map (http://www.ecogeneration.com.au/solar-puts-darwin-airport-on-world-map/ last accessed 17 October 2016), Olivia Coldrey,  September 2016
[2] Solar farm to provide third of Belfast International Airport's power (http://www.belfasttelegraph.co.uk/business/news/solar-farm-to-provide-third-of-belfast-international-airports-power-34727720.html last accessed 17 October 2016), John Mulgrew, May 2016
Image accreditation: "Saarbrücken – Flughafen – SCN – Terminal mit Solarkraftwerk" by Kleinblittersdorfer via Wikimedia Commons / CC BY 3.0 / Image cropped and resized from original