Greener transport options have been at the forefront of discussions around reducing emissions for a long time. Transport reportedly [1] accounts for approximately 20% of carbon dioxide emissions worldwide, and for more than that in some countries (24% in the UK [2] and 28% in the USA [3] for example).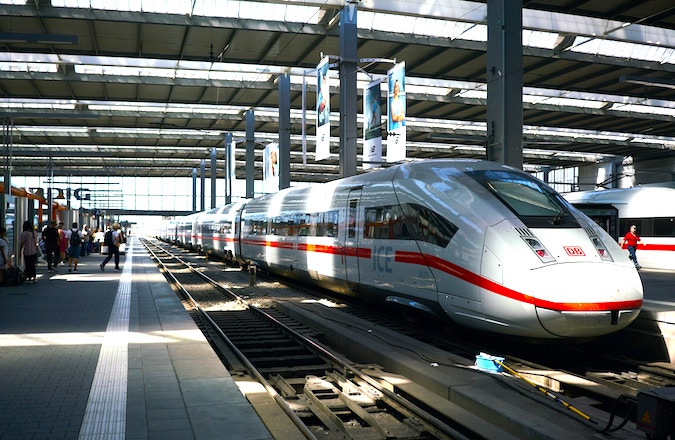 Figure 1: High-speed train at Hauptbahnhof railway station, Germany. [18]
This has led to many innovations over the years that have been deployed with varying levels of success and resistance, including:
Electric vehicles (

learn more

);

Wireless charging roads (

learn more

);

Greener jet fuel (

learn more

);

Solar boats [4]

;

Innovative use of kites [5]

; and

Greener railways – which we will look at more closely here.
Here we will look at some other countries that are moving in a similar direction [6].
India
India has ambitious plans to reduce its carbon footprint. This includes [7] Indian Railways' Net Zero emissions target by 2030, with a planned 20 Gigawatts of solar to achieve this. One example of this effort in action is the solar project at Bina Railway station which is already providing overhead electrical equipment to haul trains [8].
Central Railway, one of the many railway zones within India, has committed to a Megawatt of solar power across 81 locations on its network.
In addition to solar developments for railways, many Indian airports are also pursuing PV development. Pager Power has been fortunate enough to assist in this effort, including at Madurai Airport.
Germany
Deutsche-Bahn, the state-owned national railway company of Germany, claims to be the largest consumer of renewable power in the country (Reference 6). 
The solar park in the northern state of Schleswig-Holstein was the first site to feed directly into the grid for traction energy [9]. The commissioning of this project pushed the percentage of Deutsche-Bahn's energy that comes from green sources to 65%, almost 20% higher than the country's overall green energy figure.
Poland
PKP Polish Rails, the main railway operator in Poland, boasts the largest rail powerbank in Europe [10], designed to use excess traction energy to power freight trains. Located in Garbce, Żmigród, the facility comprises more than 4,000 lithium-ion cells and is able to power a train reaching 160 km per hour.
Solar power in Poland in general is making impressive strides. The country was in third place in terms of installed solar capacity within the European Union for 2022 [11] (behind Germany and Spain, ahead of the Netherlands and France).
Belgium
Belgium is putting a strong focus on rooftop solar at its station buildings, with its national rail company Société Nationale des Chemins de fer Belges (SNCB) having deployed 20,000 panels in this effort (Reference 6).
The country has a history of solar rail developments, having activated the Europe's first solar powered train tunnel back in 2011 [12].
France
France's national railway operator Société Nationale des Chemins de fer Français (SCNF) is tackling its own green energy requirements by announcing a dedicated solar energy subsidiary [13]. The company plans to develop 1 GW of solar energy across land and facilities owned by SCNF by 2030.
Similarly, EDF launched a dedicated group programme called the EDF Solar Plan in 2017 with the goal of making EDF the leader in photovoltaic energy within France by 2035 [14].
In 2022, France achieved a new solar milestone when it generated a national peak solar power record of 10.7 GW, representing 26% of the country's electricity at that moment [15]. France remains highly reliant on nuclear power for its overall energy requirements.
USA
A previous article looked at California's plans to power their high-speed train using solar only. This remains a rare feat, with Australia having been the first country to have run a 100% solar powered train back in 2017 [16]. It remains to be seen whether California's example is followed elsewhere across the USA.
Company Commitments
Individual companies often have their own targets in addition to, or as part of, wider commitments within their country. This includes utility operators offering 'green' tariffs for a premium, airlines encouraging an additional contribution to help green efforts when booking a seat. Railway operator Thalys, a French-Belgian enterprise, claims to have been using 100% green energy for all trains running through France, Belgium and Germany for almost three years. A Swiss start-up company, SunWays, is experimenting with solar panels on train tracks themselves (Reference 6). German and British companies are also trialling similar projects [17]. 
The Bigger Picture
Rail travel in general is relatively efficient compared to many other alternative modes of transport. The percentage of transport emissions made up by railways tends to be quite small as a result. To an extent, this minimises the benefit of transitioning railways to run on green energy when compared to proposals for Electric Vehicles or indeed greener sources for energy use in industry or in homes.
However, the achievements of green energy in the rail sector should not be downplayed, as they offer a meaningful contribution to the wider goal of net-zero. In particular we should remember that:
Nations all over the world have railways that cross swathes of the country. Advances in green energy for railways in one country are likely to be applicable in many others.

Railways in general have the potential to provide an optimal mode of transport for many people, particularly with the advent of bullet trains and other high-speed rail developments. If these advances can be combined with increased renewable contributions to energy requirements, there could be significant benefits as a result.

Advances in solar energy solutions for railways will undoubtedly carry over to similar solutions for other industries.

Railway networks inherently end up owning large amounts of real estate spanning large areas, which means they are well placed to exploit various local benefits for development e.g. the sunniest regions of the country, isolated areas with minimal impact on scenic views, good access to the grid etc.
Problems
Developing solar near railway lines is not without its challenges. In particular, concerns over potential glare impacts on train drivers and light signals must be carefully managed in the interest of safety. Construction itself immediately adjacent to railway lines requires careful planning and coordination for access and safety reasons.
About Pager Power
Pager Power is a dedicated consultancy that has been helping renewable energy and property developers overcome constraints on their projects for over 20 years. 
We are proud to have supported solar developers in many countries for a variety of project types (including at railway stations and airports). 
Our core areas are aviation safety, telecommunications, glare and shadow flicker. We are proud to support developers at all stages of their projects. 
References
[1] Ritchie, H (2020), Cars, planes, trains: where do CO2 emissions from transport come from? (link), Our World in Data (last accessed July 2023).
[2] Gov.uk (2022), Transport and environment statistics 2022 (link), gov.uk (last accessed July 2023).
[3] United States Environmental Protection Agency (2021), Sources of Greenhouse Gas Emissions (link), EPA (last accessed July 2023).
[4] Torqeedo (2021), Solar boat completes emission-free voyage to Alaska (link), Torqeedo (last accessed July 2023).
[5] Tutton, M (2023), Giant kites could pull cargo ships across the ocean – and slash their carbon emissions (link), CNN (2023).
[6] Euronews Green, India, Germany, Poland: All the ways in which countries are harnessing solar power for railways (link), Euronews (last accessed July 2023).
[7] Ministry of New and Renewable Energy (2022), Renewable Energy in India (link), Press Information Bureau, Government of India (last accessed July 2023).
[8] Express Infra, 2023, Indian Railways' push for sustainability: Bina Solar Power Project to lower India's carbon footprint (link), Financial Express (last accessed July 2023).
[9] Augusteijn, N (undated), Deutsche Bahn feeds solar power directly into traction energy grid (link), Railtech (last accessed July 2023).
[10] PKP Energetyka News (2021), PKP Energetyka has launched Europe's largest traction energy storage facility to power the Polish railway (link), PKP Energetyka News (last accessed July 2023).
[11] Tilles, D (2022), Poland has installed third most solar capacity in EU this year (link), NfP (last accessed July 2023).
[12] Toor, A (2011), Europe's first solar powered train tunnel goes live on Belgian high-speed line (link), Endgadget (last accessed July 2023).
[13] Innovation Origins (2023), Sun-Powered Trains: SNCF Unveils Green Initiative with New Solar Energy Subsidiary (link), Innovation Origins (last accessed July 2023).
[14] EDF (undated), Accelerating the development of solar energy (link), EDF (last accessed July 2023).
[15] Brent, T (2022), France sets new peak solar power output – but not due to heatwave (link), The Connexion (last accessed July 2023).
[16] Aggarwal, P (2021), Can railways be fully solar-powered? (link), Sustainability Times (last accessed July 2023).
[17] Railly News (2022), German Railways Tests DB Solar Panel Sleepers (link), Railly News (last accessed July 2023).
[18] Anastasia Nelen, High-speed train at Hauptbahnhof railway station Germany (August 2022) from Unsplash.com. Last accessed on 3rd August 2023. Available at: https://unsplash.com/photos/hMej0GrcwVI