Air travel is very much a part of modern life for many of us, and despite the Covid-19 pandemic wreaking havoc on the industry in very recent times, it is likely here to stay.
Climate change issues, specifically CO2 emissions issues, put pressure on modern transport networks to become greener. For many forms of transport such as cars and trains, the solution of choice seems to be to make them more electric and less fossil-fuel dependent.
However, electric aircraft do not seem to be a practical option, at least with the technology of today. Aviation accounts for around 2.5% of worldwide CO2 emissions [1], leading to exploration of other solutions.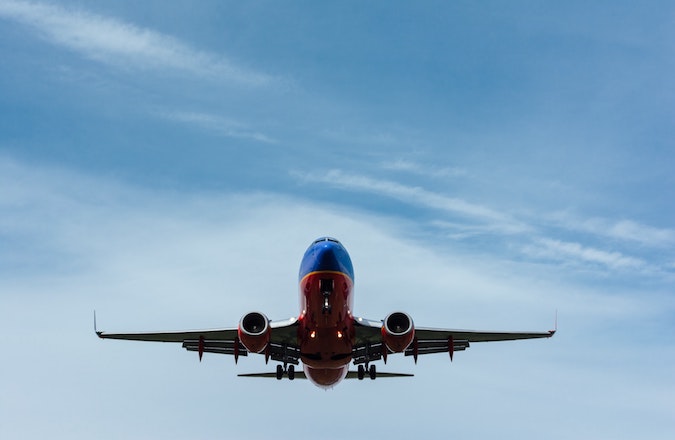 Figure 1: Airplane in Flight. [4]
Environmentally Friendly Fuel
One option that is receiving attention is to make jet-fuel more environmentally friendly than it has been traditionally.
Oil giant BP has collaborated [2] with two companies to progress what it calls Sustainable Aviation Fuel (SAF). The process is essentially as follows:
Step 1 – collect 'feedstock', which can be from household or forestry waste.

Step 2 – convert the feedstock to sustainable aviation fuel.

Step 3 – blend the sustainable aviation fuel with conventional jet fuel – this blend is then put into the aircraft.
BP claims that this process reduces lifecycle carbon emissions by up to 80% when compared to using regular jet fuel the 'normal' way.
Germany has arguably gone a step further, having recently opened the world's first commercial plant for the production of synthetic kerosene in Werlte [3]. The facility will use water and electricity from surrounding wind farms for the production of hydrogen, which is combined with CO2 to make crude oil, which in turn is refined to make jet fuel.
The claim is that the CO2 removed to produce the synthetic kerosene is the same as the amount released by burning it, such that the process really is carbon neutral.
The plant produces a very small amount of jet fuel in the grand scheme of things, and the cost of synthetic kerosene will be much higher than regular jet fuel (the actual price tag has not yet been announced, which means it could lead to some comedic coffee-spitting from airline executives in the future). However, the real purpose of the project is to demonstrate the concept and prove that it can really be done. Scaling the process up would certainly help the economics of the matter.
Use of Eco-Fuel in the World
This year saw Air France-KLM announce [4] its first long-haul flight (Paris to Montreal) using sustainable aviation fuel – a mix of petroleum and waste-cooking oil based synthetic fuel. The company made its first regular flight in the same way in February (between Amsterdam and Madrid).
About Pager Power
Pager Power undertakes technical assessments for developers of renewable energy projects and tall buildings. For more information about what we do, please get in touch.
References
[1] Tabuchi, H (September 2019), 'Worse Than Anyone Expected': Air Travel Emissions Vastly Outpace Predictions, New York Times (link), last accessed October 2021
[2] Air BP (July 2021), What is sustainable aviation fuel (SAF)?, bp.com (link), last accessed October 2021
[3] Euronews (October 2021), World's first commercial plant making clean jet fuel has opened in Germany, says NGO, Euronews (link)
[4] Gary Lopater (January 2017) from Unsplash.com. Last accessed on: 13th October 2021. Available at: https://unsplash.com/photos/dOOGrK3zcUc