The UK Ministry of Defence (MOD) notified the Comhairle nan Eilean Siar (hereafter referred to as the Western Isles Council) of their objection to 3 wind developments. But the Western Isles Council discounted it and granted consent. The MOD, challenged this through legal action and has succeeded, on the basis that the council did not have a "full understanding of the technical reasons".
This sums up the story of three South Uist turbine planning applications. The wind developments were predicted by the MOD to cause "unacceptable interference" to air defence radar systems that serve the largest missile-test site in the UK, the Hebrides Range.
All turbines involved in proceedings would have been built in the west of the Outer Hebrides Island near Scotland. Two turbines, a 60kW (26.6.m to tip) and 50kW (19m to tip), would have been built at Bornish. The other, a smaller 10kW machine (15.1m to tip) was to be built at Frobost.
Aside from the controversy that surrounds this story, what it proves is how just a small gap in understanding can significantly affect the outcome of a wind turbine application.
In light of this, we thought we'd share 2 methods that have helped us effectively communicate complex technical information and results in our planning reports over the last decade…
1. Independent Review
How are you to truly know if the technical information is universally understandable, if you are the author and sole reviewer? If you wrote the document, more than likely it is going to be structured in a way that is logical to you. So of course you'll think it's clear.
The best way we've found to combat this is to have another independent member of your team read it through, ask questions and make comments. This can happen through the drafting process as well as at the end. Before being sent to you, all our consultancy reports have been scrutinised by at least two members of the technical team.
Considering the 3 South Uist turbines, the Western Isles Council could have opted for an independent review of the potential turbine radar impact to help to clarify anything they were unclear about.
2. Diagrams
Using diagrams may seem obvious, but with most, if not all, planning reports being written on using electronic word processors, generating simple, presentable, diagrams yourself can be quite an ordeal. But any the time invested in diagram creation is well spent, and can save you time and page space trying to explain every detail.
An example of where we consistently use diagrams is in our online reports; particularly for the Radar Line of Sight Assessment. The diagram plays a vital role in quickly showing the reader information like location of blocking points, whether the turbine is visible or not and by how much.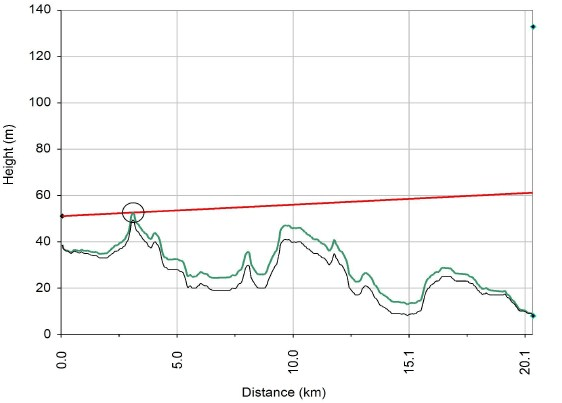 When the diagram is complete, while considering the diagram ask yourself – or even better an independent reviewer – the following questions set out in "A Guide to Technical Report Writing" by The Institute of Engineering and Technology:
Does it give the required information?
Does it reproduce faithfully the information intended?
Is it easy to use?
Does it look attractive?
If the answer is yes, then it is an effective diagram.
So, next time you need to write technical information, consider the methods above. And if, like the Western Isles Council, you are unsure of technical impacts think about the possibility of getting an independent review.
If you have any other queries, we'd like to hear from you. You can contact us via email using info@pagerpower.com or call us on +44 (0) 1787 319001.