Background
Wind turbines are fitted with aeronautical lights so they can be seen by pilots. Unfortunately these lights can have an adverse visual impact – particularly in rural areas. This article explores how impacts can be minimised whilst ensuring turbines can be seen by pilots.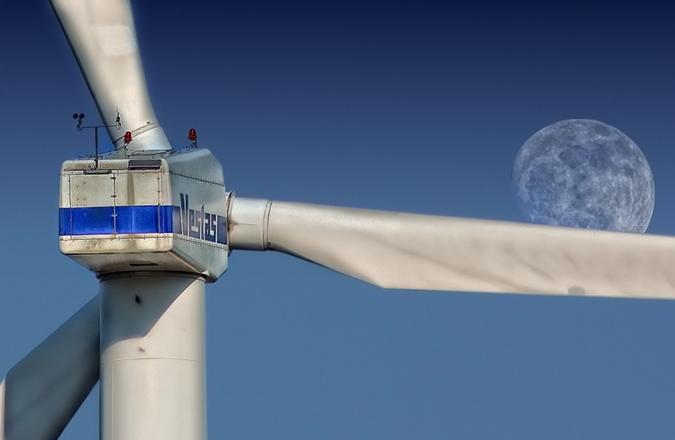 Lighting requirements
Lighting requirements vary considerably across the world and are typically dependant on:
National Regulations
Whether the turbines are onshore or offshore
The maximum wind turbine height
Whether the turbines are close to (typically within 15km) of an airport or airbase
Whether it is night-time or day-time
Typically aeronautical lights are fitted on to the top of a wind turbine's nacelle. Sometimes intermediate lights are fitted to wind turbine towers.
Lighting is almost always required for structures that are higher than 150 metres. This means that many future Scottish onshore wind turbines will have to be lit at night.
Lighting Types
Lighting types are defined by the International Civil Aviation Organisation (ICAO) and the United States Federal Aviation Administration (FAA). Typically the following are defined:
Colour (usually red or white)
Flash rate (steady or a defined flash rate/sequence)
Intensity (specified in Candela)
Visibility range (defined both horizontally and vertically)
The most common light for illuminating a large (>150m) onshore is an ICAO Type C 2000 Candela steady red light. This light is specified to illuminate horizontally, rather than down or up.
Reducing Visual Impact
There are a number of methods and technologies for reducing night-time visual impact which include:
Illuminating some turbines rather than all. Typically corner turbines and high turbines would be illuminated
Replacing normal lights with infra-red lights which can be seen by military pilots using Night Vision Goggles (NVG)
Specifying a reduced light intensity (this will be less visible to pilots)
Reducing the downward "spill" of aviation lights. Some lights irradiate more light at low angles than required by the ICAO lighting requirement.
Using an automated system to reduce light intensity in good visibility. The lights operate at full brightness when visibility is poor but become dimmer in clear conditions
Having a system to detect aircraft so that lights can be switched on when aircraft are nearby whilst being switched off at other times.
Detecting Aircraft
A system is required for switching lights on when aircraft are detected. The following techniques can be used:
Use of existing air traffic control radar
Custom radar at the wind farm
Passive system for detecting SSR (Secondary Surveillance Radar) response signals sent by aircraft
Passive system for detecting changes in background radar signals caused by aircraft (for example digital TV signals)
A combination of the above
Pager Power are able to advise on meeting regulatory lighting requirements whilst minimising visual impact and mitigation costs for specific wind farms.
For more information please get in touch on 01787 319001
Image accreditation: https://goo.gl/images/sGSHdP