There has been cause for celebration among any and all professionals who use Microsoft Excel in recent weeks as Microsoft has announced that it will be integrating Python into its flagship spreadsheet editor. The new update is currently in development and is available to anyone who subscribes to Microsoft's Beta Channel and uses Windows [2]. It will mean that Excel will be able to perform more complex tasks and make use of Python's extensive libraries, whether it might be for producing more advanced visualisations including graphing in three-dimensions with Matplotlib, analysing data with Pandas or even performing machine learning tasks with Scikit-learn [1].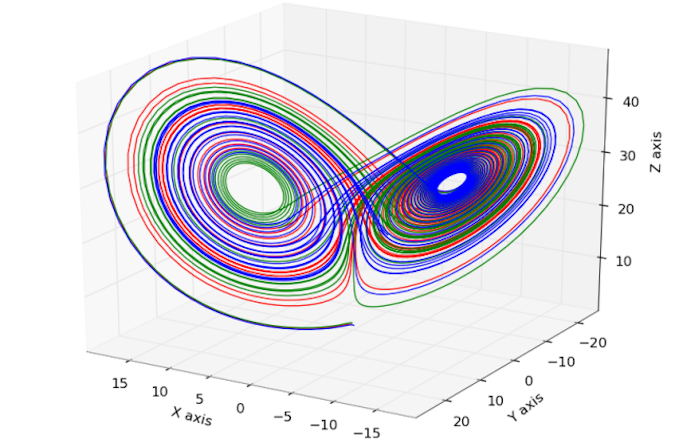 Figure 1: The Lorenz attractor – one of many things you will be able to plot in the Microsoft Excel of the future using python. [5]
How We Got To This Point: A Hisstory
Microsoft Excel has been integrated with Visual Basic for Applications (VBA) since 1993, allowing users to write macros to automate processes happening within Excel. Over time it was enhanced to work with not only Excel but with other Office Applications, thus allowing the creation of macros in which different Office Applications interact with each other [4]. An example of this might be a macro which automatically manipulates a table of data in Microsoft Excel before copying it over to a Word document. Generally speaking, VBA is very useful and it brings with it immense efficiency savings. There are, however, features in which it is somewhat lacking, and it is very much tailing the pack when it comes to adapting to new developments such as the rise of machine learning and AI. It also frequently falls over when trying to execute large and convoluted routines, much to the dismay of some of the more ambitious members of the Pager Power technical team. 
It is clear then that something better would become necessary. It should also be noted that Microsoft Excel is designed as a tool for data analysis and finance above all else, and that the programming language of choice for data analysis is increasingly erring towards Python for a large contingent of data scientists. Microsoft and Anaconda (a company which brings together the basic python application and various packages to improve its functionality before providing them as a neat solution that can be provided to someone wanting to program in python) therefore formed a partnership to allow everyone to enjoy the best of both worlds. For the time being the expansion to Excel is included in the Microsoft 365 Subscription in beta but this will not always be the case [3]. 
What This Means For Our Clients
Pager Power uses both Microsoft Excel and Python to develop prototypes for its bespoke modelling software. Microsoft Excel is particularly useful as a means to visualise data in ways that are more accessible to a wider audience. We are hoping that the integration of the two platforms will allow us to enhance our already excellent software and also give a new edge to visualisations for clients in stakeholder meetings and reports, whilst also further aiding the expansion of the products and services that we offer as a company.
About Pager Power
Pager Power undertakes technical assessments for developers of renewable energy projects and tall buildings worldwide. To find out more about the services we offer, click here.
References
[1] https://techcommunity.microsoft.com/t5/excel-blog/announcing-python-in-excel-combining-the-power-of-python-and-the/ba-p/3893439
[2] https://support.microsoft.com/en-us/office/introduction-to-python-in-excel-55643c2e-ff56-4168-b1ce-9428c8308545
[3] https://thenewstack.io/microsoft-puts-python-in-excel/
[4] https://en.wikipedia.org/wiki/Visual_Basic_for_Applications
[5] https://topologicoceans.wordpress.com/2011/10/05/cnfusin-rained-and-chas/