India's solar power capacity is growing, and quickly. Coal powers 70 percent of India's electricity generation, but Prime Minister Narendra Modi has pledged that by 2030, India will produce more energy through solar and other renewables than its entire grid now.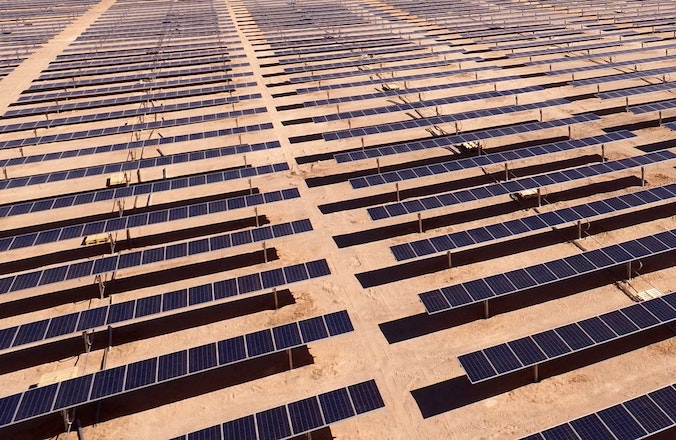 Figure 1: Solar panels in desert environment. [6]
Why India's Climate Target is a Global Problem
In a recent article, we discussed the outputs from the COP26 and some of the key pledges made. India's commitment to get half of its energy from renewables and to reach net zero by 2070 was possibly the most positive news from the UN conference. India's plans, being the world's third biggest emitter, will make a sizable difference to the global temperature estimate. India also pledged an increase in clean energy to 500 gigawatts by 2030 and a reduction in emissions intensity of its economy by 45% by the same date. [1] However, India stated that some of its actions are dependent on receiving suitable finance and international support from developed nations.
Nicholas Stern, the chair of the Grantham Research Institute on Climate Change and the Environment at the London School of Economics, said: "This was a very significant moment for the summit, with prime minister Modi pledging stronger action by India on climate change, from a country whose emissions per capita are about one-third of the global average." [2]
India's Investment in Solar
Currently, solar power accounts for 4%of electricity generation in India. However, India has strongly started working in the direction of producing solar energy in recent years and is home to four of the world's ten biggest solar parks. 
The largest solar farm in the world to date is situated in the arid Indian state of Rajasthan. With a total capacity of 2.25 GW across 14,000 acres, Bhadla Solar Park can power four and a half million homes.[3] The Park comprises more than 100 million solar panels which are periodically cleaned by robots ensuring that their surfaces stay dust-free for longer to trap more energy from the sun. The project commenced in 2015 with an investment of $1.4 billion. [4] The temperature in Bhadla ranges from 46 to 48 degrees, making the land uninhabitable and therefore easier and cheaper to acquire, because no one is displaced in the process.
Currently, there are over 30 massive solar projects at various stages in the country. Moreover, in rural areas, solar-powered lighting is proving much more beneficial than indoor lighting by kerosene.
What's Next for India's Solar Push?
In his COP26 speech, Modi said that the increase in ambition for renewables should be matched by increases in climate finance and the transfer of low-carbon technologies from developed countries to developing countries. Rich countries promised in 2009 to collectively mobilise $100bn a year in climate finance by 2020 but are not on track to meet the milestone until 2023. [5] Until now, India has funded its own expansion of clean energy, but it is clear that greater finance is needed to speed up the process in India and other developing nations.
About Pager Power
Pager Power undertakes technical assessments for developers of renewable energy projects and tall buildings. For more information about what we do, please get in touch.
References
[1] https://www.theguardian.com/world/2021/nov/03/indias-huge-uptake-in-solar-is-driving-more-ambitious-climate-goals-says-minister
[2] https://www.theguardian.com/environment/2021/nov/03/cop26-emission-pledges-could-limit-global-heating-to-below-2c-india
[3] https://www.wired.co.uk/article/india-solar-power
[4] https://www.ysgsolar.com/blog/15-largest-solar-farms-world-2021-ysg-solar
[5]https://www.climatechangenews.com/2021/11/01/india-ups-climate-targets-aiming-net-zero-2070/
[6] Antonio Garcia (August 2017) from Unsplash.com. Last accessed on: 24th November 2021. Available at: https://unsplash.com/photos/ndz_u1_tFZo