Background 
Airports are energy hungry. Currently Airports' energy demand worldwide is circa 23.26GWh. This is set to increase twofold by 2035 due to the growth of the aviation sector. Airports are therefore trying to find solutions to address this issue by either reducing the consumption of energy with energy management projects or increasing the amount of energy produced on site via renewable energy projects[1].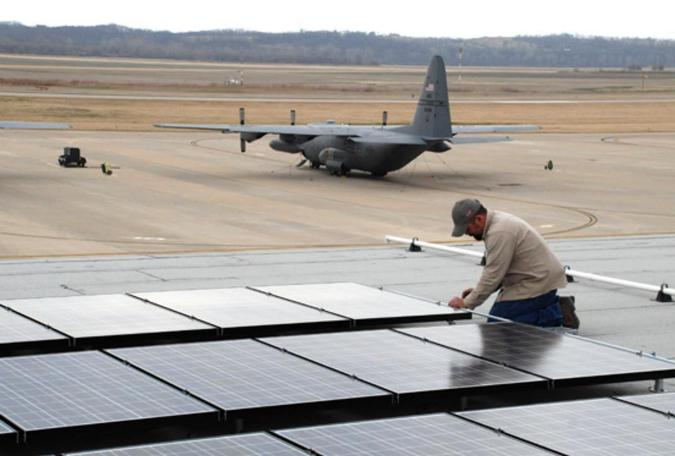 Figure 1 – Solar panels installed on a hangar[2]
Renewable energy development for airports
Over 100 airports have started to implement measures to reduce their carbon footprint. Amongst many airports there are several which have implemented solar panels to curb their dependency on the grid and fossil fuels in order to improve savings:
Kuala Lumpur International Airport has built a 19MW solar project to help reduce the energy bill by circa $627,000[3].

Darwin International Airport has built a 4MW solar project with the expectation to add another 1.5MW in the future[4]. 

Cochin International Airport has built a 12MW solar farm to become fully reliant on solar power for its energy demand, however the airport is also planning to increase the airport size and it will soon require more capacity[5]. 

Galapagos Ecological Airport has achieved 100% by mixing energy management and renewable energy power[6].  
Chattanooga Metropolitan Airport
In July 2019, Chattanooga Metropolitan Airport became the first airport in the US fully powered by solar energy. A 3MW project is under way and 2.64MW has been completed together with sufficient storage to provide power during the night time. The project is expected to last for circa 30 or 40 years and the payback period should be just below 20 years[7]. The project is at its second stage currently producing the 85% of the airport's energy needs. One peculiarity of this project is that all the solar panels are mounted on the airfield[8].
The airport is fairly small compared to other airports[7], which makes easier to achieve the 100% renewable energy target. However, other larger airports are following the example of Chattanooga Metropolitan Airport and are becoming greener. The nearby Atlanta's Hartsfield-Jackson is conducting research for a 'micro-grid' approach to accommodate better use of of solar energy, pairing it with battery storage and improve the transmission's efficiency[8]. Other airports, such as Denver International Airport and Indianapolis International Airport, have plans to improve their grid to adapt to solar projects[7].
Conclusion
Airports are becoming greener which also helps them reduce their energy bills. This is often achieved by installing solar panels on the unused land of the airfield. 
Solar panels generate glare which can be a hazard to pilots landing or ATC tower personnel. Pager Power can help developers with predicting the effect of potential solar glare on aviation receptors. Pager Power has completed more than 400 glint and glare assessments across several countries.  
References
[1] Airport Energy Efficiency and Management, S Jyothi Prasad Reddy, date: 2014, accessed: 02/10/2019.
[2] Solar panels are installed on a hangar at the 139th Airlift Wing., Maj. Barb Denny, date: n.d., accessed: 03/10/2019.
[3] Solar power to save KLIA RM2.1 million per year in energy costs, Malaysia Airports, date: 28/01/2014, accessed: 02/10/2019.
[4] Darwin Airport completes 4MW large scale solar power facility, Darwin International Airport, date: 05/08/2016, accessed: 02/10/2019.
[5] How is the world's first solar powered airport faring?, Supriya Menon, date: 09/10/2019, accessed: 02/10/2019.
[6] Galapagos Ecological Airport, Matilda Egere-Cooper, date: 04/08/2015, accessed: 02/10/2019.
[7] Here's The First American Airport Powered Entirely By Solar Energy, Dan Q. Dao, accessed: 02/10/2019.
[8] The Chattanooga Airport's Solar Farm, Chattanooga Airport, date: n.d., accessed: 02/10/2019.
[9] The First Solar-Powered U.S. Airport Is in City Once Called 'Dirtiest', Anita Sharpe and Michael Sasso, date: 05/12/2018, accessed: 03/10/2019.