Background
The UK Ministry of Defence is concerned that the proliferation of wind turbines in the North Sea is diminishing the capabilities of its air defence radar stations along Britain's east coast. Whilst there are various solutions for mitigating some of the wind farms' effects it has been determined that these are inadequate for the huge number of offshore turbines that will be required to meet the country's climate change goals.
To address this the government has announced a competition to develop new mitigation solutions and technologies to resolve this wind farm radar interference issue.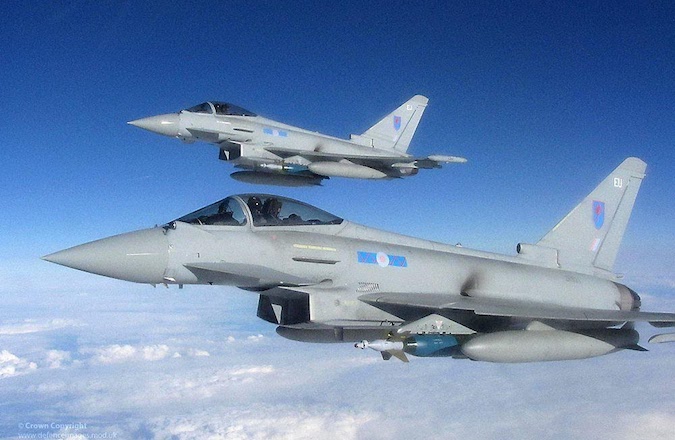 Figure 1 Royal Airforce Typhoon aircraft based in RAF Leeming, Fife
Competition
There is £2 million of funding available for the Defence and Security Accelerator (DASA) competition which is being funded by the Department for Business, Energy and Industrial Skills (BEIS) Science and Innovation for Climate and Energy (SICE) portfolio. The competition closes at noon on 17 April 2020.
Funding
Maximum funding is £500, 000 per project with a total fund of £2 million available. 
Challenges
The competition documents lists four specific mitigation challenges:
1 – Find alternatives to radar – i.e. other technologies that can detect aircraft without being adversely affected by turbines
2 – Modify wind turbines – change the turbines' characteristics so that they do not affect radar
3 – Modify radar – modify the design of radar and associated systems so that they are not affected by wind turbines
4 – Other forms of solution – which will reduce the turbines' impact on radar
Pager Power's Track Record
Pager Power found the mitigation solution for Scottish Power's onshore Whitelee wind farm. This solution involved the installation of a new radar at Kincardine in central Scotland. We have found mitigation solutions for many wind farms worldwide using a variety of technologies. 
Can the Air Defence Radar Issue be solved?
This problem has already been solved to an extent. Project Greenblade – using solid state infill radar is one solution. NAIZ mitigation – using the radars' in-built capabilities is another.
How much does the Ministry of Defence want to solve the problem? Perhaps this competition is about being seen to try to solve the problem as much as it is about actually solving the problem.
Watch this space
Let's see who comes forward with what – and let's see how well the ideas that come forward are embraced.
Further Information
For more information regarding wind farm radar mitigation pleased contact us on 01787 319001.
Image accreditation: https://www.flickr.com/photos/defenceimages/8938219552