Familiar foe
Radar installations are not popular sights for wind turbine developers in any country. Potential interactions between electromagnetic signals and physical structures, like wind turbines, mean that interference can occur. Wind turbines are particularly problematic for radar because of the rotating blades. This means the turbine can be mistaken for other moving targets like aeroplanes or precipitation.
Energy targets
France, like other European Union countries, has renewable energy targets to meet in the next five years. The French National Action Plan [1] stated that 25,000 Megawatts (MW) is to come from wind by 2020, of which 19,000 MW is to be from onshore wind. At the end of 2014, the total [2] for France stood at just 9,285 MW.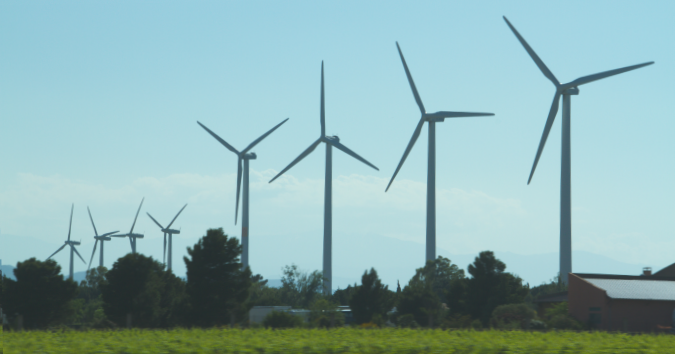 Figure 1: A wind farm in France.
French headache
There is still a lot of work to do in France in order to hit their targets. Radar objections are, among other things, slowing progress. It has been reported [3] that up to 6,000 MW may be blocked by the military and the weather forecaster (Meteo France) due to radar impacts on 50 military radar sites and 28 weather radar sites.
Is there enough space for everyone?
Wind farms are a contentious aspect of modern life. Very often, objections from residents and stakeholders alike can be summarised, as "the wind farm would be fine, but not here". In the case of radar, there is of course a legitimate technical and operational concern. However, there are also technical and operational solutions. The chart below shows the approximate ratio between the number of military / weather radar [4] and the amount of land available within France and the UK for comparative purposes.
The UK has more military radar installations and less space than France. However, the UK had an installed capacity [2] of over 12,000 MW by the end of 2014 and currently [5] has over 13,000 MW installed.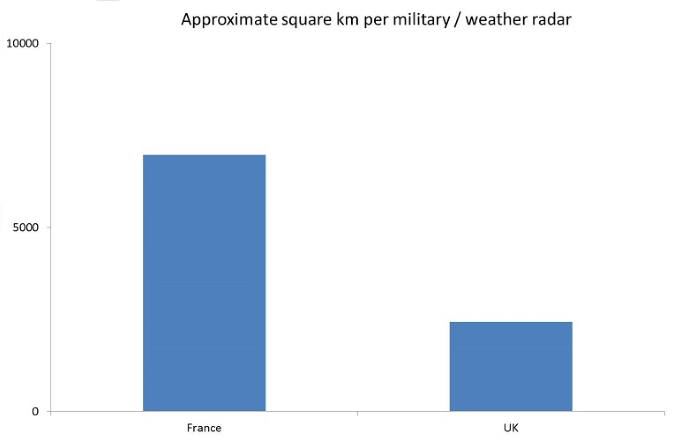 Figure 2: Radar vs land area
The above is, of course, a simplified way to frame the problem. There are other issues around deployment of wind farms, not least the available wind speed. However, it is a fact that the constraints on building wind farms is not simply a matter of surface area and number of installations.
Moving Forward
Opposition to wind farms is not new. It is also not likely to go away anytime soon. However, with countries agreeing to energy targets, which can be legally binding, the issues of mitigation may require more urgent attention in the years to come.
Can We Help?
We have experience resolving wind farm radar objections. If you have a wind farm radar issue in France, contact us to discuss the concern and we'll do our best to help you.
info@pagerpower.com
+44 (0) 1787 319001
Image accreditation: "Wind Farm in France" by Dennis van Zuijlekom via Flickr / CC BY-SA 2.0 / Image cropped, resized and straightened from original.
References and Footnotes
[1] National Action Plans, European Commission. (Last Accessed 16/07/2015)
[2] Wind in power, 2014 European Statistics, EWEA. (Last accessed 16/07/2015)
[3] In France, Generals Block Wind Farms for Fear of Jamming Radar, Tara Patel, Bloomberg Business. (Last Accessed 16/05/2015)
[4] For France, the data assumes the Bloomberg figures are accurate. The UK figure is approximate based on an internal database search.
[5] Renewable UK Wind Energy Database, RenewableUK. (Last accessed 16/07/2015)