A significant investment for Wind in Greece
Greece's PPC Renewables has recently announced that is planning to develop 150MW of wind energy in the area of Rodopi, in Northern Greece. This represents an investment proposal of 180 million euro (approximately $243 million).
PPC (Public Power Corporation) is Greece's biggest electricity provider. The wind farm developer, PPC Renewables, is a subsidiary of PPC and a well-established and experienced renewables developer in Greece. It built its first wind farm in 1982 and its first solar photovoltaic plant in 1982 both at the Island of Kythnos, Greece.
Greece on the path for 2GW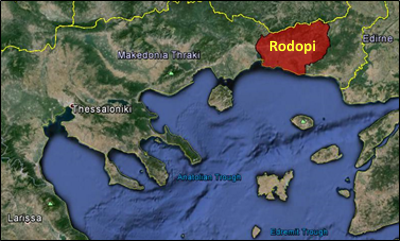 Greece wind turbine developments have been gradually increasing over the last two decades.
The total installed capacity reached 1,865MW at the end of 2013. Greece's average growth rate of wind farms over the last 5 years has been 13.5%.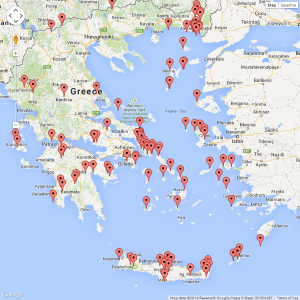 The Rodopi and the adjacent Evros areas appear to be the most popular locations for wind developments in Northern Greece. As can be seen on the bottom most figure Rodopi and Evros (to the east) currently host a number of wind turbine developments.
It appears likely that Greece will pass the threshold of the 2GW of wind energy by the end of 2014. If you consider that throughout 2013 116MW became operational in total, the announcement of developing 150MW only in Rodopi shows how important PPCs plans are for the growth of wind energy in Greece.
Radar and Terrain
We have previously undertaken radar analysis for wind turbines in Greece, and specifically in the Rodopi area. This was because Greek military authorities had raised concerns for the planned wind farms due to interference with their planned radar. It is known that concerns can be raised by the military authorities due to radar interference from the wind turbines and the fact that the area is near the Greek borders.
One of the unique features of the Rodopi prefecture that we identified during our previously undertaken analysis was that ground heights can vary between 0 (sea level) and >1000m above mean sea level (amsl) within distances of up to 70km. The Rodopi prefecture covers an area of less than 2,500km2. We have previously seen similar changes in terrain heights when assessing radar interference for wind farms in Scotland.
Why is this important? Because radar visibility of wind turbines is very much dependent on intervening terrain between the radar and the wind turbines. The fact that the areas of interest for wind turbines are at high ground areas in Rodopi it means that there may not be adequate terrain to shield the wind turbines. This is something that should be taken into account when planning wind turbines in the vicinity of radar installations.
Image accreditation: Google Earth, Data SIO, NOAA, U.S. Navy, NGA, GEBCO, © Google 2014, © Basarsoft, Image Landsat.
Image sourced from thewindpower.net (August 2014) Map data, © 2014 Basarsoft, Google, Mapa GISreal, ORION-ME.