The government has cut grants for electric vehicles in the UK. Electric cars with a value below £32,000 (down from £35,000) will see subsidies reduced from £2,500 to £1,500. This will mark the second reduction within a year after the grant was reduced from £3,000 to £2,500. Likewise, the grant for electric vans has been reduced from £6,000 to £5,000. Grants for electric motorcycles and mopeds has been cut from up to £1,500 to £500 and £150, respectively.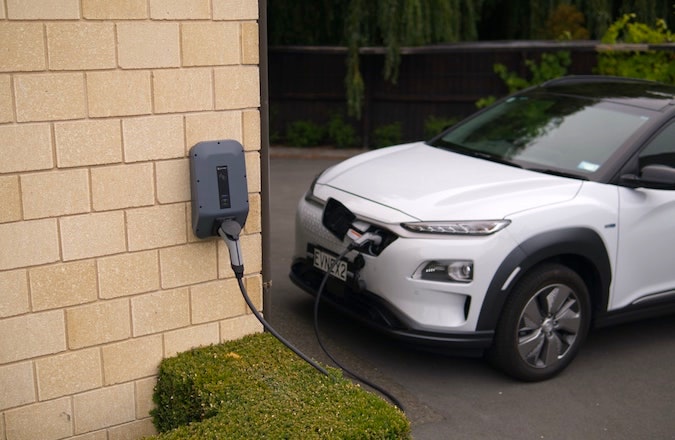 Figure 1: Electric car charging. [9]
Why is the UK Government Cutting Grants for EV?
The department for transport said that the changes will "make the best use of taxpayer money" by targeting the funding of more affordable vehicles. Furthermore, that total spending on the transition to electric vehicles is still planned at £3.5billion within this Parliament. It is true that despite reductions to grants, sales of electric vehicles have reached the highest levels on record in 2021.[1]
Although there are cuts to grants for vehicles, the government has committed to an increase in electric vehicle infrastructure, which will be required for the transition. Furthermore, in November 2020, a commitment was made to ban the sale of new petrol and diesel cars by 2030. [2]
Transport minister Trudy Harrison said: "The market is charging ahead in the switch to electric vehicles. This, together with the increasing choice of new vehicles and growing demand from customers, means that we are re-focusing our vehicle grants on the more affordable vehicles and reducing grant rates to allow more people to benefit, and enable taxpayers' money to go further… Since 2016, we have worked with industry to deliver a five-fold increase in the number of charge points, up from 5,000 to over 27,000 today." [3]
It seems that there may be a re-focus of government strategy towards taxing expensive high emitting vehicles. The cost to the treasury has risen due to the number of EV purchases; however, it could be argued that grants could have remained in place had it not been for an estimated £50bn loss to the treasury due to the fuel duty freeze. [4] With the cost of energy and inflation rising, [5] it is doubtful there will be a U-turn on fuel duty, despite the UK government's commitment to tackling climate change. 
Greg Archer, UK director of Transport & Environment, said "I think it's inevitable that grants will be progressively phased out, and it's right that they should be. The government can't keep bankrolling this transition, but it needs to make sure there are good incentives for all parts of the market…We could be doing just as much by increasing the taxes on large, high-emitting vehicles." [6]
Response From the Transport Industry 
Jim Holder, editorial director of What Car? said: "While subsidising wealthier private buyers and business fleets to electrify may be controversial at a time the nation's finances are stretched, the rapidly-growing uptake among buyers to around 10% of the market shows that the policy has been working, creating a wave of advocates and building the foundations of a strong used car market in time." [3]
Edmund King, AA president said: "'Drivers have consistently told us that the main barrier to EV ownership is the initial purchase price. While we are encouraged that new EV sales have increased this year, we feel this is mainly due to company car purchases and salary sacrifice schemes." [7]
Paul Wilcox, Managing Director at Vauxhall said: "[The] changes provide a confusing message to UK consumers and will harm EV adoption at a time when we need to be doing all we possibly can if we are to stand a chance to move the UK to electrified only vehicles by 2030." [8]
Conclusions
Cuts to electric vehicle grants will be seen by many within the industry as a step backwards in the transition away from petrol and diesel; however, some may see the change as an appropriate re-focusing of strategy with overall commitments remaining at £3.5bn. It is also true that given the high purchase cost of many electric vehicles, grants supporting their purchase can often benefit those who can already afford the outlay. Furthermore, with the increase in company car purchases using the opportunity of salary sacrifice schemes supporting the rising number of purchases, a re-focus towards increased support for EV charging infrastructure and taxes to expensive high emitting diesel/petrol cars will be seen as an appropriate change to the drawing board.
About Pager Power
Pager Power undertakes technical assessments for developers of renewable energy projects and tall buildings worldwide. For more information about what we do, please get in touch.
References
[1] https://www.nextgreencar.com/electric-cars/statistics/
[2] https://www.gov.uk/government/news/government-takes-historic-step-towards-net-zero-with-end-of-sale-of-new-petrol-and-diesel-cars-by-2030
[3] https://www.bbc.co.uk/news/business-59669915
[4] https://www.theguardian.com/politics/2021/feb/24/rishi-sunak-freezes-fuel-duty-over-reliance-on-cars-in-pandemic
[5] https://www.theguardian.com/business/2021/dec/15/what-does-uk-soaring-inflation-rate-mean
[6] https://www.theguardian.com/environment/2021/dec/15/uk-cuts-grants-for-electric-vehicles-for-second-time-in-a-year
[7] https://www.edie.net/news/11/-Double-whammy—UK-Government-makes-second-cut-to-EV-grant-scheme-this-year/
[8] https://www.express.co.uk/life-style/cars/1536925/new-car-grant-cut-changes-electric-vehicle-vauxhall
[9] Ed Harvey (Sept 2020), Black Charger Plugged-In on White Car, Pexels.com. Last accessed on 17th Dec 2021. Available at: https://www.pexels.com/photo/black-charger-plugged-in-on-white-car-5391510/