Halloween is a terror-ific excuse for a party, to get together with your local community and for children to have all sorts of fun! However, with decorations, treats and costumes all to purchase and consume, it can be tricky to be eco-friendly. In this article we look at ways to have a scarily sustainable Halloween.
Support Local
Carving pumpkins is a firm favourite when it comes to Halloween activities. Many local farms across the country open their gates around autumn to allow the public to pick their own pumpkins, and often put on some activities too! These days out can be great for the whole family and helps local businesses in turn. By shopping local you can support the local community and help reduce carbon emissions as shop bought pumpkins will have travelled many of miles to their destination.
Once Halloween is over the RSPCA advises leaving your pumpkins out in the garden or nearest wooded area. Many animals can eat pumpkin; therefore, the animal welfare organisation is urging everyone who has carved a pumpkin to give the leftovers to their animal friends as a nice treat. The British Hedgehog Preservation Society suggests placing your pumpkins off the ground to keep them out of reach of hedgehogs, as they can unfortunately make these little mammals unwell.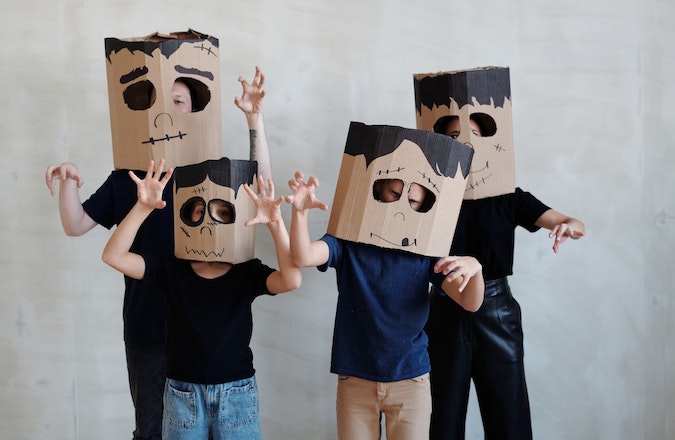 Figure 1: A Family Wearing a DIY Cardboard Box Mask. [1]
Sustainable Fancy Dress
Dressing up as your favourite spooky character is arguably the best part of the Halloween celebrations. A study undertaken by Fairyland Trust in 2019 found that more than 30 million individuals in the UK dress up for Halloween, and more than 90% of families think about purchasing costumes. Unfortunately, 2,000 tonnes of plastic waste are generated each year from throwaway Halloween clothing, with only a small percentage of the seven million outfits that are thrown away each year being recycled. [2]
Instead of buying new, Halloween costumes are the perfect time to recycle! Not only can you recycle your own clothing into costumes, but Charity Shops also provide a wealth of hidden gems just waiting for another life. If you are handy with a needle and thread, you can also sew your own one-of-a-kind costume. 
Eco-Friendly Decorations
Single use plastic decorations are most commonly used across the Halloween period; however, they will end up in landfill almost as quickly as they are purchased. Instead, invest in reusable Halloween decorations, or alternatively DIY your own from items you already have in the home. [3] Making your own DIY decorations can be a fun activity for the whole family, some examples are:
Magic Potion Bottles: Glass jars, water, and food colouring

Creepy Candles: Used candles and hot glue

Spooky Bunting: Various paper and card products with string

Ghost and Mummy Decorations: Toilet Roll and glue
Treats for all
Trick-or-treating is arguably the most challenging aspect of an eco-friendly Halloween. There is no way to avoid waste unless you only give goods to individuals you know well, since youngsters today are taught to only take sweets in packaging. Fortunately, some sweets come in recyclable packaging. Look for Smarties and Kinder, or even raisins that come in compact cardboard boxes.
This article has shown just a few ways in which you can have a more eco-friendly Halloween this year. Above all else, always remember to be safe and have fun! 
About Pager Power
Pager Power undertakes technical assessments for developers of renewable energy projects and tall buildings across the world. For more information about what we do, please get in touch.
References
[1]  A Family Wearing a DIY Cardboard Box Mask by DaisyAnderson (September, 2020) from Pexels. Last accessed on 13th October 2022. Available at: https://www.pexels.com/photo/a-family-wearing-a-diy-cardboard-box-mask-5589908/.
[2] Rose, C. (2019) Halloween Clothing & Costumes Survey 2019 – fairylandtrust.org, Halloween Clothing & Costumes Survey 2019. Fairyland Trust/ Hubbub.
[3] Suter, I. (2022) How to have a scarily sustainable Halloween, Good Energy. Available at: Good Energy.