Where to Begin?
It can be a little overwhelming when trying to make lifestyle choices that do not impact the environment in a negative way. However, with smartphones in abundance there are many user friendly and fun apps for us to make positive choices from planting trees remotely to reducing food waste. Here are three apps that will make you want to go green:
Treeapp
Trees are amazing for the environment, they combat climate change by absorbing carbon dioxide through tiny pores, called stomata, and releasing oxygen back into the environment. The planting and protection of trees are of such importance that 'about 8 percent of global emissions currently come from tree cover loss in tropical forests, but these same forests can provide 23 percent of the cost-effective climate mitigation needed before 2030[1]. The most noteworthy of all, the Amazon rainforest loses a football pitch size of forest cover every minute[2]. 91% of the deforestation of the Amazon rainforest is due to animal agriculture for example cattle ranching or the production of food for cattle[3,4]. With governments failing to protect and restore the world's forests and woodland, the onus may fall in part on the rest of us making positive environmental choices.
Whilst there are organisations such as The Woodland Trust, The Land Trust, Trees for Cities, Trees for Life, The Tree Council, and The Heart of England Forest, where individuals can volunteer to help with conservation or planting of trees, there is an alternative option for those of us adverse from the outdoors or without the free time available. 
The Treeapp allows its users to fund the cost of planting a tree via their app in countries such as Peru, Haiti, Brazil, Guinea, Kenya, Madagascar, Nepal, and Indonesia. The Treeapp has partnered with National government organisations and charities such as the Eden project[5]. Trees are planted by hiring local communities and can benefit wild animals by recreating their habitats[6]. 
Whilst there are many charities across the world, including the Treeapp, which allow for paid contributions that fund the planting of trees, what makes the Treeapp innovative is the use of advertisements to fund the planting.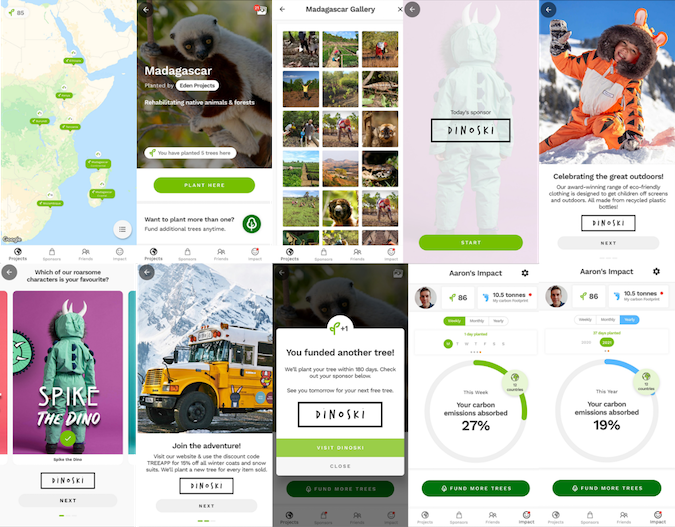 Figure 1: Planting a tree and summary of carbon emissions absorbed – Treeapp
Users can fund the planting of trees by looking at an advertisement, often for environmentally mindful products. The paid advertisements fund the cost of planting the tree and often asks users questions such as which version of a product they prefer. As you progress by planting trees each day, more locations across the world are unlocked and information is provided about the projects that you are supporting including images and videos of the individuals who plant the trees. A summary shows how many trees you have planted and how much CO2 has been absorbed per week, month, and year. You could make your 2021 carbon neutral!
Olio and Too Good To Go
The environmental impact of food waste is well known, in fact 'about 11% of all the greenhouse gas emissions that come from the food system could be reduced if we stop wasting food[7]. The UK wastes around 15 million tonnes of food every year, with prepared salads and bakery items amongst the worst culprits[8]; however, innovative food waste apps provide a potential solution to this problem.
Always wanted to try some pickled eggs and it turns out you did not like them? Well, there will be someone who will happily enjoy them! Olio allows anyone to create a post about food items that they would normally throw out in the rubbish that another user would happily eat. Users cannot sell the food items and therefore must be given away for free.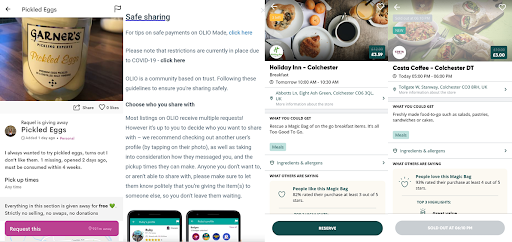 Figure 2: Food listings and safe sharing – Olio and Too Good To Go
Too Good To Go allows shops, restaurants, or cafes to give away food items that they would normally waste otherwise. The food is often at a heavily reduced fee or at no cost to those who would like to collect them. Costa Coffee are amongst the businesses involved however you will need to move fast because it sells out quickly!
These apps are still operating during the COVID lockdown and information is provided on the Olio app for safe sharing.
Conclusions
There are many options available for those of us wanting to reduce our environmental impact including smartphone apps which do not impede the current COVID restrictions. 
With Bill Gates recently expressing concern about the environment 'Solving Covid easy compared with climate'[9] and governments failing to act swiftly especially given a focus on concerns around the recovery from the COVID pandemic[10], now may be the time more than any for individuals to make positive environmental lifestyle choices in fun and interesting ways. 
About Pager Power
Pager Power undertakes technical assessments for developers of renewable energy projects and tall buildings. For more information about what we do, please get in touch.
References
[1]https://www.wri.org/blog/2018/10/numbers-value-tropical-forests-climate-change-equation
[2]https://www.bbc.co.uk/news/science-environment-48827490
[3]http://www.fao.org/3/a0701e/a0701e00.htm
[4]http://documents1.worldbank.org/curated/en/758171468768828889/pdf/277150PAPER0wbwp0no1022.pdf
[5]https://www.edenproject.com/
[6]https://play.google.com/store/apps/details?id=com.thetreeapp.
[7]https://www.worldwildlife.org/stories/fight-climate-change-by-preventing-food-waste
[8]https://www.goodto.com/food/recipe-collections/the-15-most-wasted-foods-in-the-country-and-how-to-avoid-wasting-them-35870
[9]https://www.bbc.co.uk/news/science-environment-56042029
[10]https://www.un.org/sg/en/content/sg/speeches/2020-12-12/remarks-the-climate-ambition-summit