Although wind turbines may be one of the most well-known producers of renewable energy, the turbines themselves are not as sustainable. 85% of a wind turbine is already recyclable, however it is inherently difficult to recycle the wind turbine blades in a cost-effective way. [1] A wind turbine's blades can be longer than the wing of a Boeing 747 and are made up of mostly fibreglass-reinforced polyester or epoxy. [2] According to Bloomberg NEF, in Europe alone, 3,800 blades are replaced annually, with most ending up in landfills. [3] It is clear that something needs to be done to tackle this increasing issue.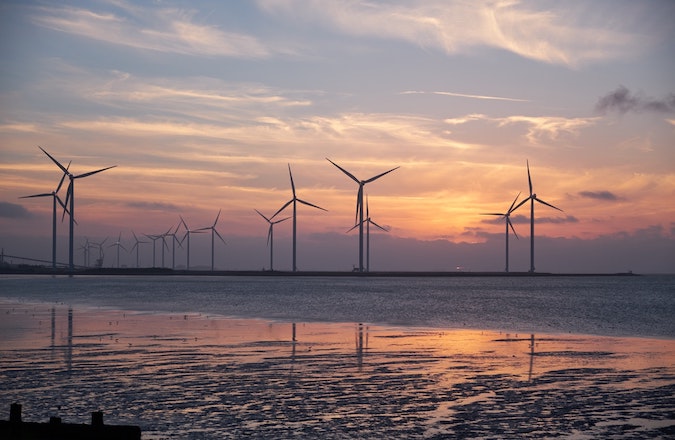 Figure 1: Wind Turbines.[8]
Siemens Gamesa: RecyclableBlade
Siemens Gamesa is a leading supplier of wind power solutions worldwide and is a key player and innovative pioneer in the renewable energy sector. [4] On the 7th of September 2021, Siemens Gamesa gave a press release which broke the news of their launch of the world's first recyclable wind turbine blade for commercial use offshore. They named this the 'RecyclableBlade'. [5]
The RecyclableBlade are built using a different resin, whose chemical structures ensures it can be more easily separated from the other components when heated in a mild acidic solution. [6] The materials can then be reclaimed from the solution and prepared for secondary use. Unlike conventional blade recycling methods, this new process protects the properties of the blade's materials. They can then be used in new products such as the automotive industry or consumer goods. [7] 
A Step Towards the Future
The first six 81-meter-long recyclable blades have already been produced in their factory in Denmark. The world's first wind turbines with recyclable blades will be implemented at RWE's Kaskasi offshore wind plant in Germany, the project is projected to begin producing energy from 2022. Siemens also has commitments with EDF Renewables and German wind farm developer wpd.[5] 
In July 2021 Siemens launched a sustainability strategy for the period to 2040, with a goal of reaching net zero emissions. As part of the 2040 goal, the company aims to redesign all its turbines to enable 100% recyclability by 2040, and the RecylableBlade is just the start. [7]
About Pager Power
Pager Power undertakes technical assessments for developers of renewable energy projects and tall buildings. For more information about what we do, please get in touch.
References
[1] Siemensgamesa.com. 2021. Siemens Gamesa RecyclableBlade Infographic [online]
[2] Usgs.gov. 2021. What materials are used to make wind turbines?. [online]
[3] Bloomberg.com. 2021. Bloomberg – Wind Turbine Blades Can't Be Recycled, So They're Piling Up in Landfills. [online]
[4] Siemensgamesa.com. 2021. About us I Siemens Gamesa. [online]
[5] Siemensgamesa.com. 2021. Press Release: Siemens Gamesa pioneers wind circularity: launch of world's first recyclable wind turbine blade for commercial use offshore. [online]
[6] Ft.com. 2021. Siemens Gamesa claims first recyclable wind turbine blade. [online]
[7] Thechemicalengineer.com. 2021. Siemens launches recyclable wind turbine blades. [online]
[8] Pixabay (July 2017) from Pexels.com. Last accessed on 15 Sept 2021. Available at: https://www.pexels.com/photo/afterglow-alternative-energy-clouds-dawn-532192/