In our day to day lives we will experience many reflections of the sun from a variety of reflective surfaces in our surrounding environment. From shop windows to car body work and even that annoying glare off of our mobile phone screens. Many surfaces produce reflections which can re-direct the sunlight in various directions.
A lot of the time, these are just annoyances rather than genuine safety issues, however, what if the solar reflection became a genuine problem that could endanger people or damage property? We present a brief overview of reflection types and case studies where solar reflections have become a problem.
Reflection Types: Specular and Diffuse
It is first important to distinguish between the two reflection types; specular and diffuse. This difference between the two can be seen in the figure [1] below from the Federal Aviation Administration's (FAA) "Technical Guidance for Evaluating Selected Solar Technologies on Airports".

Based on the surface conditions, reflections from light can be specular or diffuse. A specular reflection has a characteristic similar to that of a mirror whilst diffuse reflections scatter the light in many directions. Therefore, specular reflections, such as those from still water or glass, can be concentrated in a particular direction.
The figure below shows images of specular reflections from two building in New York.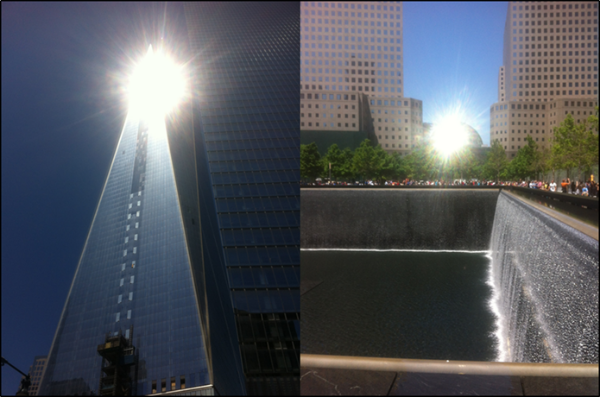 Case Studies
Reflections that are specular in their nature are most likely to be deemed a nuisance or hazard to safety because of the light concentration. Presented below are three examples where issues have been raised regarding solar reflections.
The Vdara Hotel in Las Vegas, USA
The glass design of the Vdara Hotel in Las Vegas left guests burnt and melted plastic bags. The reflective properties of the concave glass façade concentrated the sun's rays towards a small area around the poolside.
20 Fenchurch Street in London, England
The well-known 'Walkie-Talkie' building is one of the newest additions to the London Skyline. However when it was unveiled it was soon discovered that the building was similar to the Vdara Hotel, concentrating the Sun's rays and melted a car as well as a nearby bicycle. The building has since has its glass façade covered to prevent this occurring.
The Museum Tower in Dallas, USA
The newly developed residential tower encountered controversy after the solar reflections from the building's glass façade were being redirected towards the Nasher Sculpture Centre. It is claimed that the glare produced was so intense that artwork was ruined and certain sections were closed to the public.
Our experience
We have assessed the impact of solar reflections for proposed building developments. These examples are typically not in the public domain however, based on our experience an assessment may be requested where there is a possibility that solar reflections could cause  safety concerns for surrounding receptors e.g. railway infrastructure. The developments in question are often large structures with glass façades that have the potential to reflect incoming light. It is therefore important to consider the effects of solar reflections in environments where solar reflections may be considered a safety issue.
Conclusions
In the first two case studies, the building's concave design meant that the solar reflections were a hazard to safety because the incoming light was reflected and concentrated in a particular direction. However, the third case study showed that reflections from building with non-concave façades could also create problems.
As the examples presented in this short article show, solar reflections from reflective structures have the potential to impact upon the surrounding environment.
There are many instances where the reflections from buildings are not an issue. Under some circumstances however, the reflective surfaces can create a concern and therefore it is worthwhile examining a proposed building development to understand whether reflections of the sun could create an unwanted problem post-construction.
Can we help?
If you are facing an issue with solar reflections from building developments, we may be able to help you. All you need to do is contact us. Call +44 (0)1787 319001 or email: info@pagerpower.com.
Editors Note: This post was first published on 10th December 2014, but has been updated for accuracy and comprehensiveness.
Image accreditation: [1] Image originally found in Chapter 3, page 39 of "Technical Guidance for Evaluating Selected Solar Technologies on Airports" by FAA, November 2010. Last Accessed 1st December 2014.