The UK, like many other countries, is facing a pressing ecological challenge: biodiversity loss. The decline of wildflower meadows and other habitats has had a significant impact on the country's wildlife over the years. According to Natural England, over 97% of wildflower meadows have been lost since the 1930s, with flower-rich grasslands now covering only 1% of the UK's land area [1]. In the face of this crisis, solar farms present a once-in-a-lifetime opportunity. These solar energy installations not only contribute significantly to the UK's clean energy goals, but they are also emerging as unexpected biodiversity champions [2].
It's worth noting that Britain has lost more natural biodiversity than almost anywhere else in Western Europe, surpassing the majority of G7 countries and exceeding many other countries, including China [4]. According to the 2019 State of Nature report, 41% of all species surveyed in the UK have declined since the 1970s, placing the UK among the countries with the most depleted nature worldwide [5]. Even more concerning is the fact that 15% of UK species are currently threatened with extinction.
Solar Farms and Sustainable Energy in the UK
Solar power has emerged as a significant player in the UK's energy landscape, with solar generation reaching record levels this spring as a result of sunny conditions and increased capacity [6]. The efficiency with which solar power utilises land is what makes it particularly appealing. Surprisingly, solar farms take up less land than golf courses, raising an important question [7]: if we can bestow vast swaths of land to recreational activities, why not embrace areas already dedicated to bettering the environment (for sustainable energy generation) to also benefit ecological restoration? The potential synergy between solar farms and biodiversity conservation is now under the spotlight.
Solar Farms and Biodiversity Enhancement
Solar farms, according to Lancaster University researchers, have the potential to address the environmental challenges we face [2]. They highlight the exceptional opportunity presented by these solar installations to improve local biodiversity. One of the most promising strategies is solar farm management to support insect pollinators like bumblebees.
Specifically, solar farms can serve as refuges for pollinators by providing suitable habitats. This ecological enhancement has the potential to significantly contribute to halting and reversing the decline of various pollinator populations. The potential benefits of managing and designing solar farms with pollinators in mind are being investigated by researchers.
Studies have shown that bumblebee populations can benefit from changes in solar park management, size, shape, and landscape context. Solar parks that are managed for biodiversity can draw twice as many bumblebees for foraging and nesting as wildflower meadows. Although significant, the size and shape of solar parks have less of an impact on bumblebee behaviour. However, the best solar parks for increasing bumblebee density in the surrounding landscapes and potentially aiding in local crop pollination are those that are long and wide and have abundant resource-rich vegetation.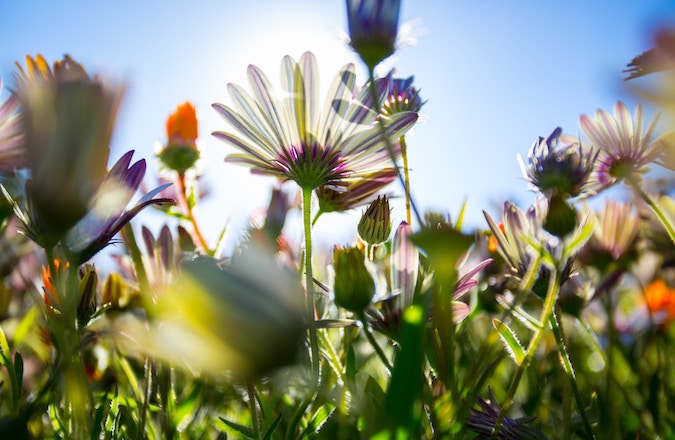 Figure 1: Wild daisies [3]
Implications for UK Biodiversity
The UK's biodiversity could be significantly improved and preserved thanks to solar farms. 0.1% of UK land is currently used for ground-mounted solar panels, creating a sizeable opportunity to convert these areas into habitats like wildflower meadows [8]. This change may have a profoundly positive effect on a variety of pollinator species and, as a result, on the larger ecosystem [2].
Beacons of Biodiversity Restoration in the UK
It is increasingly clear that solar farms have beneficial effects on biodiversity in the UK [2]. These renewable energy facilities act as allies in the ongoing fight against biodiversity loss in addition to providing a clean source of energy. We can transform these solar installations into thriving havens for nature by carefully managing and designing solar farms to support pollinators and local wildlife.
As the UK strives to meet its clean energy goals while simultaneously addressing the alarming decline in biodiversity, the potential of solar farms could be transformative. In addition to being in line with the country's commitment to a sustainable future, embracing this potential holds the promise of reviving a more vibrant and diverse ecosystem for future generations. The UK's path to a brighter and more biodiverse future is illuminated by solar farms' unique ability to harness the power of the sun.
About Pager Power
Pager Power undertakes technical assessments for developers of renewable energy projects and tall buildings worldwide. For more information about what we do, please get in touch.
References
[1] Natural England, Nationally important wildflower grasslands get increased protection, 2020. Accessed on: October 12, 2023. Available at: https://www.gov.uk/government/news/nationally-important-wildflower-grasslands-get-increased-protection
[2] H. Blaydes, E. Gardner, J.D. Whyatt, S.G. Potts, A. Armstrong, Solar park management and design to boost bumble bee populations, Environ. Res. Lett. 17 (2022) 044002. https://doi.org/10.1088/1748-9326/ac5840.
[3] Gaston Roulstone (June, 2018) from Unsplash. Accessed on: 12th Oct 2023. Available at: https://unsplash.com/photos/NDMyliZWcO4.
[4] J. Davis, The state of nature: 41 percent of UK species have declined since 1970s, (2019). Accessed on: October 12, 2023. Available at: https://www.nhm.ac.uk/discover/news/2019/october/the-state-of-nature-41-percent-of-the-uks-species-have-declined.html 
[5] State of Nature Partnership, State of Nature, 2019. Accessed on: October 12, 2023. Available at: https://nbn.org.uk/wp-content/uploads/2019/09/State-of-Nature-2019-UK-full-report.pdf
[6] Department for Energy Security & Net Zero, Energy Trends UK, April to June 2023, 2023. Accessed on: October 12, 2023. Available at: https://assets.publishing.service.gov.uk/media/6513fe8ef6746b000da4bab5/Energy_Trends_September_2023.pdf
[7] A. Rae, Calculations available on request. Source data via the BBC, (2017). Accessed on: October 12, 2023. Available at: https://figshare.shef.ac.uk/articles/dataset/A_Land_Cover_Atlas_of_the_United_Ki ngdom_Maps_/5219956, and Solar Energy UK members.
[8] F. Rankl, Planning and solar farms, House of Commons Library, 2023. Accessed on: October 12, 2023. Available at: https://researchbriefings.files.parliament.uk/documents/CDP-2023-0168/CDP-2023-0168.pdf