Boris Johnson's recent energy security plan has been criticised for failing to provide opportunities to back onshore wind farms due to concerns about opposition from Tory backbenchers. This means it will be more difficult to expand the development of onshore wind in England. 
Concerns about the 'eyesore' that onshore wind farms create is something that we've seen time and time again. As part of Pager Power's role, we often come across many stakeholder and local resident responses to proposed renewable energy projects and visual impacts are usually cited on the list of most common concerns.
There are a number of benefits for onshore wind energy generation, such as the shorter lead time for their development. According to the trade body RenewableUK, it takes two years for an onshore wind farm to be fully operational compared with four or five years for offshore projects. Electricity from onshore wind is also about 20% cheaper than offshore, which is in turn cheaper than nuclear or gas. [1] 
Opportunity for Relaxing Onshore Wind Regulation
There is a significant contrast between policy in England and Scotland, which has less strict regulation of onshore wind farms. [2]
Scientists have said that the relaxed planning rules more akin to those in Scotland would not allow wind farms to be built in areas of outstanding natural beauty or other protected landscapes, which is the concern of many MPs. Research has shown that there is plenty of room in England for wind turbines along roads and rail lines and on brownfield land. Brownfield land is defined as 'previously developed land that is no longer being used,' such as a disused industrial estate or factory. [3]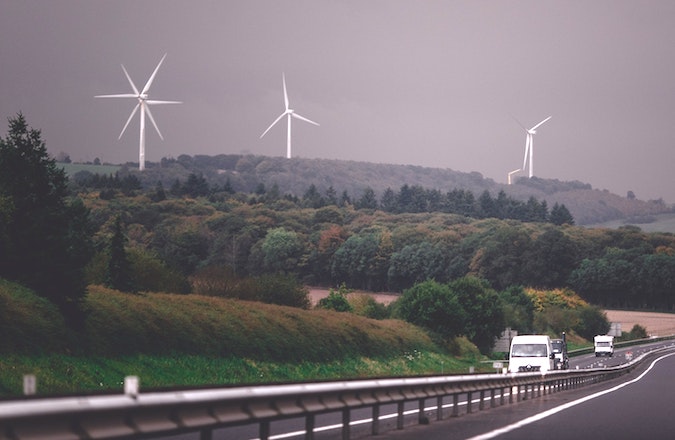 Figure 1: Wind turbines close to a road. [7]
The Benefit of Wind Farms on Brownfield Land
Not only does building on brownfield land directly reduce the amount of countryside that is lost to the potential development of a wind farm, but studies also show that building on this type of land would enable onshore wind to significantly contribute to the UK's energy needs. A recent study by scientists at the University of Sussex and Denmark's Aarhus University [4] has found that if wind farms were established on the available and appropriate land, they could meet 140% of the UK and Ireland's energy demand. [5] The researchers said that the study demonstrated how much potential onshore wind has to solve the energy crisis.
Community Benefits
Revised planning policy could also give local communities the opportunity to say whether they feel that their local landscape is suitable for wind farms and to judge if the benefits outweigh the visual impact. Last month it was reported that the government is considering plans to lower people's energy bills based on how close they are to onshore wind turbines. [6] Groups such as 'Communities for Renewables' would like policies to go one step further and to not just offer cheap electricity to communities, but wind farms could fund the low-energy retrofit of the houses surrounding them; providing long-term bill reductions and energy savings; and creating local jobs. [1]
About Pager Power
Pager Power undertakes technical assessments for developers of renewable energy projects and tall buildings. For more information about what we do, please get in touch.
References
[1] https://www.theguardian.com/business/2022/apr/07/uk-energy-security-plan-criticised-missed-chance-bills-onshore-wind
[2] https://www.theguardian.com/environment/2022/apr/19/scientists-urge-government-to-relax-englands-onshore-windfarm-rules
[3] https://www.cpre.org.uk/explainer/an-introduction-to-brownfield/
[4] https://www.sussex.ac.uk/broadcast/read/49312
[5] https://bmmagazine.co.uk/in-business/scientists-urge-use-of-englands-plentiful-brownfield-sites-for-windfarms/
[6] https://inews.co.uk/news/politics/energy-bill-discounts-for-people-who-live-near-wind-farms-could-be-used-to-boost-renewable-power-1541000
[7] Maria Orlova (Oct 2020) on Pexels.com. Last accessed on 27th April 2022. Available at:https://www.pexels.com/photo/roadway-through-green-field-with-wind-farm-4916122/