Pager Power is committed to reducing its carbon footprint by implementing strategies to reduce greenhouse gas emissions produced across all of its duties. From monitoring office energy usage, the team were able to discover that office lighting was one of the biggest sources of emissions. On this basis, Pager Power implemented upgrades to the lighting systems to reduce the impact. This was a relatively simple fix, but we were aware that the biggest source of our carbon emissions was employees travelling to and from the workplace. Therefore, we had an internal discussion, with the outcome being the formation of the Sustainable Travel to Work Scheme. 
What we Wanted From the Sustainable Travel Scheme
The Scheme was introduced to promote walking, cycling, the use of public transport or electric vehicles and car-sharing on the commute. We know however that travelling sustainably is not always the most convenient, especially when located rurally. Public transport in rural settings often means relying on buses that are few and far between and, relatively speaking, slow when compared to other means of transport. For those who can travel by train, there is often the question of reliability and cost. We therefore wanted to produce a scheme which gave flexibility to employees in how they access it, whilst also meeting the following aims set out in advance, which were: 
To reduce Pager Power's carbon footprint

To show the company's support for sustainable commuting 

To discourage employees from switching from more sustainable to less sustainable modes of commuting 

To recognise employees who already commute sustainably 

To encourage employees to consider more sustainable modes of commuting

To ensure all employees are conscious of their carbon footprint

To ensure Pager Power is a great place to work.
The Sustainable Incentives Being Offered
We had a number of ideas to help incentivise employees to reduce their carbon footprint on their commute, the ones we have implemented are:
Free workplace electric vehicle charging 

Pager Power contributes towards an employee's EV charging costs (via the newly installed chargers at our business park – see Figure 1 below).

Free workplace e-bike charging 

Pager Power contributes towards an employee's workplace e-bike charging costs.

Walk and cycle to work allowance

Pager Power financially incentivises employees to take more sustainable methods when travelling to work, including: 

Walking to work

Cycling to work on a push-bike 

Using a combination of walking, cycling and public transport 

This allowance is only payable when at least 80% of commutes in the month have not involved travel by car. 

Car share allowance 

Pager Power offers a monthly allowance to people who share a car with another Pager Power employee. The allowance is available to drivers and passengers. 

This incentive is only payable when at least 60% of commutes in the month have involved car-sharing.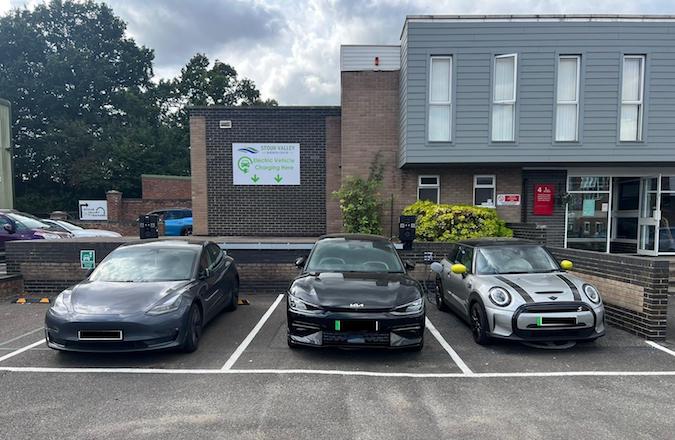 Figure 1: Electric vehicles charging at the Stour Valley Business Centre.
Our Intended Outcomes
All employees are now encouraged and incentivised to minimise emissions from their commute by a variety of means. The key outcome naturally is to reduce the company's carbon footprint, and commuting was seen as the key contributor in this sense. It is unlikely that complete carbon neutrality could be fully realised by switching to shared, sustainable or carbon-neutral transport methods however it is a starting point. Further steps will taken to reduce our overall carbon footprint over time, and this includes formalising our new salary sacrifice scheme to encourage employees to make the switch to electric cars. This will be finalised in the coming months.
Get in Touch
If you are interested in finding out more about how this Scheme was devised and implemented, or in having a general conversation exchanging sustainable business ideas, please do get in touch.
Thumbnail image accreditation: Nick Page (January 2023) on Unsplash.com. Last accessed on 18th September 2023. Available at: https://unsplash.com/photos/yZotHC3KZ5o