Pager Power Launch Worldwide Capability for Online System
On Friday February 15th Pager Power launched updates that allow Radar Line of Sight Assessments and Obstruction Assessments to be run anywhere in the world, online. Now you can easily identify about early planning issues on your global developments. As always the online system is supported by a dedicated service team and specialist consultants who can investigate more complex planning issues if you require.
INTERFACE CHANGES
One subtle change to the interface is there are more countries that users can choose from. By selecting a country you are indicating to Pager Power the country in which your project is located. Can't see your country on the list? Just choose "Rest of the World" and input the WGS84 coordinates of the project.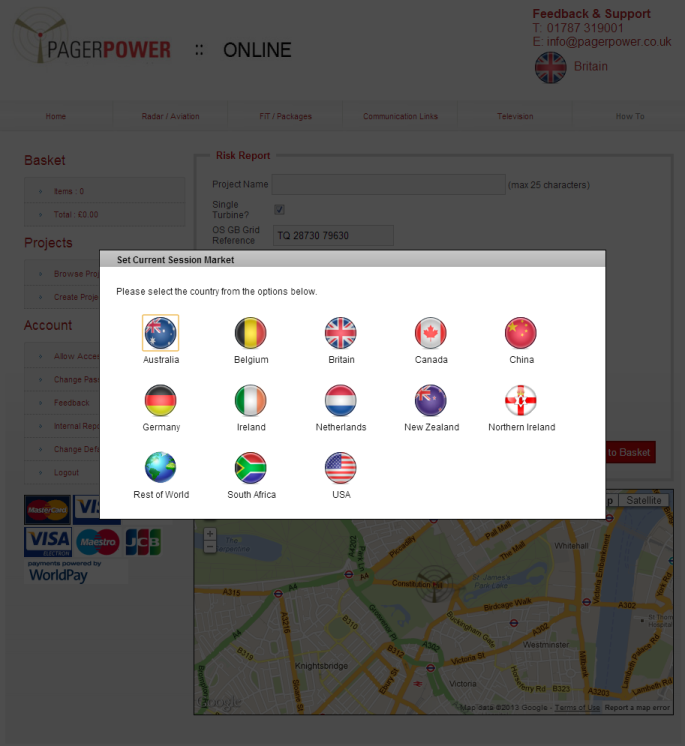 RADAR LINE OF SIGHT ASSESSMENT
Previously only available to UK and a small number of other countries, the line of sight assessment has now gone global. Developers, and other stakeholders can check whether a wind turbine is visible to a radar anywhere in the world with just a few clicks.
Line of sight calculations for determining if wind turbines will affect a radar have been referred to in documents from many organisations outside of Britain, including US Department of Defense (DoD) and South African Weather Service (SAWS).
OBSTRUCTION ASSESSMENT
Learn whether a tall development is a hazard to air navigation, regardless of the location. Examples of applicable tall structures are chimneys, cranes, towers, radio mast and wind turbines – all of which can penetrate imaginary surfaces around an aerodrome obstructing the airspace. It can be run in accordance with methodology from either UK Civil Aviation Authority (UK CAA) CAP 168, UK Military, International Civil Aviation Organization (ICAO) Annex 14 and Federal Aviation Administration (FAA) Part 77.
NEW TO PAGER POWER?
To run these reports, just click on Client Login (top right of the screen) followed by "Register", and fill in the short form.
Pager Power also offer demonstrations of the online system. If you would like to receive one, please emailinfo@pagerpower.com
If you are a returning customer all you need to do is sign in and select the report you would like using the menu.