Overview
India's civil aviation authority, the Directorate General of Civil Aviation (DGCA), has ordered a reduction in height of 70 buildings within 60 days. This is due, at least in part, to the safety implications of obstacles infringing upon the obstacle limitation surfaces (or protected surfaces as they are sometimes known) at Mumbai Airport.
Safety Implications
Large obstacles in the vicinity of aerodromes are assessed and evaluated with respect to obstacle limitation surfaces. This is to ensure that aircraft on approach routes and within key manoeuvring areas do not fly in close proximity to ground based obstructions.
Obstruction Locations
Building developments in the vicinity of Vile Parle, Santacruz and Ghatkopar have been ordered to reduce their height. These locations relative to Mumbai Airport are shown in Figure 1 below.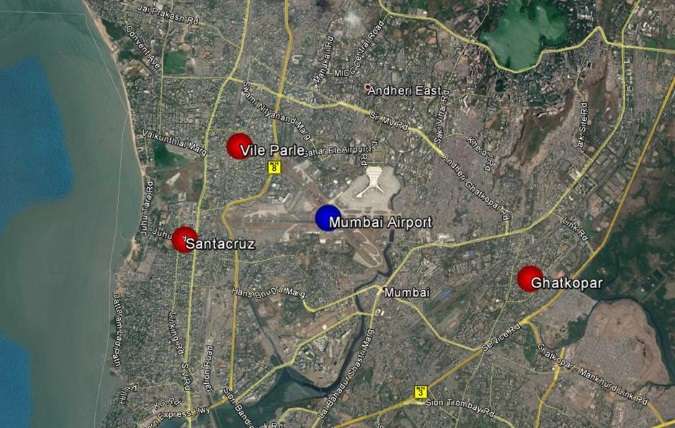 Figure 1: Key obstruction locations around Mumbai Airport
Building obstruction details
The full list of buildings was issued in June 2017 and includes relatively new buildings as well as a number of two storey buildings which are over 50 years old. Many of the older buildings have the appropriate safety certificates which includes letters of no objection from the Airports Authority of India (IAA).
An additional 45 newer building developments requiring a height reduction have also been identified, as it has now been identified that their No-Objection Certificate (NoC) was fraudulently issued by IAA officials.
The owners of the older buildings have been ordered to reduce their property's height by anywhere between 1 and 6 metres. Larger reductions have been ordered for newer and taller buildings.
Discussion
It is very unusual for an aviation authority to retrospectively issue notices requiring a change to an existing development. It is especially unusual considering the age and number of some of these building developments. The most likely explanation for the revised position of the DGCA is to ensure safety standards at the airport through retroactive assessment of building developments that previously made it through the safeguarding process when they shouldn't have. There may also be pressures from external stakeholders and international regulators to conform to international safety standards or risk penalties e.g. worst case, some airlines may choose not to fly to this airport citing safety as the reason. This would have economic impacts which would ripple through the economy of Mumbai.
Conclusions
The request from the DCGA has caused controversy in the Mumbai area, with many building developments now having to undergo significant work to conform to the safety standards. It is yet to be seen whether the building owners will respond and adhere to the request.
This article will be updated as and when the story develops.
References
[1] Image © 2017 TerraMetrics, © 2017 Google, Image © 2017 DigitalGlobe.