Introduction
The Morocco football team has gained a huge following over the last few weeks because of the humility and heart that they have shown in their performances in the 2022 World Cup. Football pundits have been lauding the team's passion and energy, but off the field, the government has been focusing on a different form of energy.
One of the largest wind farms in Africa is located in a coastal town in southeastern Morocco. The Tarfaya Wind Farm contains 131 turbines and has a total installed capacity of 301MW [1]. It started operating in 2014. Morocco is also home to the largest concentrated solar farm in the world, the Noor Ouarzazate complex (510MW). Over half a million curved mirrors are located here, which use solar energy to vaporise synthetic oil to produce enough power for 1.3 million people [2].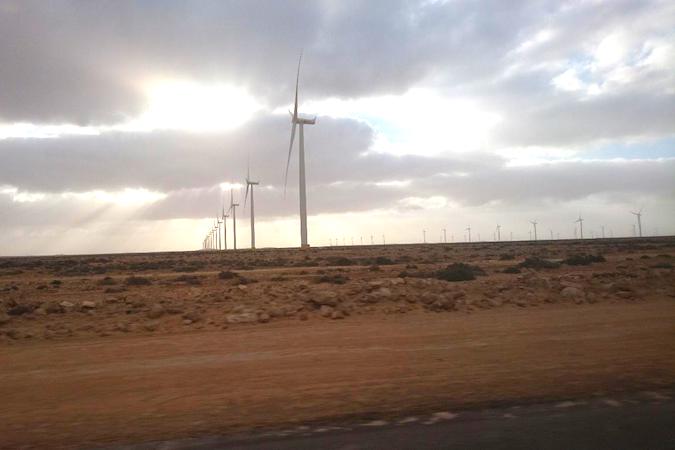 Figure 1: Tarfaya Wind Farm [3]
Renewable Energy in Morocco
Since Morocco gained its independence in 1956, the country has largely depended on imported fossil fuels for its energy. From 2017 to 2020, imported fossil fuels represented approximately 90% of total primary energy supply and 80% of electricity supply [4]. This is because barely any oil, gas, or coal resources can be found in Morocco's environment. 
Most nations in Africa have low energy needs compared to industrialised countries, and therefore the resulting carbon emissions are also low compared to the world's biggest polluters. However, rising prices of fossil fuels, largely due to the sanctions on Russia, and the effects of climate change (e.g. the intense heat creating food supply issues and droughts) are hitting hard in Morocco. 
In response to the global energy crisis and the overdependence on (largely imported) fossil fuels, the Moroccan government launched an ambitious renewable energy plan in 2009. The first goal was to reach 42% of installed electricity capacity by 2020 [2], and the second was to reach 52% by 2030 [5]. Some of the strategies used were opening the renewables market to private competition, and phasing out petrol and diesel subsidies in 2014 and 2015 when oil prices were low. They are also looking into decarbonising areas other than the electricity sector, such as transport and agriculture. 
The 2020 target was not met, but the margin was only 5%. According to a report published last month by Ernst & Young (EY), Morocco appears to be on track to meet the 2030 target. Renewable energy supply has risen by almost 10% in just the last year, including the incorporation of two new solar plants and a wind farm. The report also brings attention to the potential to produce green hydrogen as an alternative fuel in heavy industry and aviation. Morocco also recently signed a "Green Partnership" with the EU with a focus on supporting agriculture and forestry in the country. 
Conclusions
There are positive signs in Morocco of a transition towards a green economy and the country is outperforming other nations with economies of similar size, in Africa and worldwide. It will be interesting to see if Morocco can meet its 2030 target as expected, and if the government can be determined and organised in their approach to the implementation of renewable energy.
About Pager Power
Pager Power undertakes technical assessments for developers of renewable energy projects and tall buildings worldwide. For more information about what we do, please get in touch.
References
[1] Utilities Middle East, "GDF SUEZ launches $560mn Morrocan wind farm," Utilities Middle East, 13 December 2014. [Online]. Available: https://www.utilities-me.com/news/article-3227-gdf-suez-launches-560mn-morrocan-wind-farm. [Accessed 15 December 2022].
[2] B. Christofaro, "Small Morocco punches above its weight on renewables," DW, 14 December 2022. [Online]. Available: https://www.dw.com/en/morocco-powering-ahead-of-other-african-states-on-renewables/a-64093142. [Accessed 15 December 2022].
[3] A. Sedrati, Artist, Tarfaya Wind Farm. [Art]. Unsplash, 2019. Last accessed on 19th December 2022.
[4] IEA, "Energy policies beyond IEA countries – Morocco," May 2019. [Online]. Available: https://www.iea.org/reports/energy-policies-beyond-iea-countries-morocco-2019. [Accessed 15 December 2022].
[5] J. Moustakbal, "The Moroccan energy sector: A permanent dependence," CADTM, 7 December 2021. [Online]. Available: https://www.cadtm.org/The-Moroccan-energy-sector-A-permanent-dependence#nb1. [Accessed 15 December 2022]