Housing space
The UK Ministry of Defence (MOD) is to sell twelve of its assets for an estimated £500,000,000. The sites to be sold include three RAF bases that are currently utilised by the United States Air Force (USAF). The sites that are due to be sold are listed below:
RAF Mildenhall (Suffolk)
RAF Barnham (Suffolk)
RAF Alconbury (Cambridgeshire)
RAF Molesworth (Cambridgeshire)
Kneller Hall (Twickenham)
Claro and Deverell barracks (North Yorkshire)
Lodge Hill (Kent)
Craigiehall (Edinburgh)
HMS Nelson Wardroom (Portsmouth)
Hullavington Airfield (Wiltshire)
MOD Felton (London)
The land provided following the sale would be able to accommodate fifteen thousand homes.
What does it mean for renewable energy?
Military air bases often lead to restrictions for renewable energy development in their vicinity, particularly for wind developments and solar photovoltaic (PV) developments. Potential impacts that can prevent projects from going ahead include:
Physical obstruction concerns (risk of collision) – particularly for wind developments
Interference to radar systems and other navigation aids

Glint and glare

impacts – particularly for PV developments
Military aerodromes are safeguarded against large objects that could present a collision risk by means of Obstacle Limitation Surfaces. These imaginary surfaces extend in three dimensions from the runway to distances of approximately 15 kilometres. They should not be infringed by any structures to minimise the risk of a collision with an aircraft.
Closing down a military air base, or any other licensed airfield, therefore removes certain restrictions on proposed developments in the vicinity.
Of the RAF bases that are due to be sold off, only one is an operational aerodrome (RAF Mildenhall). The figure on the following page shows a 15 km circle centred on RAF Mildenhall.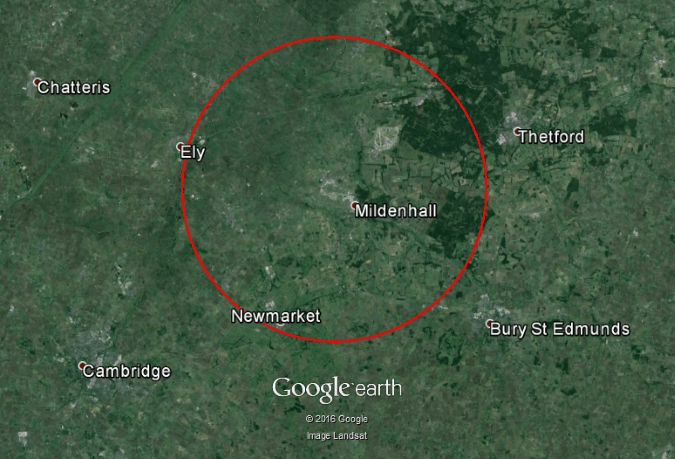 Figure 1: RAF Mildenhall safeguarded zone.
How much space is opened up for renewables?
Naturally, the sale of the RAF base does not mean that the neighbouring area is entirely available for renewable energy developments. Other constraints in the area remain present, including the nearby RAF Lakenheath air base.
However, the sale will result in closure of a potentially significant stumbling block for proposed developments. This may have a meaningful impact on the potential for renewable energy projects in this part of Cambridgeshire.
References
RAF Mildenhall, Alconbury and Molesworth among MOD sites to be sold, BBC. (Last accessed 22/01/2016)
UK housing: MoD selling off sites to free up land for 15,000 new homes, International Business Times. (Last accessed 22/01/2016)
MoD to sell off a dozen major sites for housing, Construction Enquirer. (Last accessed 22/01/2016)