Recent posts in the news suggest that the US Government intends to limit the maximum height buildings can have in the vicinity of airports. The Federal Aviation Administration (FAA) proposal, supported by the aviation industry, is likely to affect building and other infrastructure developments in the vicinity of more than 380 airports in the US (See image below).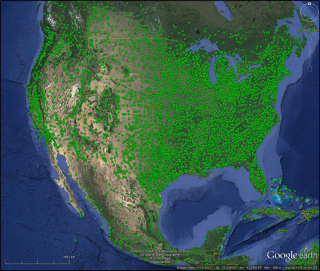 It is well documented and researched by the FAA, the International Civil Organisation (ICAO), the UK Civil Aviation Authority (CAA) and other relevant organisation that tall structures such as buildings, telecommunication towers and wind turbines can affect safety aviation.
Over the years relevant guidelines have been produced where a developer can avoid infringing certain surfaces (known as Protected or Obstacle Limitation Surfaces) that safeguard aviation activities in the vicinity of airports; usually within 15km from the aerodrome reference point.
In certain occasions special flight procedures have been put in place in order for tall structures and airports to exist as in the case of London City Airport.
The FAA and the aviation industry has requested that the height limits are further reduced to reflect potential engine problems during take-off because when airplanes lose one engine they have less power to climb quickly over tall obstacles.
It will be very interesting to see what the decisions will be in the coming months for relevant infrastructure developments. We will monitor an post relevant updates on the issue.
Image accreditation: US Dept of State Geographer, © Google 2014, Data SIO, NOAA, U.S. Navy. NGA, GEBCO, Image Landsat