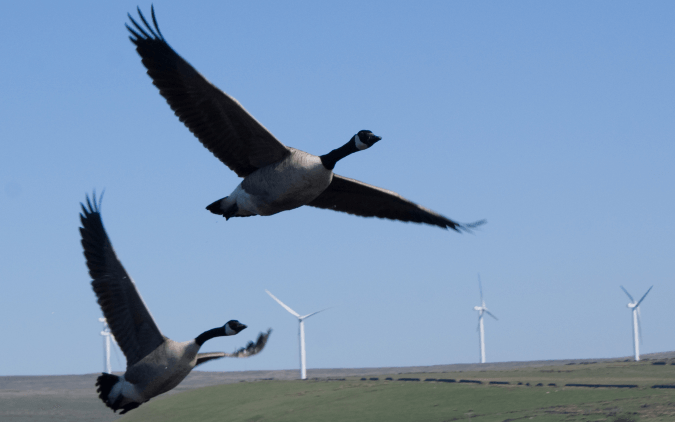 Independent Canadian energy producer Innergex Renewable Energy Inc. has had to revise its proposal for a 50-60 turbine wind farm due to objections from a nearby airport and radar operator.
In an interview a spokesman from Innergex made reference to the project still be in feasibility stage and said that "We (Innergex) know the airport will be an issue [1]." He was not wrong.
After the preliminarily location of the Merrick Wind Farm inside the airport control zone raised concerns, plans have now been altered to ensure the turbines are not situated within this 15km area.
Original Proposal
The wind farm was initially to be located about 8km Northeast of YYB Jack Garland Airport in North Bay, Ontario.
Due to the location, numerous parties raised objections for the proposal including the airport operators and Canada's Air Navigation Service Provider (ANSP) Nav Canada.
Jack Garland Airport Concerns
Concerns from the Jack Garland Airport incorporated the impact on air safety due to the wind turbines acting as obstacles and obstructing the airspace that is used continuously by flight schools that are based at the facility.
In an email to the Ministry of the Environment and Climate, the airport manager asked that the project be REFUSED planning permission if it sat within a 15km radius of the facility; the reason being to protect the transitional surface [2].
The transitional surface is one of the Protected or Obstacle Limitation Surfaces (OLS). These surfaces are defined volumes of airspace, invisible to the human eye, that are used to protect the areas around aerodromes from large structures which could be hazardous to flight activity. A Pager Power assessment can be used to see whether a tall structure such as a turbine breaches an OLS. It is recommended that this assessment be made early on in the planning process.
More about OLS surfaces can be seen in the video [3] below:
Nav Canada Concerns
Impacts of the wind farm on the performance of the Primary and Secondary Surveillance Radars (PSR and SSR) along with impacts to a VOR ground based navigation aid were behind concerns from the ANSP who provide the airport with "air traffic control, flight information, weather briefings, airport advisories and other important information regarding navigation [4]."
Wind turbine radar planning issues can be difficult to overcome. You can read more on that here.
Future for the Merrick Wind Farm
On the announcement of the altered Merrick Wind Farm proposal, Innergex spokesman Francis Morin again acknowledged that the project was in early stages, and plans will evolve through consultation with stakeholders [5].
References
[1] Pilots join opposition chorus, 07/03/2015, Gord Young, The Nugget, (Last Accessed 22/04/2015)
[2] Email from Jack Garland Airport to Ministry of the Environment and Climate Change,  12/02/2014, (Last Accessed 21/04/2015)
[3] Understanding Part 77: Civil Airport Imaginary Surfaces, wsdot.
[4] Pilot Information, Jack Garland Airport, (Last Accessed 21/04/2015)
[5] Firm alters wind farm proposal, 13/03/2015, Gord Young, The Nugget, (Last Accessed 22/04/2015)
Image accreditation: "Canada Geese, Ashworth Moor Reservoir, May 2012" by Gidzy via Flickr / CC BY 2.0 / image cropped and resized from original