Mobile phone signals can interfere with aircraft navigational and landing guidance systems. In 2012, flight attendants asked passenger to completely switch off phones before departure; however, in 2013, the Federal Aviation Administration (FAA) allowed passengers to keep their phones on as long as they remained on aeroplane mode [1].
The same problem emerges with the new 5G technology, and in the United States the FAA is currently engaging with AT&T and Verizon to find a solution [2].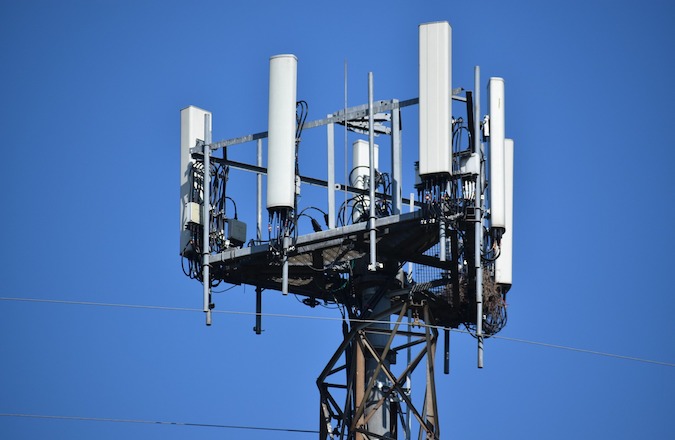 Figure 1: 5G antenna [3]
5G Interference
The issue of interference generated by 5G was initially raised by the FAA and the world aviation industry back in 2015 [4]. 
Tests showed that the 5G C-band (3,700-4,200 MHz) and the extended C-band (3,400-3,700 MHz) showed the potential for harmful interference to radar altimeters used in aircraft because they use the same frequencies used by the Fixed Satellite Service (FSS). The C-band, in particular, is the main spectrum for the FSS operations.
The interference generated by 5G can result in significant degradation of the radar altimeter functions during critical phases of flight (approach and landing) [5]. 
The Solution
The aim is to protect the C-band for satellite communications while reducing the disruption to the development and rollout of 5G; however, the deployment for the C-band could occur as early as 2022 and the FAA stated that there is not enough time for implementing mitigation strategies. Furthermore, it is also unclear what measures will be required to ensure safe operations in the National Airspace System (NAS), or how long it will take to implement such measures [5].
Therefore, the FAA has alerted network operators that they might restrict operations in areas where 5G interference is possible whilst working with the aviation and wireless industries to find mitigation solutions [2]. 
On the 3rd of January 2022, AT&T and Verizon have agreed to pause and delay introducing commercial C-Band in order to give the FAA more time to identify the priority airports, issue the required Notices to Air Missions (NOTAMs) and begin approving Alternate Means of Compliance (AMOCs). This time will also be used by the FAA to review information relating to the size of buffer zones around the identified priority airports [6]. 
About Pager Power
Pager Power undertakes technical assessments for developers of renewable energy projects and tall buildings worldwide. For more information about what we do, please get in touch.
References
[1] Can Flight Attendants Tell If You Don't Put Your Phone Into Airplane Mode?, Kaitlin Menza, date: 19/09/2019, accessed on 04/01/2022.
[2] FAA Statement on 5G, FAA, date: 03/01/2022, accessed on 04/01/2022.
[3] ArtisticOperations (October 2020) from Pixabay. Last accessed on 4th January 2022. Available at cell-tower-5g-signal-wifi-dongle-5390644,
[4] Proposals for the band 3400-4200 MHz, International Telecommunication Union, date: 27/11/2015, Addendum 4 to Document 38-E 14 October 2015, accessed on 04/01/2022.
[5] Expanding Flexible Use of the 3.7 to 4.2 GHz Band FCC Docket Nos. GN 18-122, IB 20-205, GN 20-305, Steven G. Bradbury, date:01/12/2020, accessed on 04/01/2022.
[6] DOT and FAA Letter to ATT and Verizon executives on 5G, Pete Buttigieg, date: 31/12/2021, accessed on 04/01/2022.