Background
When the Eiffel Tower was being built, it surpassed the Washington Monument to become the tallest man-made structure in the world. It held this position for 41 years until it was topped by the Chrysler Building in 1930. It will surely go down in history as one of the most recognisable structures of our era. In the Rotterdam Harbor in the Netherlands, a lesser known but perhaps even more significant structure stands at nearly the height of the Eiffel Tower. It is not a building though.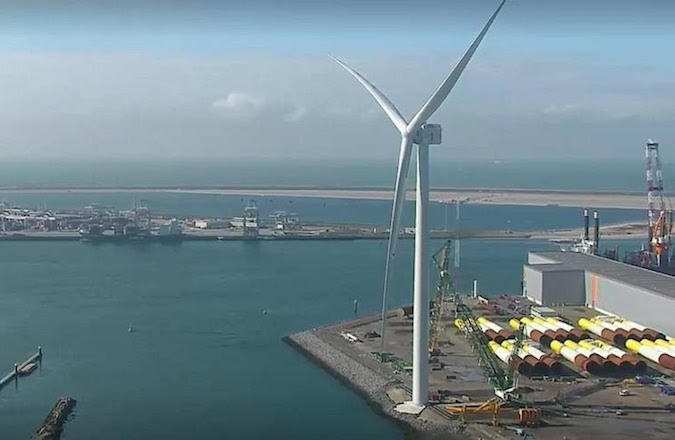 Figure 1: Standing tall in Rotterdam[1]
Meet the future of wind turbines?
This is a prototype of the 12-MW Haliade-X wind turbine, an astonishing feat of engineering achieved by General Electric (GE). This is the most powerful wind turbine in the world with each blade measuring as long as a football field[2]. The scale of this turbine is massive but its implications for the offshore wind industry maybe even bigger. SSE Renewables is planning to install 200 of these in the Dogger Bank wind farm in the North Sea, off the east coast of the UK. This five-year rollout will result in the production of enough energy to power around 6 million homes in the UK, which is 5% of the UK's energy needs[2]. This may not sound like such a significant amount, but it is a big step for the UK to meet its renewable energy targets. Denmark's Ørsted A/S has also selected the Haliade-X turbine for the 120-MW Skipjack project off Maryland and the 1.1-GW Ocean Wind complex off New Jersey[1]. 
And this is just the start.
The offshore wind industry is booming right now, and many ambitious offshore wind farm projects are being planned and proposed around the world. This particular wind turbine could be very important in the future of the industry because it can access the stronger steadier winds that occur at higher altitudes, and already has a higher inherent capacity to use wind energy because of its size. According to Sara Hastings-Simon, an energy expert from the Payne Institute of Public Policy at the Colorado School of Mines, a single sweep of one of these turbines can power the average house for a day or two[2]. According to GE, a 12-MW turbine can generate 67GWh of power annually, powering around 16,000 European homes, avoiding up to 42 million tonnes of CO2 emissions. The efficiency of such a design means that a wind farm of 80/90 of these could replace a 500 strong conventional wind farm and this makes them much more cost-efficient. These statements are very compelling.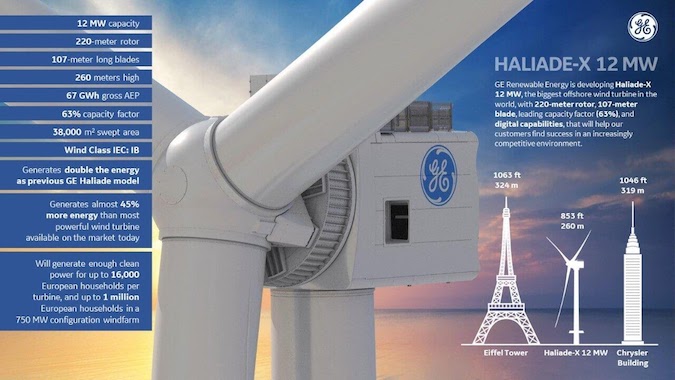 Figure 2: Technical Info.[3]
Conclusion
Other major wind turbine manufacturers such as Siemens Gamesa and Vestas Wind Systems are expected to bring out competitors to the Haliade-X in due course. This competition should be good for the offshore wind industry, creating more options for wind developers. These bigger turbines will not solve the problems of the current power generation systems by themselves, but they appear to be a step in the right direction.
About Pager Power
Pager Power has expertise in helping wind developers assess the impacts of both offshore and onshore wind projects upon aviation and telecommunications as well as engaging with stakeholders. For more information about what we do, please get in touch.
References
[1]Renewables Now, "GE installs 12-MW wind turbine prototype in Rotterdam," Renewables Now, 18 October 2019. [Online]. Available: https://renewablesnow.com/news/ge-installs-12-mw-wind-turbine-prototype-in-rotterdam-673053/. [Accessed 15 January 2021].
[2]A. Kusmer, "Enormous wind turbines may be coming to a coast near you," The World, 14 January 2021. [Online]. Available: https://www.pri.org/stories/2021-01-14/enormous-wind-turbines-may-be-coming-coast-near-you. [Accessed 15 January 2021].
[3]M. Froese, "GE presents Haliade-X, currently the world's most powerful offshore wind turbine," Windpower Engineering, 1 March 2018. [Online]. Available: https://www.windpowerengineering.com/ge-presents-haliade-x-worlds-powerful-offshore-wind-turbine/. [Accessed 15 January 2021].