Sembcorp Industries, an energy company based in Singapore, recently announced plans to produce Europe's largest battery storage system in Teesside, England. The proposed battery storage project will be located within the Wilton International Industrial Park in Redcar, the heart of Teesside's industrial area. Sembcorp have set up a UK subsidiary called Sembcorp Energy UK (SEUK), which alongside Wilton International will oversee the project. [1]
The Project
The newly proposed battery storage project is well above anything currently in operation across Europe, which once finished will have a capacity of 360MW. In comparison, the current SEUK batteries operate to a capacity of 70MW [2] and the previously biggest battery houses 100MW. SEUK stated that the battery units will be able to supply power to the national grid in milliseconds, and help maintain a stable energy system. Efficient storage has been highlighted as a key problem to resolve in encouraging the move to technologies, such as wind and hydro-electric power, with batteries performing a crucial role in retaining supply. [3]
The History
Not only will the energy project be a massive step toward net-zero, but the level of investment in Teesside will have a knock-on effect to the local community, with 70 new jobs associated to the device's construction and operation. Tees Valley Mayor Ben Houchen stated: 
"This investment will add 70 cleaner, healthier and safer jobs to the thousands we are already delivering across Teesside, Darlington and Hartlepool as we develop the critical technologies that are needed to make the UK net zero by 2050. Since the Industrial Revolution the ingenuity of Teessiders has spearheaded the development of new technologies. With this announcement, which will see the creation of Europe's largest battery on the Wilton site, the message is clear: if you want to pioneer low-carbon innovation then come to Teesside."
The Future
Redcar, a seaside town on the Yorkshire Coast, was once the powerhouse of the North East, with 91 blast furnaces at the height of the steel trade. [4]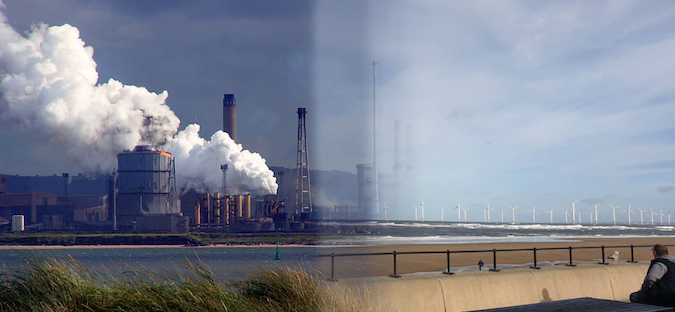 Figure 1: Merged photo of Redcar steelworks and Redcar wind turbines.[5, 6]
With a nod to the past, SEUK is also working towards a set of plans to construct a first-of-its-kind net-zero power station, also in Teesside. The project is called Whitetail Clean Energy, and used a process known as the Allam Cycle. The clean energy plant will utilise carbon capture technologies and generate 300MW of energy. [2] If all the plans set out by SEUK come to fruition, it will possess an overall energy portfolio of over 1.6GW, with almost half being supplied by batteries. 
About Pager Power
Pager Power undertakes technical assessments for developers of renewable energy projects and tall buildings worldwide. For more information about what we do, please get in touch.
References
[1] Hill, J., 2021. Europe's biggest battery to be built in UK industrial hub. [online] RenewEconomy.
[2] Thurston, A., 2021. At 360 MW, Teesside primed to host Europe's biggest battery | theenergyst.com Sembcorp, battery, DSR, storage, planning, Teesside, Allam cycle theenergyst.com theenergyst.com %. [online] theenergyst.com.
[3] Hill, T., 2021. Brexit Britain in major win as Teesside chosen for Europe's largest battery. [online] Express.co.uk.
[4] The National Lottery Heritage Fund. 2021. New exhibition tells story of Teesside's steelmaking history. [online] heritagefund.org.uk
[5] Photo of Redcar Steelworks (September 2008) from Wikicommons. Accessed on 16th December 2021. Available at: https://commons.wikimedia.org/wiki/File:Redcar_Steelworks.jpg
[6] Photo of Redcar Wind turbines (October 2021) Authors own photograph