International Women's Month
In celebration of International Women's Month, we commemorate the female activists who are saving the planet.
Initially instated in 1911, International Women's Month is now celebrated every March across the US, UK and Australia, with Canada celebrating it every October. The celebration was officially honoured by the United Nations (UN) in 1975. 
What originally started as a one-day celebration, has since turned into a month-long celebration of women's achievements, equality and opportunities across the world. An important aspect of the International Women's Month celebration is educating people on women's history, their struggles in everyday life, and highlighting the importance of continual progression in the ways in which women are treated in society and the workplace.[1]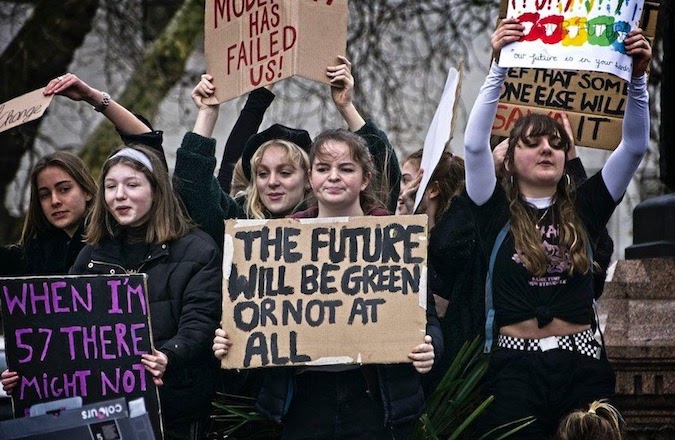 Figure 1: Young protesters at the Global Climate Strike in London on March 15, 2019. (Garry Knight/Flickr)[8]
Female Activists
During International Women's Month, more than ever, it is crucial to recognise the achievement of female activists from across the world who make it their mission to save the planet and inspire others to do the same. 
Greta Thunberg
At just the age of 18, Greta Thunberg, from Sweden has become one of the world's most well-known and supreme environmental activists in the past few years. She initially gained attention from across the world while protesting outside the Swedish Parliament in August 2018, at just 15 years old, during her Friday school strikes. Since then, Greta has sparked millions of young people worldwide to a protest movement. Her passion for saving the planet has landed her in various climate rallies around Europe, at the World Economic Forum, and in front of the European Parliament. 
A year after gaining worldwide recognition for her activism, Greta sailed across the Atlantic in a zero-carbon boat, to attend a United Nations climate summit in New York. Rallying before the UN secretary general, Antonio Guterres, she accused world leaders of 'stealing my dreams and childhood with your empty words'. 
Greta has received great recognitions from her influential rallies and protests, including receiving the Children's Peace Prize (2019) at the age of 16 from the KidsRights Foundation[2]. Greta was also nominated for a Nobel Peace Prize in February 2020, at just the age of 17, making her the second youngest nominee for the Nobel Peace Prize[3], the first one being Malala Yousafzai; the Pakistani activist for female education, who was 17 years old when she won the prize.[4]
In October 2020, a documentary 'I Am Greta' was released, which provides the story behind Greta's rise to prominence. To find out more about the documentary, click here. 
Isatou Ceesay
Isatou is a Gambian activist who launched the Women's Initiative – The Gambia. For over two decades, Isatou has been educating and empowering women in her country about reducing waste and recycling. She has also founded a project that up-cycles plastic into yarn to make bags and purses, which helps to reduce waste and provides a monthly income for hundreds of West African women.[5]
Recently, the government in Gambia agreed to a ban on plastic bag imports. In a country where 75% of the population doesn't have access to education in the community, Isatou's work is extremely worthy and inspiring, especially for the younger generation. 
Isatou's work has influenced beyond the Gambian community – she has attended tours and events across the US with author Miranda Paul, sharing her wisdom with children across US since 2015. Isatou Ceesay is rightfully known as the Queen of Recycling![6]
Oladosu Adenike
Calling herself an 'eco-feminist', Oladosu is an activist passionate about youth involvement in climate action, which she advocates through climate education and the importance of women's rights, which she links with environmental rights. The Nigerian activist has gained a first-class degree in Agricultural Economics and is an ambassador for Earth Uprising and African Youth Climate Hub; an initiative of the Mohammed VI Foundation for Environmental Protection[7]. She is also the head of the 'ILeadClimate' movement for peace, security, and equality in Africa (particularly in the Lake Chad region). 
Oladosu is an organiser for the Nigeria's Friday for Future climate marches, sharing the Ambassador of Conscious Award received by Amnesty International in 2019 for the Fridays for Future movement, along with activist Greta Thunberg.[7]
Future Female Activism
It is extremely positive to see so many female activists speaking about the importance of climate change and educating the younger generation about ways in which to get involved, as well as generally providing awareness of what is at stake and various ways in which young pupils can help with the movement for a greener future. 
About Pager Power
Pager Power undertakes technical assessments for developers of renewable energy projects and tall buildings. For more information about what we do, please get in touch.
References
[1] Willingham, A. (March, 2021), Why Women's History Month is in March, CNN.
[2] International Children's Peace Prize (2019), 2019 – GRETA THUNBERG (16), SWEDEN, KidsRights.
[3] McCarthy, J. and Sánchez, E. (April, 2019), 12 Female Climate Activists Who Are Saving the Planet, Global Citizen.
[4] Shaw, S. (February, 2020), CLIMATE ACTIVIST GRETA THUNBERG NOMINATED FOR NOBEL PEACE PRIZE, CR Fashion Book.
[5] Frank, R (March, 2021), Green Living Made Easy, Future PLC.
[6] Ceesay, I. (2021), Meet the real Isatou Ceesay and women of Njau, One Plastic Bag.
[7] Adenike, O. (2020), Founder Disarmament Center on Climate Change Crises For Peace Security Equality & Climate Governance, Global Landscapes Forum.
[8] Garry Knight (2019), Young protesters at the Global Climate Strike in London, Salon.