Before the beginning of the Russia-Ukraine conflict, 40% of natural gas and 27% of oil imports to the EU were from Russia [1]. When Russia invaded Ukraine, the energy landscape of the world changed. Sanctions were placed on Russian oil and gas, and there was market chaos that led to sharp price increases, as well as oil and gas shortages. It forced countries to look for gas and oil from other parts of the world, as well as other energy sources.
According to data from the think tank EMBER, by the end of 2022 wind and solar generated approximately 22% of electricity in the EU, for the first time overtaking natural gas. It was already ahead of coal, and it has now got the second largest share of electricity generation, only behind hydro and nuclear.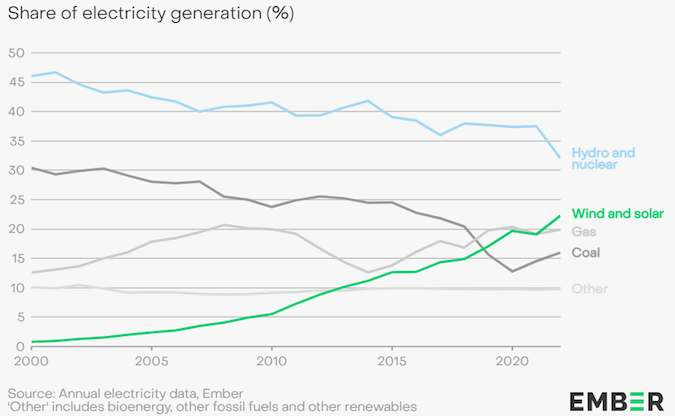 EU wind and solar generated more than gas for the first time [2]
Looking in more detail, increasing electricity costs encouraged EU households and businesses to turn to rooftop solar in particular. By the end of 2022 solar capacity in the EU was double that in 2018, and EMBER forecasts predict that this could triple in the period from end of 2022 to 2026.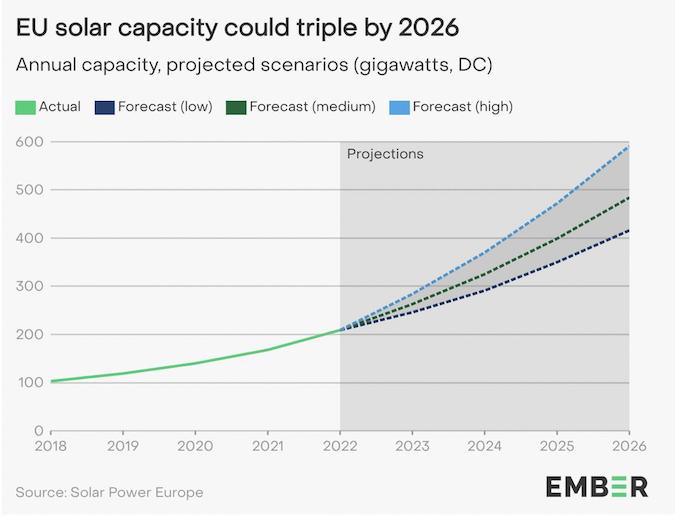 EU solar capacity could triple by 2026 [2]
Conclusions
This transition in the EU towards a more renewable energy market is one example of something positive that has come as a result of the sanctions, and the loosening of dependence on Russian oil and gas that has followed. If wind and solar continue growing at this rate then it might not be long before they overtake hydro and nuclear, and take the largest share of electricity generation in the EU.
About Pager Power
Pager Power undertakes technical assessments for developers of renewable energy projects and tall buildings worldwide. For more information about what we do, please get in touch.
References
[1] J. Fisher, "EU reveals its plans to stop using Russian gas," BBC, 18 May 2022. [Online]. Available: https://www.bbc.co.uk/news/science-environment-61497315. [Accessed 24 February 2023].
[2] D. Jones, "European Electricity Review 2023," Ember, 31 January 2023. [Online]. Available: https://ember-climate.org/insights/research/european-electricity-review-2023/. [Accessed 24 February 2023].
Thumbnail image accreditation: Tyler Casey (2019) on Unsplash.com. Last accessed on 27th February 2023. Available at: https://unsplash.com/photos/ficbiwfOPSo