Jaguar and Land Rover (JLR) have added a new process to the life cycle of their I-PACE batteries; utilising them for battery energy storage systems (BESS) through a collaboration with Wykes Engineering Ltd.
Batteries for Renewable Energy Supply
JLR are implementing an integration of their prototype and test vehicle batteries to be used for BESS, providing a buffer for renewable energy supply to the National Grid. The batteries are expected to have "a 70-80% residual capacity" [1] which is insufficient for the testing, but suitable in large enough quantities to be used in BESS. 
JLR's Carbon Net Zero Strategy
The project comes as part of JLR's Reimagine strategy with its aim for "carbon net zero by 2039" [1]. By the end of the year, JLR hope to have provided enough batteries to provide storage for 7.5MWh of renewable energy. This is one step towards improving one of the major shortfalls of renewable energy sources such as solar and wind, which is the lack of ability to adapt to changes in demand throughout the day and indeed the year. Using batteries which are still functional, but perhaps not sufficient for the uses of a modern cars, to work towards solving this problem is an elegant and efficient solution.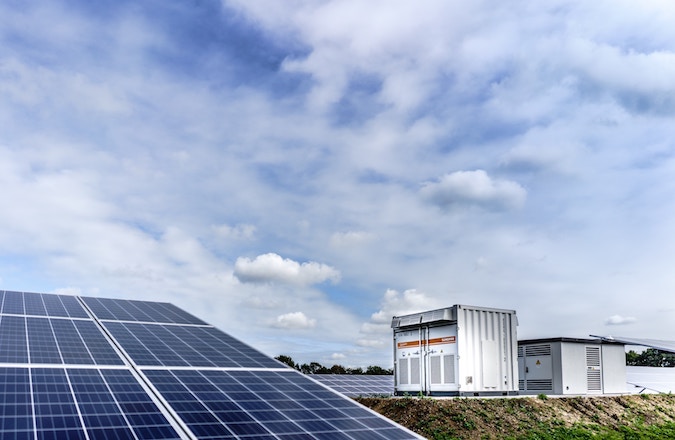 Figure 1:  Energy Storage.
JLR and Wykes Engineering have implemented a seamless integration of the I-PACE with the BESS systems, eliminating the need for additional modification of the batteries, minimising cost and environmental impact.
Greener Car Industry Push
While this scheme only covers the batteries in JLR's prototype and test vehicles, it is one step towards further harmonising the relationship between EVs and renewable energy. JLR themselves state plans to use "batteries removed from used production vehicles" [1], however no date or concrete plans have been revealed thus far, but this does show the willingness and initiative of car manufacturers to push towards a greener car industry, an industry not famed for its positive impact on the world's climate.
About Pager Power
Pager Power undertakes technical assessments for developers of renewable energy projects and tall buildings worldwide. For more information about what we do, please get in touch.
References
[1] "JLR CREATES NEW RENEWABLE ENERGY STORAGE SYSTEM FROM USED CAR BATTERIES", NEWROOM, 23 August 2023.
(Online) Available: https://media.jaguarlandrover.com/news/2023/08/jlr-creates-new-renewable-energy-storage-system-used-car-batteries [Accessed 14 November 2023].
Figure 1: Sungrow EMEA, unsplash.com, 12 May 2020. (Online) Available: https://unsplash.com/photos/white-and-black-solar-panels-under-white-clouds-and-blue-sky-during-daytime-itv-MC5S6cU [Accessed 14 November 2023]