The 2021 United Nations Climate Change Conference (COP26) was held at the Scottish Event Campus Centre in Glasgow from the 31st of October to 13th of November 2021. While world leaders were debating and pledging investment towards such causes as "ending deforestation, cutting methane emission levels by 30% by 2030, and new commitments to phase out coal power", a nightclub in Glasgow was testing a system to save an estimated 70 tonnes of carbon per year by harnessing the power of dance.
SWG3 (Studio Warehouse Glasgow) Is Going Net Zero
You have probably heard of wind, solar, thermal, and tidal energy, but have you heard of dance energy? SWG3 is one of Scotland's most unique venues, where they bring together:
Art 

Design

Music

Fashion

Food

Shopping

Nightlife

  [1]
SWG3 has on average 250,000 people coming through its doors annually, all needing heat, light and sound. With the popularity of SWG3 rising, its creators want to keep dancing, working, creating, and inspiring, but in a responsible way. Their plan? To be net zero by 2025!
The Mission – BODYHEAT
BODYHEAT is a brand-new renewable heating and cooling system, which transforms the wasted body heat of clubbers and staff into a source of energy. The energy will be used towards the club's electricity, air conditioning and speaker system [2]. SWG3 estimates that the human body emits around 100-120 watts of excess heat, meaning that around 70 tonnes of CO2 could be saved per year by utilising the BODYHEAT system. [3]
The installation of the BODYHEAT project involves up to 17, 150m to 200m boreholes dug underneath the dancefloor. The system utilises pre-existing machinery and parts, but in a new way. The work is being undertaken with the help of TownRock Energy, geothermal energy consultants and Harley Haddow, engineering consultants. David Townsend of Townrock Energy said: 
"We're really excited to actually take this global. We would love for different clubs in different cities to start to compete to be the most green and see off the back of that how they can get more customers because the clubbing generation right now are very enlightened in regards to climate change. It will make a big difference for clubs to be able to say they're net zero." [4]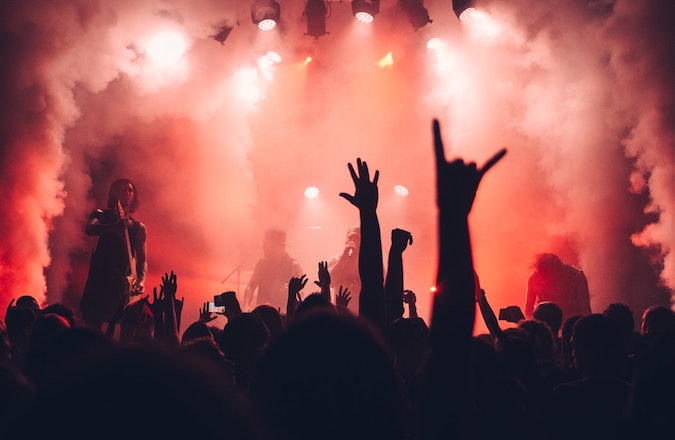 Figure 1: People in concert. [5]
Could This Become the Latest Dance Trend?
The music industry is facing increasing pressure to reduce its contribution to climate change and waste. In October 2020, Massive Attack released a short film on the ecological impact of the music scene and in February 2020, DJ Mag published a report on how festivals can cut back on emissions and other harmful aspects of their events. 
Those behind the BODYHEAT project hope it will leave behind a message to venues across the world that the de-carbonisation of clubs and venues is possible. 
About Pager Power
Pager Power undertakes technical assessments for developers of renewable energy projects and tall buildings worldwide. For more information about what we do, please get in touch.
References
[1] SWG3. 2021. About | SWG3. [online]
[2] Secret Glasgow. 2021. Secret Glasgow – Your Complete Guide To Things To Do In Glasgow. [online]
[3] DJMag.com. 2021. DJMag.com. [online]
[4] Anglotopia.net. 2021. Glasgow nightclub to be powered… by body heat?. [online]
[5] People in concert (January 2019) from Pexels. Accessed on 19th November 2021. Available at:  https://www.pexels.com/photo/people-in-concert-1763075/